At the end of each year, the American Pantone Institute announces to the world its choice of colour to reign the following year. And so it was that on 1 December 2022, the announcement was that the colour of the year 2023 would be Viva Magenta 18-1750.
Architects and designers are on the edge of their seats, but will this have an impact on the choice of windows and doors for our projects? Let's have a look.
Pantone's Colour of 2023 - Viva Magenta
The Viva Magenta hue is said to be an unusual colour for unusual times. A combination of warm and cool tones, this is a bold, vibrant, rebellious and energetic colour. It promotes a joyful and optimistic approach to life, symbolising the link between the past and the future.
In this technological age, we look to nature and the real to inspire us to live. PANTONE 18-1750 Viva Magenta is derived from the family of reds and is inspired by cochineal red, one of the most precious dyes belonging to the family of natural dyes and one of the strongest and brightest dyes the world has ever known. - says Leatrice Eiseman, executive director of the Pantone Colour Institute.
For nearly 40 years, the Pantone Institute has been in operation. It is part of Pantone, the printing solutions company. The institute is a gathering of specialists for the analysis of trends in the world of colour. A series of in-depth studies that reflect public sentiment and current trends underpin the impact of the Institute's activities. Such in-depth analysis allows them to identify the ideal colours to match the character of a particular moment in history.
Colour of 2023 in interiors - how can we apply them?
In fashion, cosmetics and technology, but also in interior design, the colour of 2023 is dominant. Both modern and more classic or understated rooms will be tempted to use it. This energetic colour will add bold colour to interiors. Whether it will be the revolutionary step of painting a wall in this shade or matching accessories in this colour - it will depend on the courage of those who choose to do so. Even just a few splashes of intense colour can give the rooms of a home an original and, at the same time, very fashionable character that will make an impression on your guests.
Doors and windows with Viva Magenta
So, what's 2023 got to do with choosing doors and windows? The interior must harmonise with each other so that it is pleasant to spend time in. Windows and doors are also an integral part of the interior design - they give the whole a consistent look.
Rarely do windows or doors have a colour scheme outside the standard shades, especially one as intense as the colour of 2023. If you decide to use such a colour scheme, the destination of such windows is usually not the home, but a public place such as a shop window or a restaurant window. Naturally, Viva Magenta can also be used for windows and doors, as they can be painted in any RAL colour. In the case of colour 2023, the closest match is the corresponding number in the RAL palette: 3027 [raspberry red].
At Aikon Distribution, we also offer the service of painting windows and doors to your chosen RAL colour in the case of timber and aluminium windows, and in the case of PVCu windows, this can be achieved by selecting a special aluminium coating known as "aluskin".
Read more about aluminium and timber window colours: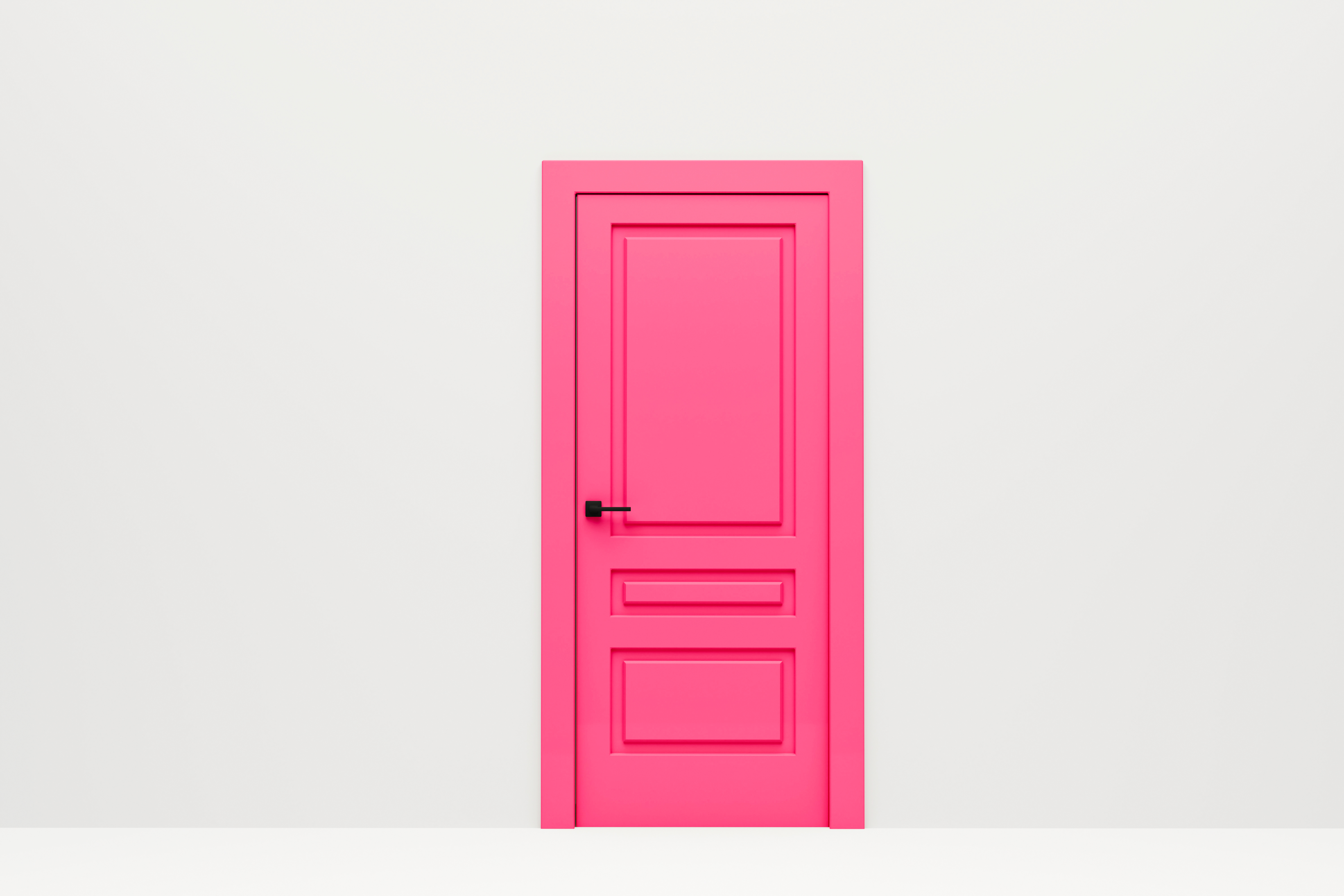 Doors coloured in a RAL colour of your choice

What colours can 2023 be paired with?
Viva Magenta is a very intense colour, so the combination of this shade with other shades should be approached with caution. What colours to choose to create a safe and harmonious combination with colour 2023? White, this colour just looks good in any combination. It provides contrast and creates a clean and elegant space. Black and magenta is a predatory combination, but very luxurious and extravagant. The depth of Viva Magenta blends perfectly with the saturated dark green. Elegance and style are emphasised by combining the colour of the year with a light shade of grey, while beige tones make the space feel warm and cosy.
So does the prevailing colour trend matter when choosing windows and doors? Absolutely! Our home should be a harmonious whole, and if it is in line with current trends, we can only be happy with such a good combination. However, it is important to choose the right colours for the other elements of the interior, so that a dominant colour such as Viva Magenta does not overwhelm but inspires.
Are you about to decide on doors or windows for your project? Or are you considering playing with colour in this area? Be sure to get in touch with one of our consultants.

You may be interested in:
What awaits us in the window market in 2023?