Dark, cramped bathrooms are a thing of the past. Nowadays, a bathroom window seems to be the perfect solution in almost every home.
But why should you choose one? Which bathroom windows to choose? And how do we make sure that a bathroom window lets in plenty of light without making us look uncomfortable?
Bathroom windows - advantages
Bathroom glazing is a solution you should not do without. A bathroom window has many advantages.
One of them is extra ventilation. Let's not forget that the bathroom is a special environment and the daily occurrence of humidity is inseparable from it. With bathroom windows, the ventilation of the room will be more efficient and effective. There is another advantage worth mentioning. Proper ventilation reduces the growth of fungi and moulds, which are so common in sanitary rooms.
A great advantage of a bathroom window is easier room temperature regulation - after a hot bath, it is enough to open the window to remove excess heat and humidity and restore the desired temperature.

Additional interior lighting is another advantage of having modern bathroom windows. Small bathrooms benefit from spaciousness, while larger bathrooms benefit from good lighting in every corner. Bringing light into the bathroom has another advantage. Its presence eliminates the need to switch lights on during the day. This means lower energy bills. What's more, the extra light will be particularly appreciated by women. All personal care activities are carried out in the best possible lighting conditions.
The aesthetics and appearance of the bathroom is another benefit of a bathroom window. The window will undoubtedly enrich it, embellish it, optically enlarge it and emphasise its modern style, giving a feeling of greater freedom.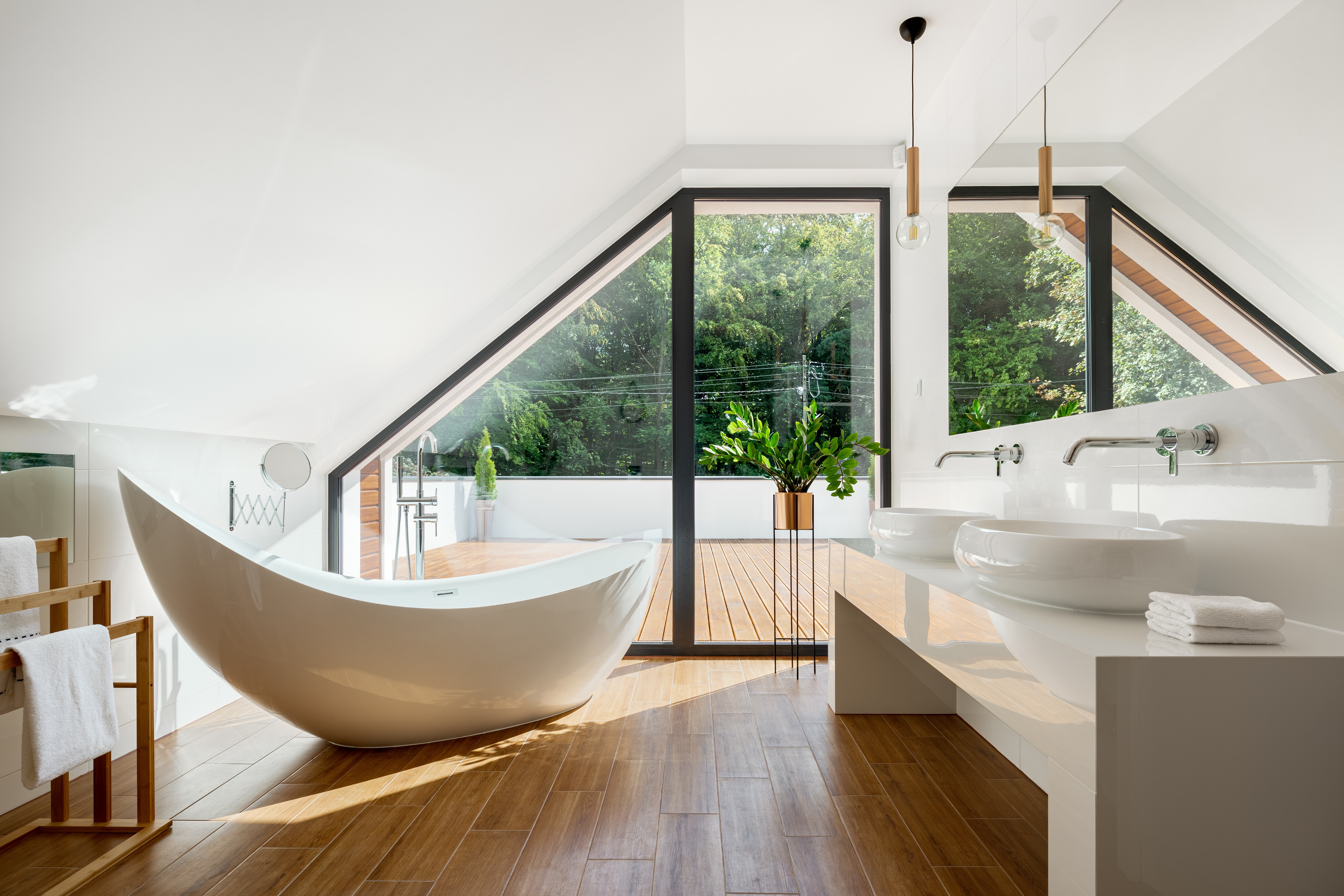 Bathroom windows
Windows in a bathroom for maximum privacy
How to create privacy using bathroom windows?
Several bathroom window types are available. The first is a window with ornamental glass, such as frosted glass, which significantly reduces the visibility of the bathroom from the outside.
See the ornamental glass available from Aikon Distribution:
Window treatments - exterior blinds or exterior shutters - are the second option.
You can find out more about window protection systems in our article:
Discover blinds for glass facades and large glazed areas

Another option is to use internal curtaining or draping. As you can see, there are a lot of options.
Small bathroom windows
One of the most common problems with windows for a bathroom is the size of the bathroom itself. In many houses and flats, the bathroom is so small that the owners decide not to put even the smallest window in it. This is a big mistake, because experience clearly shows that even in a very small bathroom it is possible to find space for a window, which significantly affects the comfort of its users.
Bathroom windows - minimum bathroom size
There is considerable disagreement among specialists as to the minimum size of a bathroom that would not only justify the installation of a window, but would not pose a problem. For some it is 5 m², for others it is at least 7 m². However, many of them admit that it is possible to have a nice bathroom window with a surface area of just 4 m², and that it does not necessarily have to be a very small window. In fact, the area itself is not the key element here.
When considering the installation of a window, even in a small bathroom, it is important to take into account :
- the layout of the walls and the degree of complexity of the architecture - whether the room is designed according to a simple geometric figure or has a more complicated layout with many folds;
- the level on which the bathroom is located - whether the bathroom is on the ground floor or the first floor;
- the position in relation to the world - with the right layout, even a small window in the bathroom will provide plenty of sunlight throughout the day.
Different bathroom window types. PVC windows in the bathroom
Is a PVC window suitable for the bathroom? Absolutely. It has all the characteristics that a bathroom window should have. It has the appropriate thermal insulation, it is convenient to ventilate the room (we can choose a tilt and turn window), it is easy to keep clean. A PVC window for the bathroom will serve the members of the household for many years. However, the condition is correct installation and regular maintenance.
We wrote about fitting PVC windows here: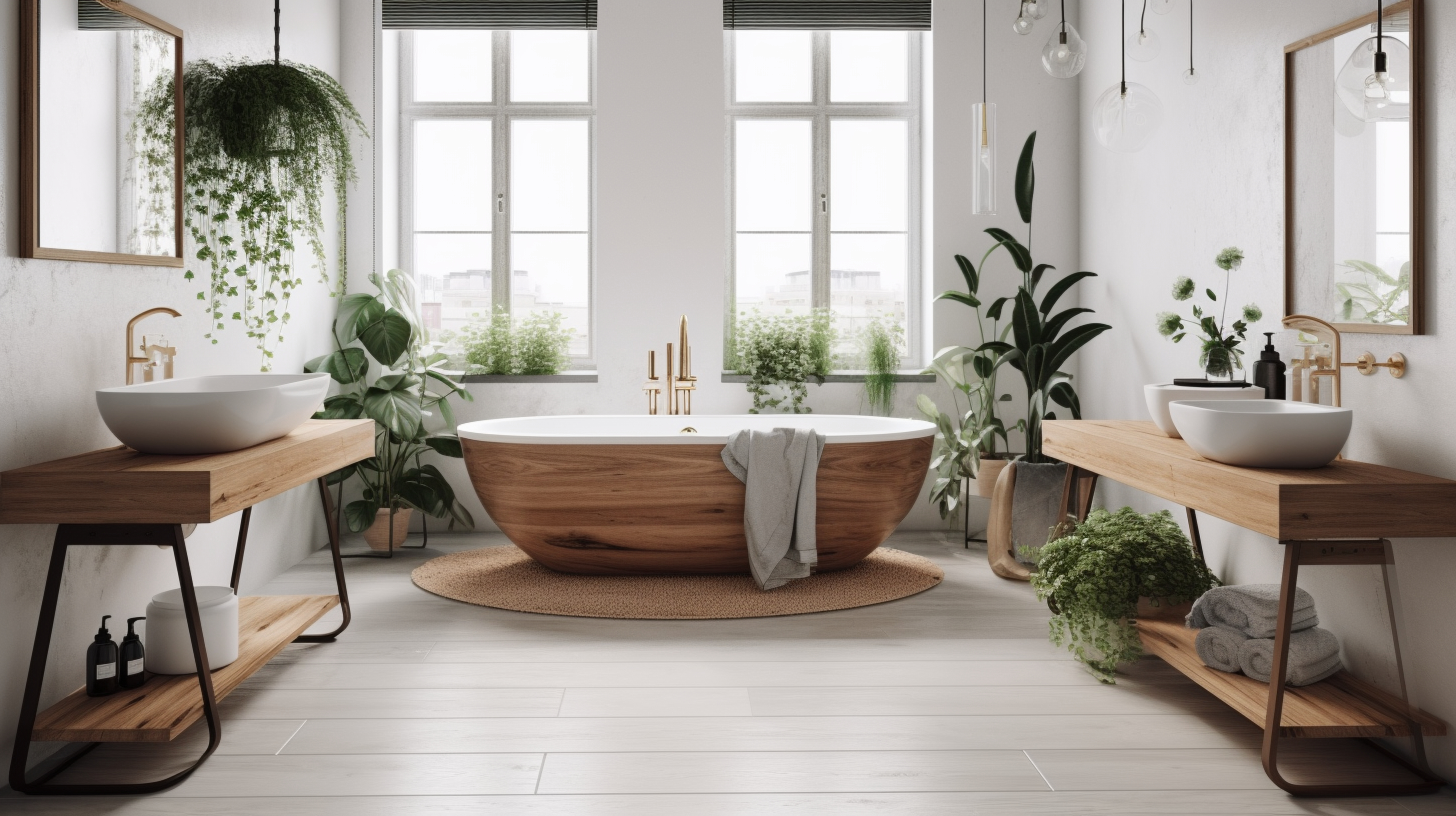 PVC windows in the bathroom
Which PVC window should I choose for my bathroom?
A good choice would be the Schüco LivIng window. As its name suggests, its most important task is to provide comfort in everyday life. It is an energy-saving profile with a 7-chamber design and the possibility of installing triple glazing with a glazing package of up to 52 mm.
Read more about the Schüco LivIng window:
Modern bathroom windows
A bathroom window means access to daylight, fresh air and beautiful views outside. A variety of sizes, shapes and colours mean that in addition to their utilitarian functions, modern bathroom windows can be an extraordinary addition to the style of the interior.
Modern windows for the bathroom are often large glazings, which have become so trendy in recent times. Of course, owners of large, spacious bathrooms, especially with a view of a garden, can benefit from these. If the outside conditions allow it, the bath tub can be placed directly next to these windows. Spaciousness, daylight, beautiful views - these are certainly the greatest advantages of such a solution.
Bathroom windows UK
At Aikon Distribution, we can match windows to any type of bathroom. Bathroom windows in the UK? No problem. Just send us the dimensions of your window opening and your preferences, and we'll match the perfect window to your bathroom. Seeking other inspirations? Our guide to kitchen windows will certainly help you out.
Write to us!