By some estimates, 30% of our time is spent in our bedrooms. Just like choosing a comfortable bed and mattress, you need to make sure that the room where you are sleeping has a good view. A good window means one that provides adequate ventilation, soundproofing and shadowing.
Let's find out which bedroom window to choose!
How to choose bedroom windows?
Provide adequate ventilation
Fresh air in your resting place is very important. Fresh air helps us feel better and can help lower blood pressure and heart rate.

This is why it is important to ensure that the bedroom windows you choose has both a microventilation option, which means that the window can be opened, and a fully open option. If you don't like to open your windows often because you're afraid of overcooling the room or because of noise from outside, you can choose to install ventilators.

Find out more about window ventilators in our article:

Window trickle vents: yes or no? Hints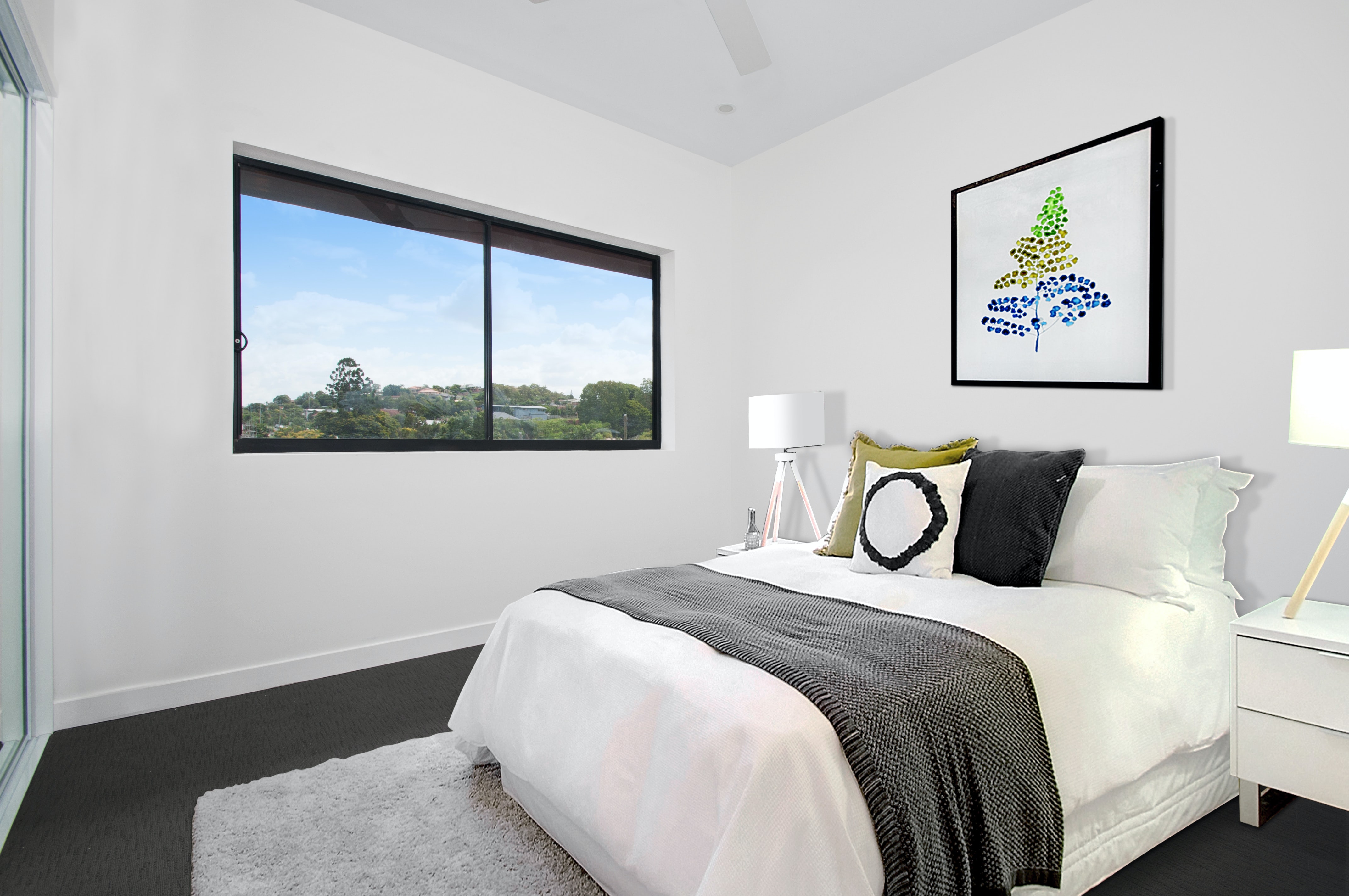 Bedroom windows
Good shading of the windows in a bedroom - essential for sleeping well
It is a good idea to think about the shading of your bedroom windows when you are choosing the windows for your bedroom. You can choose from a range of external roller shutters or Venetian blinds. Ideally, they should be able to operate automatically. This allows even more light into the room, both during the night from the street lamps and in the morning when the sunlight can be annoying for late risers.

See our range of roller shutters and venetian blinds:
Soundproofing bedroom windows - choose silence
The windows in a bedroom should also effectively insulate against outside noise. This is especially true if you live in a city centre or if your windows face a busy street. Soundproof glass* and the aforementioned blinds should do the trick.

*Soundproof glass is defined as glass with increased sound insulation. Standard glazing has a sound insulation value (Rw) of 30dB, but sound insulating glazing should ideally have a value of at least 35dB.
Large bedroom windows
If the architecture of your home allows for large windows in the bedroom - go for it. A bedroom with large windows will allow us to flood the room with light and create a cosy atmosphere conducive to regeneration and relaxation. It will also give us a glimpse of the magnificent views that nature offers us outside the window (of course, if our bedroom windows overlook the terrace or garden).
Moreover, a bedroom with a terrace and large windows is one of the most fashionable solutions in recent times. Large bedroom windows are a symbol of modernity, they add elegance, class and lots of light to the room.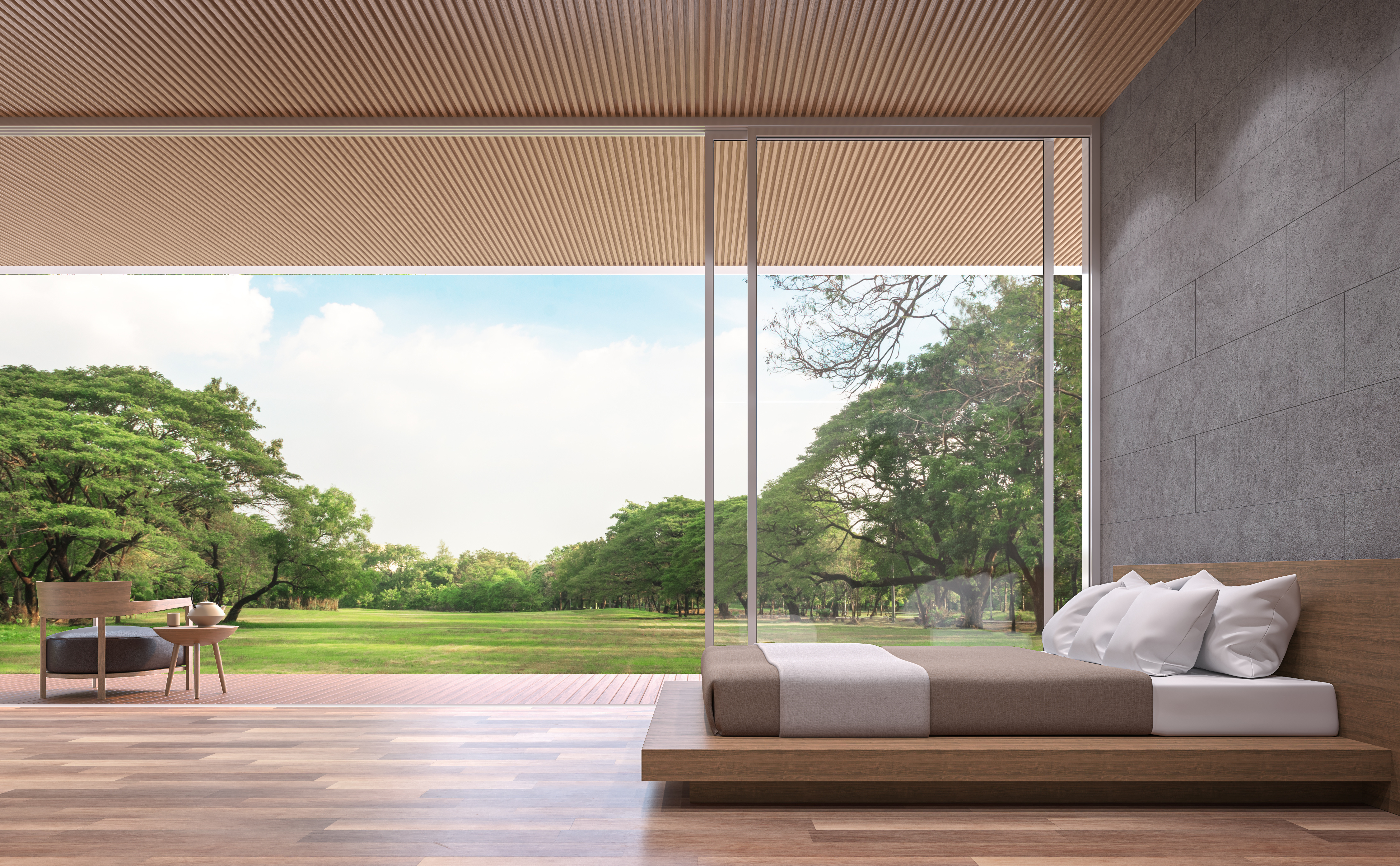 Large bedroom windows
What large windows do we recommend for a bedroom?
For example, Aluplast HST Lift and Slide doors. Using them will give your bedroom a unique character. It also frees up space on the terrace or balcony without taking up bedroom space.
Learn more about this product:
ALUPLAST HST LIFT AND SLIDE DOOR
Order bedroom windows from Aikon Distribution
At Aikon Distribution you can order windows and doors for any room in your home - including, of course, windows for a bedroom. We have a range of uPVC, timber and aluminium windows in a wide variety of shapes, designs and colours.
If you already have a design for your bedroom or a drawing of your bedroom window, send it to us - it will make it much easier for us to choose the perfect product for you.
Be sure to check out other inspirations! Your bedroom can also benefit from installing panoramic windows.