Panoramic windows in the living room make the living room, a room where we spend a lot of time during the day, an integral part of the outside world. A large garden, a neighborhood of forests, lakes, a view of the mountains? We don't have to give that up when choosing panoramic windows. After all, living room panoramic windows create an opportunity to create a space that merges with the landscape surrounding the house. But that's not all. Panoramic windows in the living room are also a beautiful design. Aesthetic, designed in accordance with the latest trends, they will add a unique character not only to the living room, but also to the entire building.
Panoramic windows for living room - unlimited possibilities
Creating beautiful panoramic windows, i.e. very large glazings, is currently not a problem. Modern window and door joinery makes it possible to go beyond the beaten track, which in turn allows architects' bold visions and investors' dreams of barrier-free houses to come true.
It should be emphasised that large glazings do not affect the functionality of a window. Modern systems allow large glazings to be opened and closed freely. To create panoramic windows for living room, we may use fixed tilt or casement windows, however, sliding systems are most frequently chosen. Despite the large size, the opening part of the window can be easily and conveniently operated. This possibility is offered, among others, by the Panorama aluminium folding doors. Their size can reach up to 1200 mm in width and 2500 mm in height.
See our range of aluminium folding doors:
Panoramic windows in the living room - advantages
Panorama windows in the living room have a number of advantages. One of them is that they significantly increase the aesthetic value of the room. They give the interior a luxurious character and optically enlarge it.
Panoramic windows in living room also provide the room with a large amount of daylight, which creates a comfortable living environment. They also reduce the need for artificial lighting, and the sunlight entering the living room additionally warms the room, making it possible to reduce electricity and heating costs.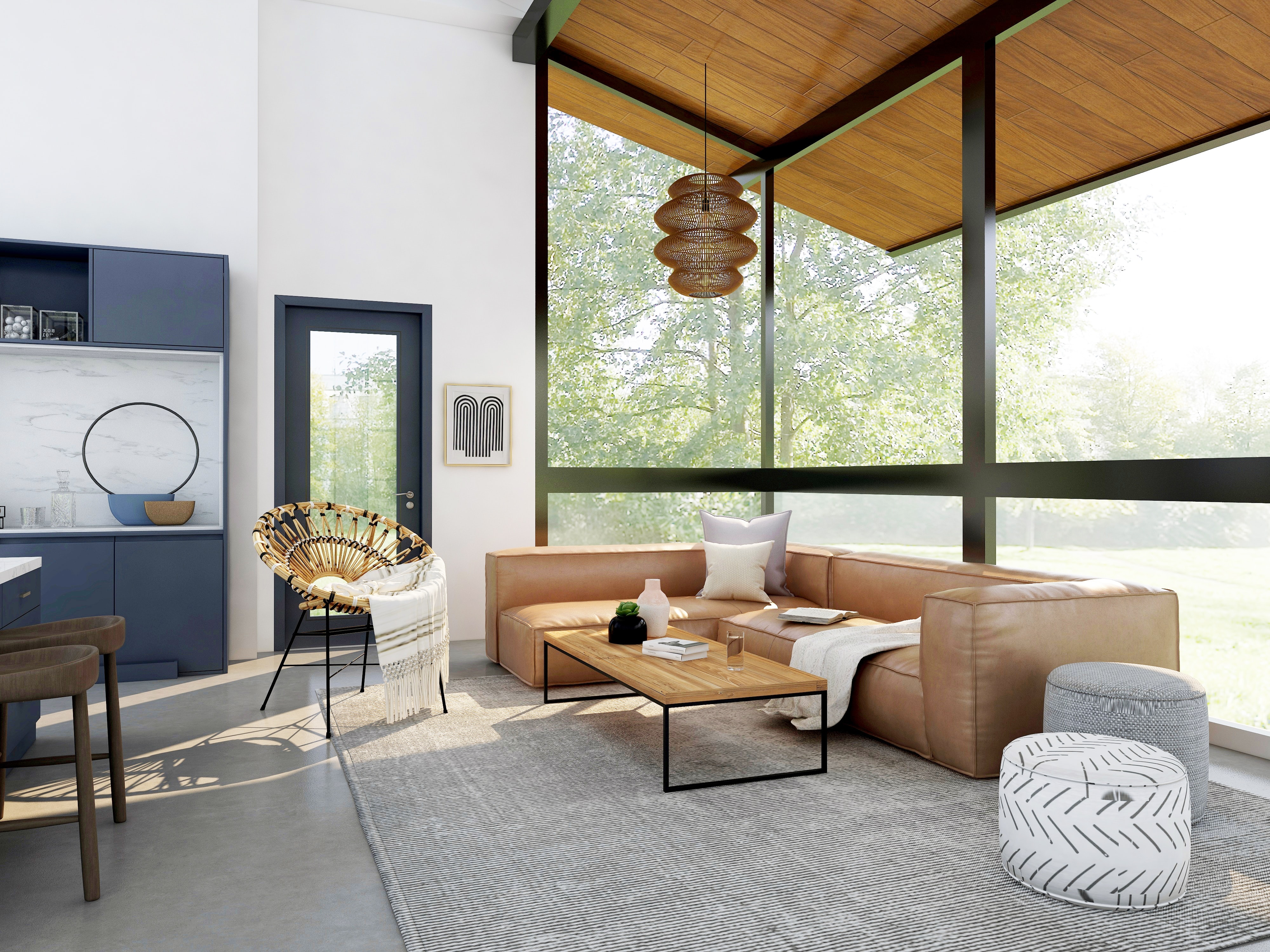 Aluminium panorama windows in the living room
Are there weaker sides to panoramic windows in the living room?
When choosing panoramic windows for living room, you should consider that large windows heat the room significantly on sunny days. In winter this has its advantages, as you can save on heating. In summer, however, it is a good idea to protect yourself from excessive room heating by using external blinds or shutters.
See our range of external blinds:
When deciding on living room panoramic windows, one should also remember that, due to their large surface, they will be more difficult to clean than windows of smaller size.
You can find tips on how to clean plastic and aluminium windows in our articles:
How to clean aluminium doors and windows?
Living room panoramic windows and security
The solutions applied in panoramic windows are aimed at ensuring maximum security to their users - both in terms of everyday operation and burglary protection.
Safety is ensured by appropriately selected fittings, glazing and a strong and durable frame structure. An additional protection for panoramic windows in living room will be external roller shutters which, if properly selected, will protect the house against burglary.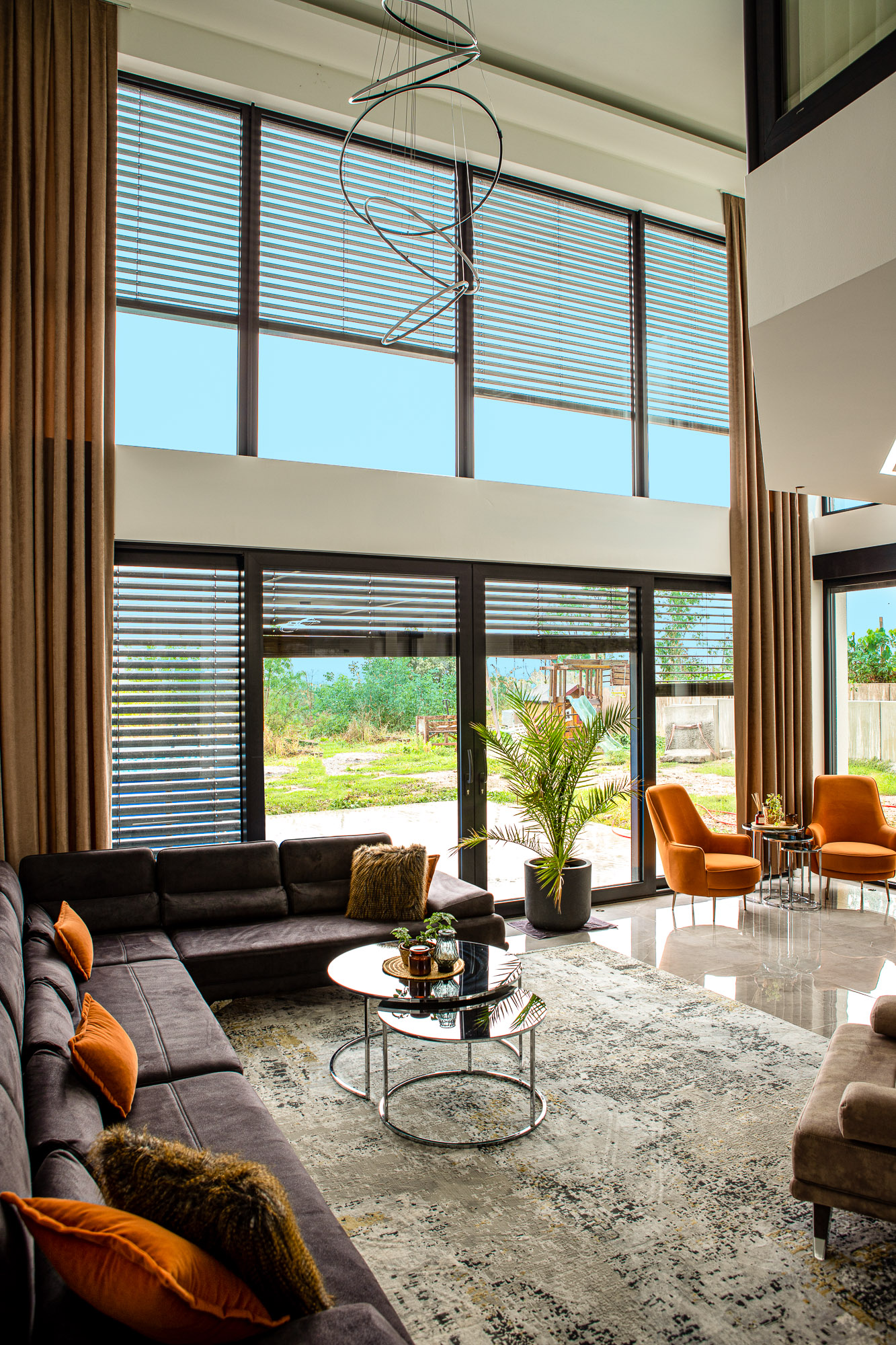 Panoramic windows in the living room - project accomplished by Aikon Distribution in eastern France
Panoramic windows in the living room - an offer by Aikon Distribution
At Aikon Distribution, we offer living room panoramic windows that provide an excellent visual experience and great technical performance. We can create large glazings of size 1200 and width 2600.* In addition to size, we allow the customer to choose the number of quarters, the layout of the sashes, the type of glazing, additional profiles and colours. Importantly, we process each order individually.
*All orders are carried out by Aikon Distribution individually. The final heights and widths of windows and doors depend on the systems and materials selected by the customer.
If you are interested in our range of panoramic windows - please contact our experienced advisor. He will be happy to answer all your questions and prepare an offer tailored to your needs.
Read also: