Plastic windows have been a very popular choice when planning to build a house for many years. Probably the economic aspect is the main reason for this - PVC windows are one of the cheaper ones. But not only. Owners of plastic windows, on the other hand, sooner or later face another challenge - how to clean PVC windows? There's no denying that under the influence of smoke, dust, fumes or even rain, the frames get dirty and the plastic material of the frames loses its whiteness. However, there is a remedy for this too.
How to clean PVC windows?
PVC windows and doors offer optimum performance in terms of robustness, mechanical resistance and usability and therefore require limited maintenance, unlike their timber and aluminium counterparts. This is a huge plus for them. However, we recommend cleaning PVC windows at least a few times a year to remove residues from weathering agents as well as smog and dust, which affect the durability of the window components. Systematic maintenance and care will keep your windows looking as good as the day they were installed for longer.
See our offer of PVC windows:
The best way to clean PVC windows
What not to use for cleaning PVC frames?
When cleaning plastic window frames we have to be very careful. Under no circumstances, even if the frames are heavily soiled or yellowed, should we use strong caustic agents. Use bleaching cleansers with caution. Strong chemicals can tarnish the plastic and our PVC windows will never regain their brilliance. Overly strong preparations can also lead to discolouration. When cleaning PVC window frames, choose the right cloths. A soft microfibre cloth, cotton cloth or sponge will work best. We must be careful not to scratch the plastic coating. A damaged surface will become dirty more quickly and will be more difficult to clean the next time it is being cleaned.
REMEMBER: Before cleaning the PVC window frame properly, it is necessary to remove accumulated dust.
Cleaning of coloured and white PVC profiles
Regardless of whether you are cleaning windows with coloured or white profiles, you need to choose your detergents carefully. As mentioned, overly aggressive and highly abrasive detergents may cause discolouration of the window frames.
White PVC profiles are best washed with a mild detergent and a soft cloth. This may be a dishwashing liquid or soap dissolved in warm water.
Do not use powders or even lotions, as they may rub off and dull the surface.
Even a slightly abraded surface can become dirty more quickly after a while.
To clean coloured PVC profiles, use household cleaning liquids for a variety of surfaces, diluted with lukewarm water.
Do not use caustic liquids, chemical solvents or acetone.
Do not use sharp cloths or abrasive materials or powders.
Cleaning PVC windows - glass
To clean PVC window panes, all we need is a sponge or microfibre cloth, glass cleaner, squeegee and a bucket of warm water. Use the sponge or wet cloth with the cleaning fluid to wipe the windows, then squeegee from top to bottom to remove the foam. Once the window is dry, all that remains is to wipe the window sill. When cleaning the glazing of PVC windows, the focus should be on minimising streaks and ensuring that the glass dries evenly. You also need to remember to clean the glass both inside and out.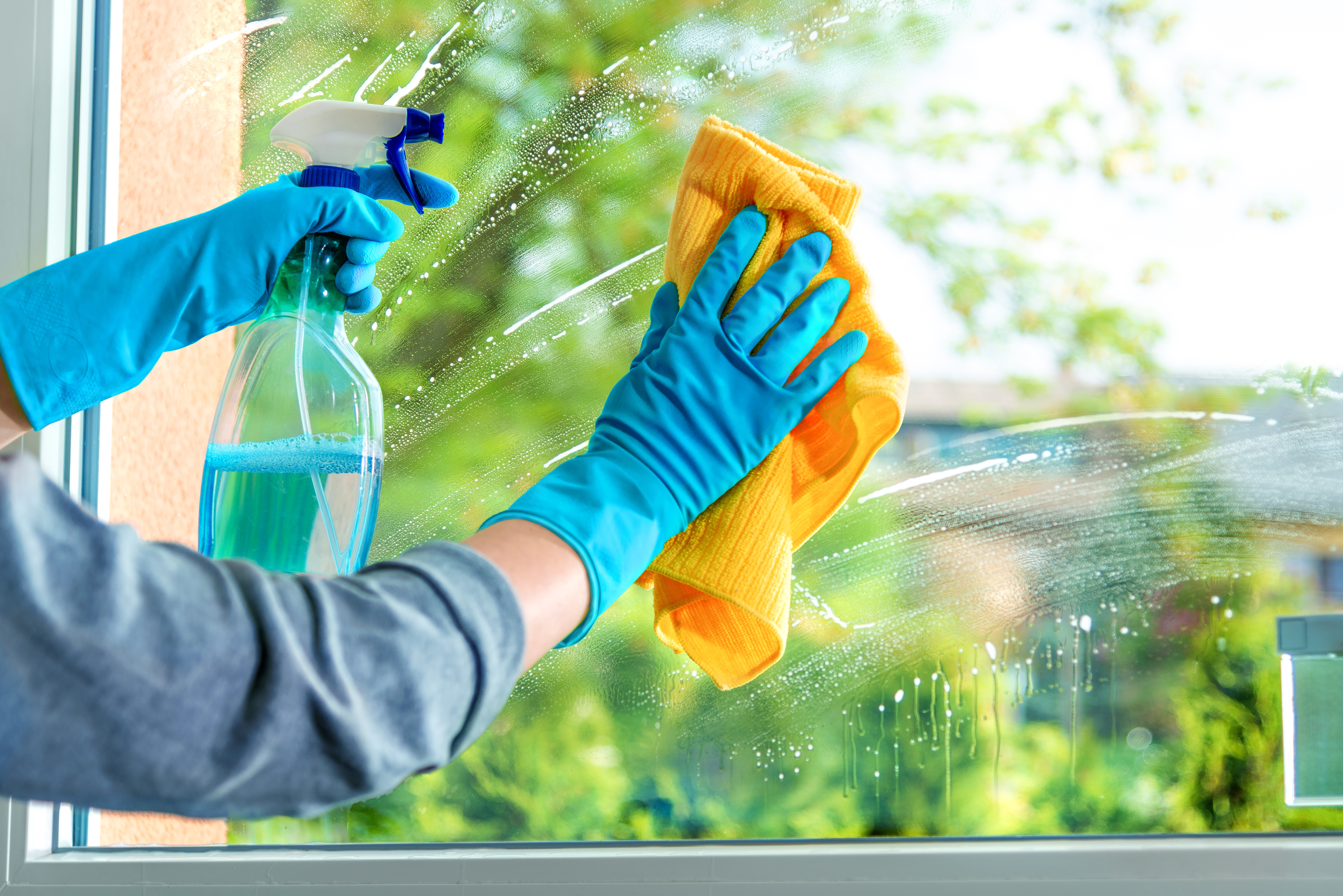 Cleaning PVC windows
When to clean PVC windows?
It's worth remembering that to get streak-free windows, they should be cleaned in the right weather and at the right time of day. A hot day is not the best time to clean your windows, as the sun's rays fall on the glass then and the water evaporates faster, leaving unsightly drip marks, streaks and smudges.
You should also not clean your windows when it is freezing outside. Water particles can then freeze on the glass, making cleaning more difficult and further scratching the surface of the glass. So when should PVC windows be cleaned? On a cloudy but rain-free day or when the sun is shining but its rays do not fall directly on the panes of the window you are currently cleaning.
Read also:
Cleaning PVC windows is not a difficult activity, but it is important to remember that the most important thing is PREVENTION. It is easier to prevent permanent dirt and yellowing than to fight against it. If we clean PVC window frames thoroughly and systematically from the beginning, we will certainly be able to enjoy their whiteness for longer. Dried, old dirt and yellowed stains are more difficult to remove.
Are you interested in our PVC window offer, please contact our sales consultant, who will tell you which windows will be best for you.