Timber panel doors are one type of timber door sash. Timber doors, like windows or other elements visible from the exterior, are the hallmark of our house. To ensure that its aesthetics are not disturbed, they have to correspond in colour and style to the character of the building. It is up to us to decide whether we want the sash to be consistent in colour with the walls or whether it should be in a shade contrasting with them. Nothing gets in the way of matching the style of the roofing. What is the construction of a timber panel door? Which rooms are they suitable for?
Construction of timber panel doors
Panel doors are structures that are used to design interior and front doors. Such a construction consists of a frame and a panel. Such products are often used in homes, flats and office spaces.
Panel doors take their name from the presence of a panel in the construction. Thanks to the panels, the designed door sashes are distinguished by their originality and stylish appearance. The construction of all timber panel doors has similar components. Fundamental is the frame, which is made of solid timber. On the inside of the frame there are special grooves that are used to fix the panel. The fixing must be done with special care, as it gives rigidity and strength to the door leaves. In some models, panel doors are fixed with decorative grooves or additional mouldings.
The material from which the timber panel doors are made determines their reliability, durability and ultimately the price of the product. Timber doors are most often made of meranti, oak or pine. Although they differ in colour or hardness, among other things, they are a choice for years which guarantees great quality.
See our range of timber front doors:
Where to use timber panel doors?
Timber panel doors, depending on their design, can be used as external doors, i.e. front doors, but also as internal doors separating rooms.
In the case of interior doors, the manufacturers use thin material to create the structure - i.e. inserts of timber plywood or thin MDF. Timber exterior panel doors are made of durable timber and manufacturers take care of all the qualities of their thermal and acoustic insulation when manufacturing them. Timber exterior panel doors can withstand heavy mechanical loads and are resistant to weather conditions. At Aikon Distribution, we make exterior timber doors.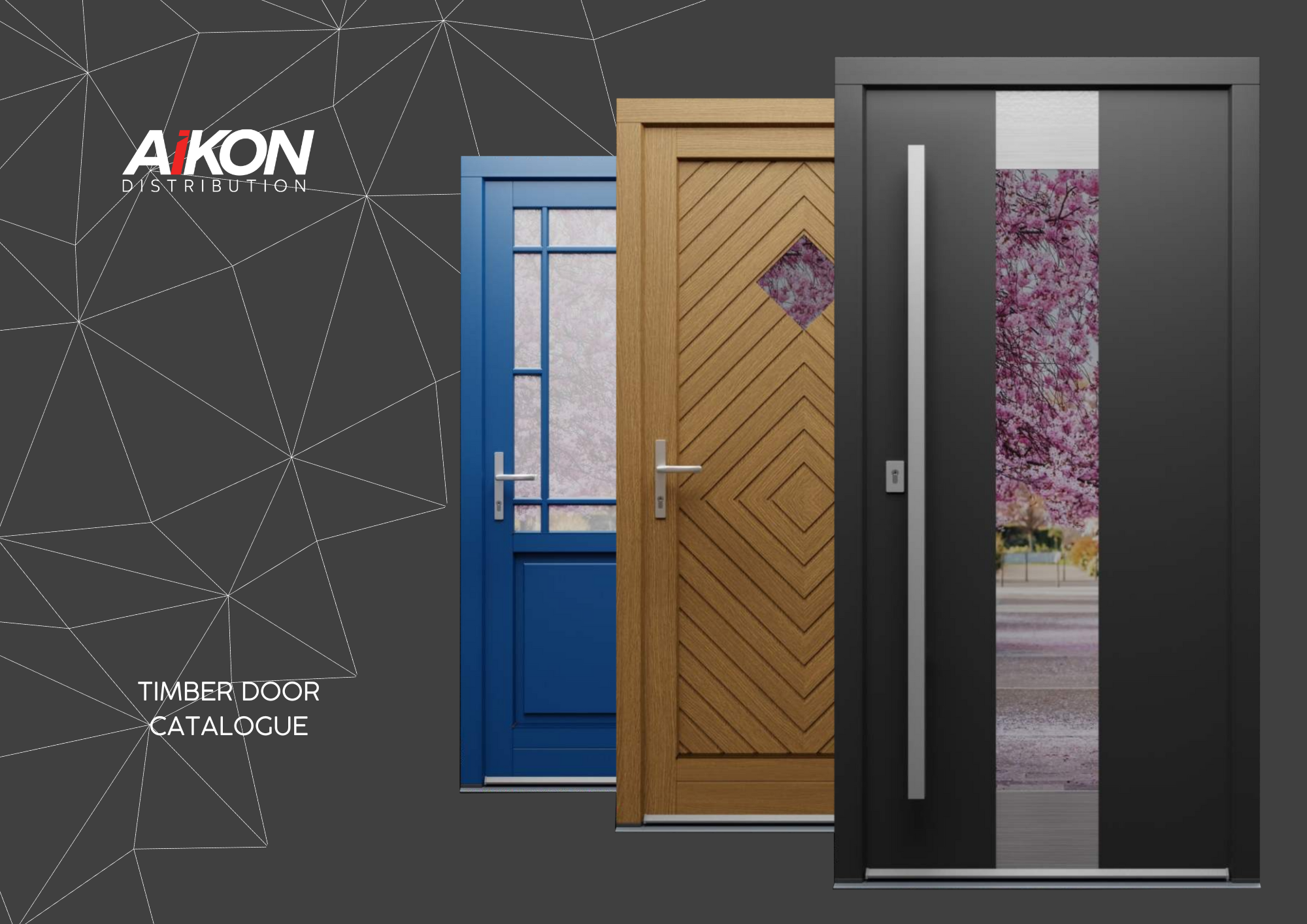 Aikon Distribution timber door catalogue
View the timber door catalogue:
Brand new at Aikon Distribution! Timber door catalogue!
Timber panel doors - colours
You can paint timber panel doors in many colours with varnishes to preserve the natural look of the timber and its grain. It is also possible to cover the timber with opaque paints. Depending on the customer's preference, we are able to supply timber windows and doors in any colour from a wide range of RAL colours.
View the timber colour range at Aikon Distribution:
How do you look after timber panel doors?
Every door lasts for years and will maintain its appearance if properly cared for. Regular cleaning, maintenance and special care of the product is the key to success.
Do you wish to select a timber front door for your flat or house? Please do not hesitate to consult our specialist!
Read more: