The kitchen is a room which, because of its peculiarities, requires particular attention to design. It is not only where we cook and eat. It is also where we meet friends and spend our leisure time. It is therefore extremely important that the kitchen is well lit, well ventilated and safe. Here is some advice on what to look out for when choosing a window for your kitchen.
STEP 1 - What material should I choose for a kitchen window?
Basically you have three choices - PVC, aluminium and timber.
PVC kitchen windows
The best compromise between quality, functionality and price are plastic windows. This is due to the fact that they have a number of advantages and their price is often much lower than that of wooden or aluminium windows. Weather resistant, airtight, easy to clean and easy to maintain are some of the main benefits of PVC windows.
Have a look at our range of PVC windows for kitchens:
Kitchen aluminium windows
Another type of window that we can install in your kitchen is the aluminium window or doors. These windows are very durable and long-lasting. They have very good thermal insulation properties. You can also choose from many colours that match the kitchen walls or the house front. They are ideal for use in modern kitchens, industrial kitchens and modernist kitchens.
Take a look at our offer of aluminium windows for kitchens: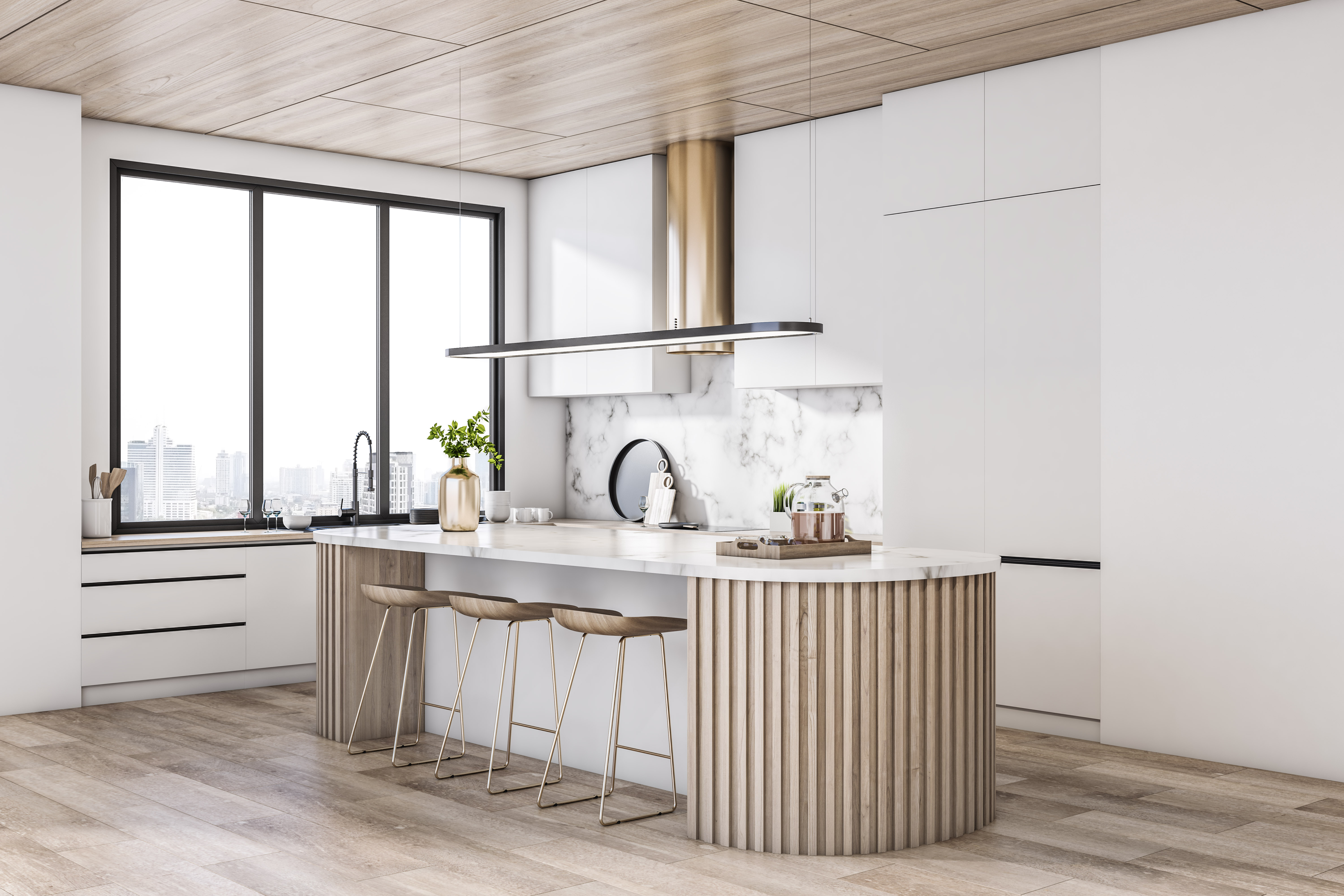 Aluminium kitchen windows
Wooden windows for the kitchen area
The last material from which it is possible to manufacture kitchen windows is wood. Wooden windows are elegant and timeless. They evoke nature and the countryside and are ideal for rustic interiors.
Take a look at our range of wooden windows for the kitchen:
STEP 2 - Kitchen windows - large or small?
The question of window size is very important when choosing windows for the kitchen. Not only the design, but also the functional qualities of the kitchen are directly influenced by the size and position of the window. It is worth considering both the specifics of the planned kitchen and the view from its windows when making a decision. If it is not very interesting, a large window may not be the best idea. However, if you have a kitchenette that connects the kitchen with the living and dining room, then a large window will work perfectly.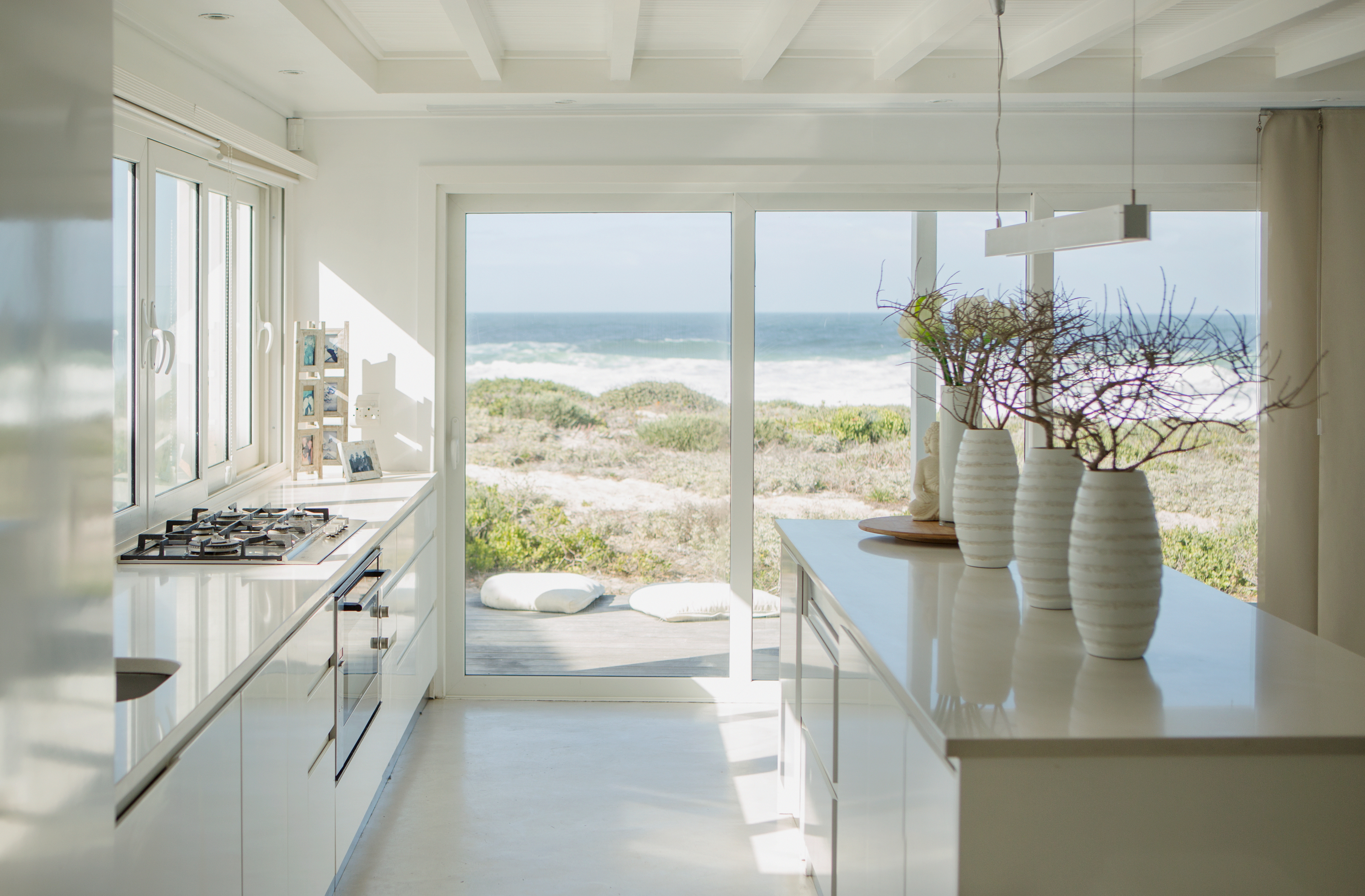 Large kitchen window
STEP 3 - Which kitchen window - tilt and turn, sliding, fixed?
The kitchen is a particularly humid place. Steamy kitchen windows can cause unsightly streaks below the window line, and a lack of proper ventilation is the first step to a mould and mildew problem. This is why it is so important to ventilate the kitchen and have adequate ventilation.
And in this case, an unopened fixed window is unlikely to do the job. A tilt and turn or sliding window would be a better option. The former only needs to be opened to ventilate the interior, but full opening may require rearranging kitchen appliances or pots on the windowsill.
Sliding windows, on the other hand, are ideal for rooms where space is at a premium. It is also a good option if the inside windowsill is a usable surface for storing crockery or kitchen accessories, for example.
STEP 4 - Design - A kitchen window in colour
When considering what to look for when choosing a kitchen window, it is impossible to ignore the question of its appearance. Kitchen windows are now available in a wide range of colours, and they don't have to be just white. Modern solutions used in window joinery make it possible to make one window in two completely different colours. As a result, we can integrate them into the design of the room, perfectly matching the style of the interior and the appearance of the building from the outside.
Read more:
Pantone's colour of 2023 - windows and doors in colour?
STEP 5 - Shutters or blinds - how to cover the kitchen window?
The final consideration when buying kitchen windows is the choice of external covers, such as roller blinds or venetian blinds. These will help protect the room from excessive sunlight and overheating, as well as from the prying eyes of neighbours. In winter, they will help to keep warm air in.
Read:
Discover blinds for glass facades and large glazed areas
As you can see, a window is one of the most important elements of any kitchen. That is why it is worth thinking carefully about its purchase and choosing a model that will fully satisfy us.
If you need help in choosing the right window for your kitchen, please contact our sales representative. He/she will advise you and help you with the formalities.

Read also: