Energy efficiency plays an important role in modern construction. Buildings are designed to consume the least heating energy which is very expensive and also with the aim to use free heat sources such as the sun. That is why the southern façades of residential houses and office buildings are generally glazed. However, what works perfectly in the winter, is an affliction in the summer.
Even very good windows transmit about 80% of the sun rays. In the summer, it leads to annoying overheating of a building. In such a situation, air-conditioning becomes indispensable and thus, the energy gain starts to be purely illusory. Therefore, exterior sun shades are an essential architectural element of a building. The most popular solutions include roller blinds and façade blinds.
What should we know?
High-class roller blinds and façade blinds protect not only against the sun but also gusty wind and noise. They greatly improve the comfort of a building during the whole year.
Façade blinds - modern and functional
This solution is less often chosen so far, compared to the classic external roller blinds. Nevertheless, this trend is changing slowly, which is noticeably seen in the Western and Sothern Europe. Investors more eagerly decide to choose façade blinds, appreciating their original design and excellent functionality. Thanks to their lightweight structure, there are no problems in their use and the installation is exceptionally easy.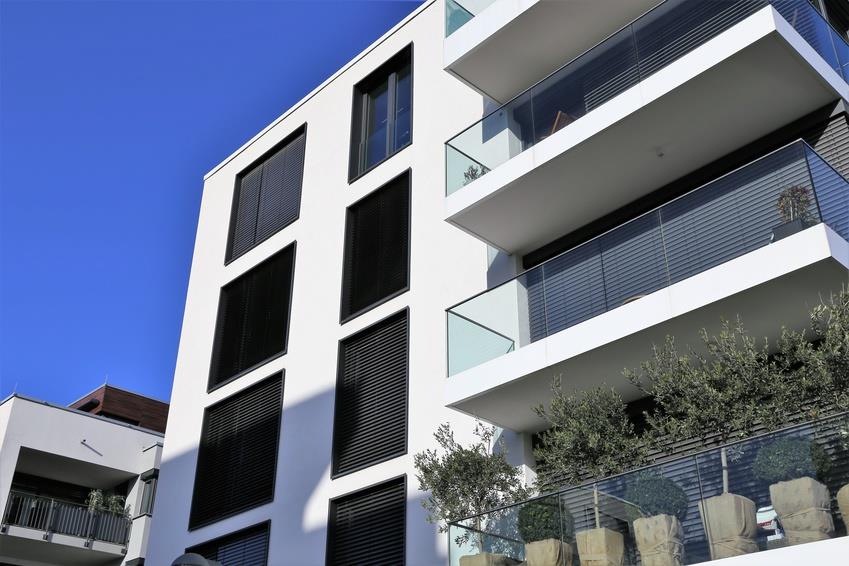 Façade blinds
The blind are made of aluminium slats available in four shapes and sizes: "C-like" (width: 65 mm or 80 mm), "Z-like" (width: 90 mm), "S-like" (width: 70 mm) and "F-like" (width: 80 mm). The useful function of façade blinds is that the slats can be freely moved - we can set their angle so as to effectively block the excess of sunlight without blocking the view outside.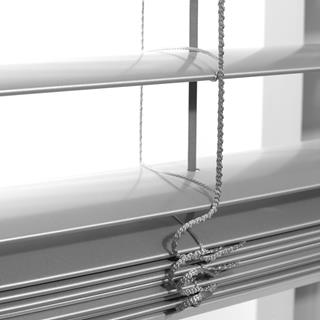 Slates type c
Modern façade blinds can be equipped with an electric drive integrated with weather sensors or a timer. This function ensures that the blinds can automatically shut down when strong sunlight falls on and open when the sky is clouded (or according to individual preferences of the user). It becomes a standard that the blinds are controlled by a remote device as a part of a smart home system.
To sum up: the main advantages of façade blinds:
• Large level of sun exposure control,
• Elegance and glamour style,
• Not complicated and light design,
• Ensure privacy without the need to cover the windows completely,
• Highly effective protection against the sun and thus, against the heating of the interior,
• Can be installed even on an unusual façade,
• Protection against the sun, but not against the world outside.
External roller blinds - the classics that still work great
It is definitely the most popular solution among external shutters available. Roller blinds characterize with numerous unquestionable advantages and what is most important, they are already well known and investors choose them very consciously.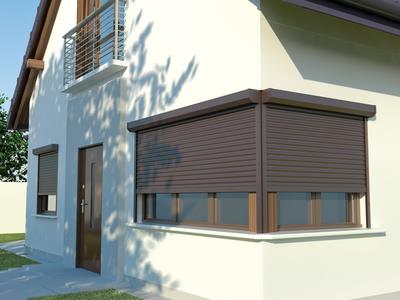 External roller blinds
It should be mentioned that external roller blinds are unrivalled in terms of interior shading (100%), thermal insulation (they retain even 40% of the heat transmitted through the windows, and an air-pad that is created between the roller blinds and glass provides additional insulation) and noise protection (high-class roller blinds reduce the sound input volume even by 14dB). It is therefore a versatile and reasonable choice in terms of comfort of the users and the maintenance costs in the winter.
External roller blinds are not as eye-catching as façade blinds. It is not possible to set their elements so that the view outside is also visible and they completely isolate from the outside world. This functionality is very important because modern architecture is opened, and large glazing or large patio doors are designed not for blocking them with roller blinds.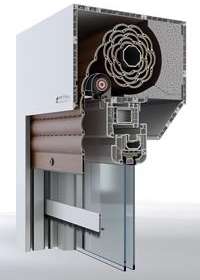 Exterior roller shutters with insect screen
However, the undoubted advantages of external roller blinds include:
• Esthetic appearance,
• Very effective protection against the sunlight, cold and wind,
• Perfectly isolate from the noise,
• They provide full intimacy (100% overshadowing),
• Cost-efficient.
As we can see, both the façade blinds and roller blinds are a good option. That is why, when choosing the variant, their basic intended function in a particular room should be decisive. This is the only thing to be done by a customer, the rest will be done by the shutters providing long years of functionality.
Read more:
External roller shutters – protection or decorative element of house elevation?
External Venetian blinds – methods of assembly