As of July, Aikon Distribution is introducing three new unique colors for its external Venetian blinds with a matt finish that are sure to attract the attention of customers. These new shades will not only add a modern touch to the facades of buildings, but also ensure perfect harmony between architecture and visual aesthetics.
New matt colours for External Venetian blinds
The new colours in our range are the following shades:
Black matt (RAL9005)
Its exceptional depth and matt finish give it a unique character that blends perfectly with both modern and classic buildings. Black matt is the perfect choice for those looking for a striking solution that will stand out in the cityscape.
Structural anthracite matt (RAL7016)
Combines the subtlety of a matt finish with a fine surface texture. This shade is ideal for those who are looking for a unique solution to give their building façade a modern and designer look. Structural anthracite matt blends in perfectly with a variety of architectural styles, emphasising their individual character.
Anthracite matt (RAL7016)
This shade is not only elegant, but also neutral, making it a versatile choice for many projects. Anthracite matt blends in perfectly with different façade colours to create a harmonious whole. Thanks to its subtlety, this colour allows buildings to gain a modern look that will not "age" quickly and will impress for many years to come.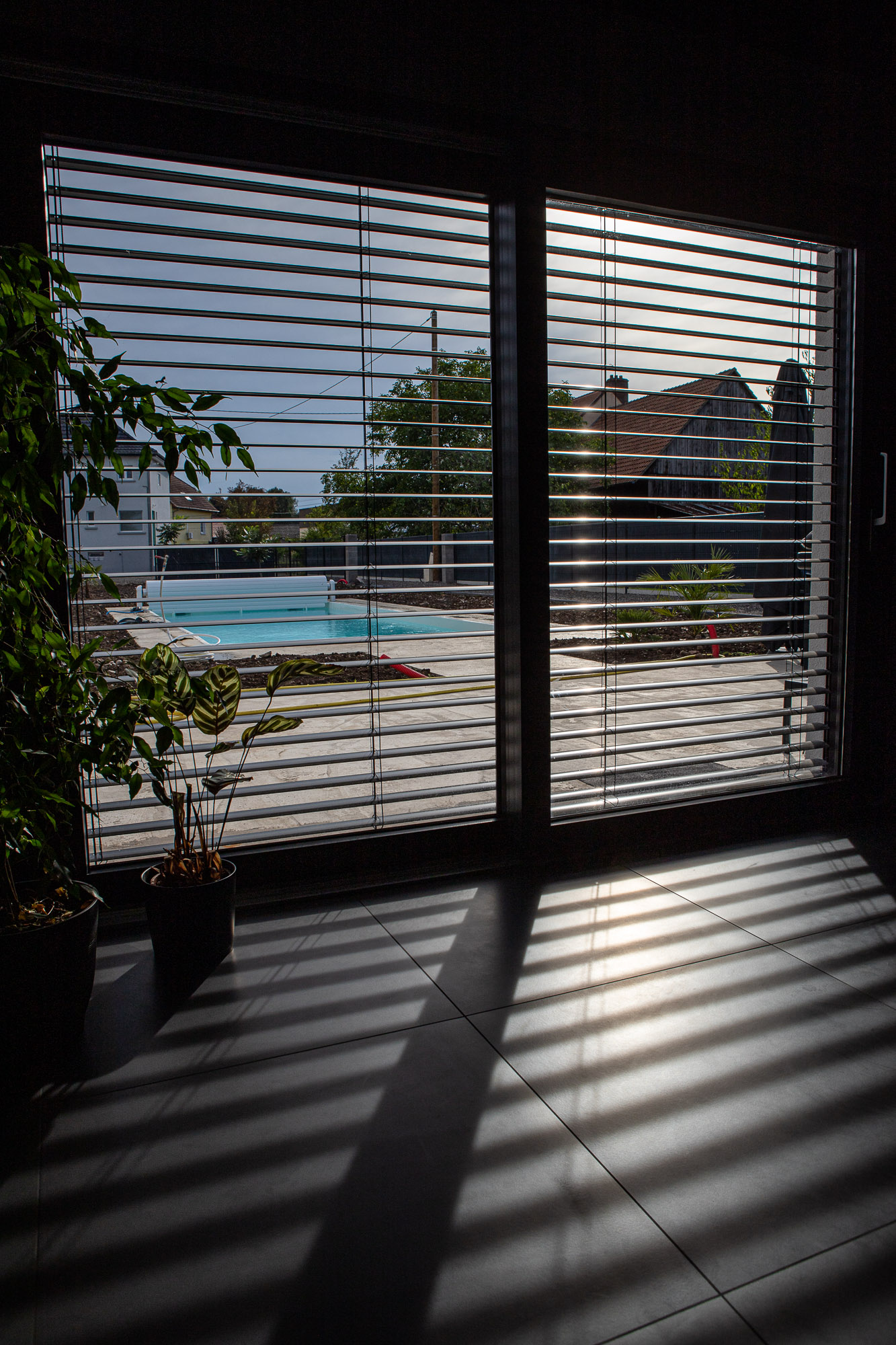 External Venetian blinds by Aikon Distribution at a client in the south of France.
Matt colours in architecture
One of the main advantages of matt surfaces is their ability to diffuse light. Unlike glossy finishes, which reflect light, matt colours subtly diffuse it. As a result, they minimise light reflections, which contributes to the aesthetics of the façade and the reduction of glare, which can sometimes be a nuisance to residents and passers-by.
The lessons to be learned from the growing interest in matt colours in architecture are clear. The introduction of such finishes is an excellent way to give buildings a modern, elegant and unique character. In addition, improving the appearance of the façade and enhancing interior comfort are aspects that affect the quality of life of residents and have a positive impact on the public of urban spaces. This is why matt colours are successfully winning the hearts of architects, designers and investors, moving from being a fad to a permanent feature of contemporary architecture.
External Venetian blinds at Aikon Distribution
The new matt colours of external Venetian blinds available from Aikon Distribution are not only the perfect solution for architects and developers, but also for individual customers who want to give their buildings a modern and original touch. By choosing one of these three proposals, investors can be sure that their façades will look extremely attractive and gain recognition among users and passers-by.
Check out the range of external Venetian blinds at Aikon Distribution:
As a leading provider of innovative solutions for the building industry, Aikon Distribution continues its mission to provide top-quality products that meet the needs of today's market. The new matt colours of the façade blinds are a perfect example of this philosophy, enhancing the range with unique products that will delight even the most demanding customers. Get in touch with our specialist!
Read also:
Polish windows and doors worldwide