Wood windows mainly evoke two associations: beautiful look and above-average durability. However, none of these advantages are given once and for all. In order not to lose them, it is necessary to regularly check the condition of windows and, if necessary, carefully impregnate and maintain them. We will have to change the wood windows completely.
Wood windows replacement
It's not just residents of old buildings who might consider replacing wood windows. Also those people who did not take good enough care of the joinery in their new house and after several years it is already in a poor condition. Although modern wood windows are more durable than those manufactured decades ago, they also have their expiry date. In the past, the problem of window leakage occurred after about 15-20 years, now it can even occur after about 30-40 years. Keep in mind that this is the time period foreseen for wood windows that are regularly maintained. Buying new wood windows, therefore, is not at all a guarantee of their immortality.
Advice from an expert: if we are not sure how old our windows are, we can check it ourselves. Between the panes, on the edge of the insulation pad, you will find the manufacturer's name and production date printed.
See our range of wood windows:
Wood window SASH replacement
It happens that only the wood window sash, which was damaged e.g. during transport, installation or use, needs to be replaced and not the whole window. Normally only the window sash can be replaced. Under the condition, however, that the technical condition of the entire window is correct. Nevertheless, in such situations you should always contact your seller or the window manufacturer in order to determine the details and replacement possibilities.
SASH windows, like any wood window, require proper, systematic care, and if the need arises repair or replacement. Wood window sash replacement must be done when the windows start to rot, develop cracks or so called "rattling" in the wind. In order to replace or repair a damaged opening mechanism, i.e. a spring or a weight, it is only necessary to remove a part of the window frame. Unless the window is fitted with a revision which provides for this type of situation, then the frame does not need to be removed.
See our range of SASH wood windows:
Read also:
Sash cord & weight - classics in elegant design
Repair or replace wood windows
Replacing wood windows is usually a big operation, both financially and organisationally. However, there are times when this is unavoidable, e.g.:
the windows are worn or damaged;
the windows are not tight (due to poor quality or incorrect installation) or have lost their soundproofing;
the aesthetics of the joinery is very different from the rest of the building and any renovation will not change much.
Sometimes it is not necessary to replace wood windows, but only to repair them. It is also not always possible to replace wood windows with new ones, and when they are an antique they often have great sentimental value. Repair can then restore them to their former shine and at a relatively low cost.
How to check if wood window repair is enough? Carefully check that there are no visible defects on the frame of the wood window. We open and close each window, assessing the operation of the hinges and whether there are any signs of rust on them. We carefully check the wood for holes that may have been caused by pests. Using a hammer and chisel, lightly tap the wood elements to check for decay. If possible, also check the moisture content of the wood - suitable results are 15% for coniferous wood and 12% for deciduous wood. If the result is higher, the wood should be dried before conservation.
If a window is not irreparably damaged, we can repair and restore it. How can this be done? Check out the article below.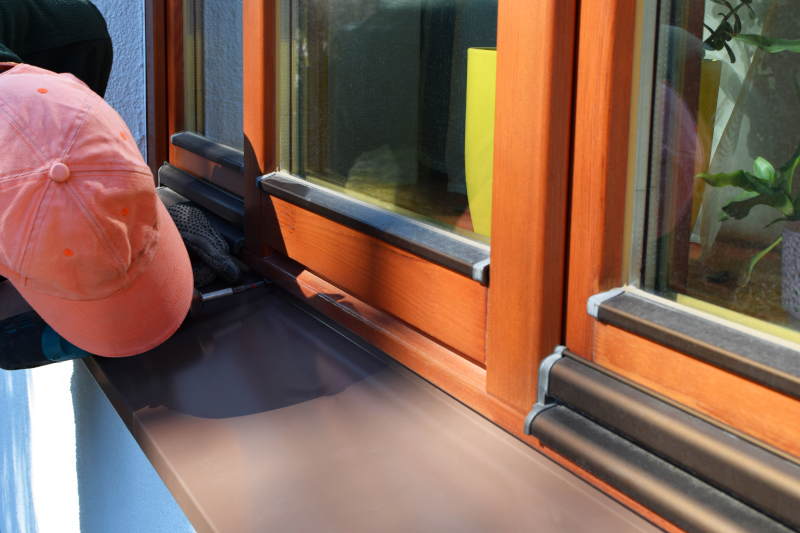 Wood window sash replacement
How to measure old wood windows for replacement?
The correct measurement of windows is very important whether before their installation in the raw state or before the replacement of window joinery with new one. Although the goal of the measurement is the same - perfectly fitting new windows, the measurement process looks a bit different depending on what we are actually measuring: the window or the window opening. When do we measure windows? When we want to replace the existing joinery with a new one, and also when we plan to:
replace only the window sashes, without removing the entire frame,
install roller shutters or external venetian blinds
install insect screens
How to measure old wood windows for replacement? Measurements should be taken with a rolled metal measure, the so-called yardstick. It is much more stable than a tailor's tape measure, ruler and other unprofessional measuring accessories. It is worth choosing a tape measure marked on both sides for greater convenience of use. It is necessary to measure both the window sashes and the frame. The width and height of glazing should also be measured.
As we mentioned before, the correct window measurement is very important. Therefore, it is worth entrusting the actions connected with the measurement to the installer, especially in the case of untypical windows. However, you can check how to measure the window reveal in our article:
Jambs measurement, i. e. how to measure a window recess.
Need help choosing the right windows for your home? Get in touch with our sales representative: