Many of us appreciate the aesthetic value of wood windows. However, like most natural elements, they decay with time. Scratches or cracks appear on their surface which need to be corrected.
Wood windows therefore need to be renovated once every few years. This process requires only basic knowledge, simple tools and, of course, patience and accuracy. Being equipped with all this, we can begin repairing the windows, which means they can even last for several decades. How does repairing a wood window look like? Check out.
Check our offer of wood windows:
Annual review of the condition of wood windows is a very good habit – This makes it easier to repair any damage when it is not yet advanced, which will reduce costs in the future. For example: if you quickly notice decayed wood or pests, this will allow you to save at least one of your window sashes.
Wood window repair
Before starting to repair a wood window, first of all make sure that it is possible at all. The window frame and sashes should be checked and their condition reviewed. Carefully check that there are no visible defects on the frame of the wood window. Open and close each window, reviewing the work of the hinges and checking for any signs of rust. Carefully check the wood for holes that could be caused by pests. Use a hammer and chisel to lightly tap the wood if they are decayed. If possible, also check the moisture content of the wood - suitable results are 15% for coniferous wood and 12% for broadleaf wood. If the result is higher, the wood should be dried before treatment.
If the wood has decayed due to weathering, for example, or if it has been severely damaged by pests, for example, we need to consider and decide whether it is better not to repair it. Then you will simply have to buy new windows. If, on the other hand, all you see on your windows is peeling paint, minor damage or damaged fittings and handles, you can try to repair your wood window and restore it to its great original condition.
How to repair wood windows?
If you notice damage, or if the expiration date of the previous renovation measures has passed, the windows should be removed.
However, before starting the actual repair, every part of the window should be completely cleaned. The most important thing in this case is the frame, which must be cleaned of all dirt, even in hard-to-reach places. To make it easier, you can get rid of the old silicone by carefully cutting it out with a knife so as not to scratch the glass and the fittings, which you can remove with a screwdriver or battery screwdriver. If there is grease on the fittings, it should be eliminated with an all-purpose solvent.
Wood window sashes should always be removed and if possible, the glazing should also be removed as it is exposed to damage during maintenance. In old windows the glazing will tarnish and become difficult to keep clean - you can order new ones and replace them during maintenance. New glazing will also be needed if it has been mechanically damaged.
Next, the old layers of varnish and paint should be removed from the windows - after a few years, the protective parameters they contain expire and must be replaced with new ones, even if they look good at first glance. The easiest way to remove the old layer is to use an angle grinder, scraper or sandpaper. You can also get rid of paint and varnish using appropriate chemical preparations - paint remover or high temperatures - using, for example, a building dryer.
As there may be a lot of dust and odour when repairing a wood window, it is best to repair the window while lying down. Outside or in an airy room. A garage or cellar with a window is ideal for this. All additional elements should be removed from the window sash: the handle, hinges and, if installed, also the roller blinds. Fittings as well as window panes should be secured with painter's tape.
Significant damage to wood windows
It sometimes happens that damage caused by pests or fungus is only visible after the paint has been removed. In this case, you should carefully recheck the condition of the window and decide whether restoration is still possible.
Remove the damaged sections and then coat the wood with hardener in that area (or all over) and leave for as long as the product description on the packaging suggests. Fill in the gaps with putty and sand the whole thing down so that the difference between the repaired part and the rest of the frame is not visible. Putty is available on the market in colours suitable for various types of wood.
A repaired wood window should be impregnated. This protects against pests and fungus. After applying the impregnator, you can paint and/or varnish the wood. When choosing paint, attention should be paid to its properties. First of all, it must be suitable for outdoor use. It is also worth choosing a paint, which will have special pigments in its composition, which protect wood against UV rays and moisture. should preferably be painted with a long bristle brush. Before painting a window frame, it's a good idea to protect the wall with painter's tape to avoid painting it.
When everything has dried we install the glass and other window elements such as handles and hinges and place the whole window back in the opening. Remove the painter's tape from the glass and fittings and check the quality of the seals installed in the window frame and sash. We recommend replacing them to make sure that wood windows are tight.
If everything has been done properly, the next renovation will only be a few years away.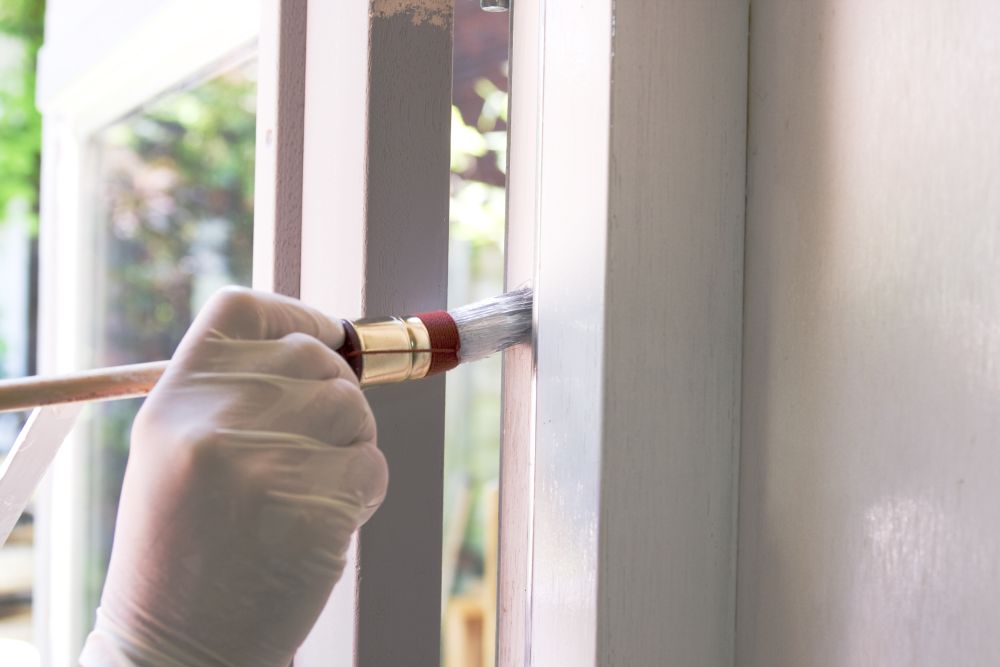 Painting a wood window
Conditions for repairing a wood window
The optimal conditions for repairing wood windows are a temperature of around 20 degrees C and low humidity. These conditions will allow for quick drying and the rooms will not get cold during the renovation.
It is not always possible to replace wood windows with new ones, and when they are antique they often have great sentimental value. Renovation can restore them to their former great original condition at a relatively low cost.
Maintenance of wood windows
In order to ensure that wood windows fulfil their function for many years and are reliable, they should be systematically maintained. It is best to do it twice a year. Before and after winter. It is then necessary to wash the windows with water and mild detergent, and then wipe the wood elements with special preservative preparations. They harden and refresh the varnish coating. When maintaining wood windows, you should also remember about seals, which should be coated with talcum powder once a year. The fittings, in turn, should be lubricated with technical oil, paying close attention to the top of the window sash, as this is where most contaminants accumulate and block the correct operation of mechanisms.
As you can see, we can try to repair wood windows ourselves. However, you must remember that their restoration requires accuracy, patience and knowledge. Before carrying out repairs, there are several important points to bear in mind. Firstly, the maintenance must be carried out at such a time as not to inconvenience the residents. Secondly, while the work is being carried out, the window sashes will be removed. Therefore, you should perform the renovation in a warm period of the year, in order not to cool the rooms. Thirdly, the temperature outside must not be too high as the paint layers will dry too quickly and as a result may crack.
Do you want to choose the right windows for your home? Contact our advisor: