All over the world, Polish windows are highly rated. Current economic statistics only confirm that Poland is the world's leading exporter of joinery.
It all started when Poland joined the European Union. Since then, exports increased almost 10 times. In 2021, it amounted to almost EUR 3 billion. And today we are doing better and better, although there are a lot of variables that can and do try to hinder the development of the industry.
Windows from Poland highly rated abroad
Specialists from the Polish Economic Institute point out that the Polish industry had a share of 16.1% of global exports in 2021. Thus, it was 1.54 percentage points higher than in the previous year. The most important merchandise category was PVC doors and windows as well as PVC frames and door thresholds. They accounted for as much as over 50% of the industry's exports. Timber windows and aluminium windows were also important.
Check out the range of PVC windows at Aikon Distribution:
The most important export markets are EU countries, as well as the UK and the US. With 35 per cent of PVC windows and doors, more than 25 per cent of timber and aluminium doors and windows purchased in 2021, Germany is the largest EU buyer. Significant EU buyers were also countries such as: France, Italy, Belgium, the Netherlands, the Czech Republic, Slovakia and Sweden. Whilst it is true that their shares of the various exported product groups are smaller.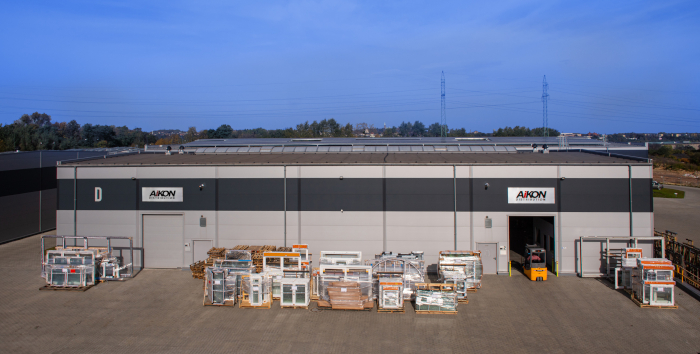 Aikon Distribution warehouse
Demand for Polish windows and doors - 2022 is already a record year
The very beginning of the year 2022 has already brought another record year for the export of windows and doors from Poland. The export value in the first quarter was around EUR 876 million, according to the Central Statistical Office. It was 34 % more than in the same quarter a year earlier. Although part of this figure is influenced by price increases, it is still a surprisingly good result.
The underlying economic situation piles up challenges like high inflation, shortages of raw materials and semi-finished products, transport problems, a general economic slowdown and a likely drop in demand for durable goods. Added to this, it is the great challenge of maintaining employment or manufacturing competitiveness. Still, we are not resting on our laurels, and our experts are making every effort to ensure that Polish windows and doors feature in construction projects all over the world. We do our best to keep prices as low as possible for our clients. All our clients receive the best products and we continue to guarantee their best quality, which is a result of working with top-class window and door manufacturers, double-checking the goods at Aikon Distribution's warehouse, and our commitment to the best customer relationship.
Choose Polish windows, appreciated all over the world.
Contact Us!
You may be interested in:
Buying windows in Poland pays off
Meet our experts and technicians - we are growing for you