Windows are an important part of any home. In addition to their practical function, they are also an important decorative element that can significantly affect the appearance of the entire property. One of the popular choices in the past was the window in golden oak. But does it still maintain its popularity, or has it gone by the wayside? Is it still a hit or already past history? Let's take a closer look at it.
Window in golden oak color
In the past, windows in golden oak color were extremely fashionable. With their natural, warm timber tones, they added charm and elegance both inside and outside the building. They suited both modern and traditional interior designs, forming a harmonious combination with other decorative elements. Windows in this color were eagerly chosen by those looking for a warm and cozy look for their home.
But as time goes by, trends in interior design and building facades are changing. Modern styles, such as minimalist or industrial, often favor simplicity and clean lines, which is often achieved by using windows with light, neutral colors, such as white or gray. Golden oak, while still beautiful, may not fit into the aesthetics of these modern trends.
Color schemes of modern trends
In recent years, we've also seen the growing popularity of aluminum windows, which offer higher energy efficiency and a modern look. With the availability of various colors, including golden oak, they can be easily matched to the interior design, combining modernity with tradition. Aluminum windows with golden oak effect are now a popular choice for those who appreciate the look of wood, but prefer modern solutions.
Despite these new trends, golden oak windows still have their devoted following. Some believe that wood still brings warmth and naturalness to the interior, which are difficult to achieve with other materials. For many, windows in this color are synonymous with tradition and classics that will never go out of fashion.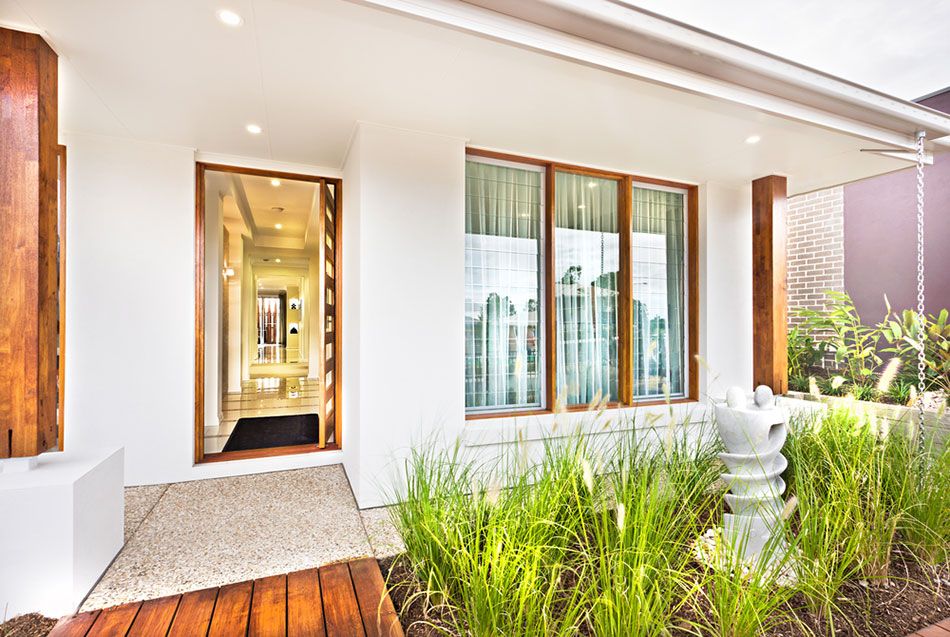 Golden oak colored windows
The color of windows at Aikon Distribution
Aikon Distribution, as a leading window supplier, offers a wide range of color schemes that will enhance the look of your home. Whatever your style or architectural preferences, Aikon Distribution has the right color palette to meet the needs of even the most demanding customers.
Our color range includes a variety of shades, from classic and subdued tones to bold and modern colors. You can choose traditional white windows, which add elegance and optically enlarge the space, classic golden oak or more daring shades such as graphite, anthracite or brown, which add character and distinction to interiors.
In addition, Aikon Distribution offers you the opportunity to customize the color of your windows to suit your individual vision. If you have a specific color preference or want to match your windows to the existing color palette on the exterior of your building, our experts will be happy to help you find the perfect color.
Learn more about the window colors at Aikon Distribution:
All of our windows are made of high-quality materials that ensure durability and ease of maintenance. The combination of solid construction and beautiful colors makes Aikon Distribution windows not only functional, but also aesthetically pleasing.
When you choose Aikon Distribution, you can be sure that you will get not only excellent quality windows, but also a wide selection of colors that will allow you to create a unique look for your home.
Golden oak - still a hit?
Ultimately, whether a golden oak window is still a hit or already the past depends on individual preferences and interior design style. Trends may change, but there are certain elements that have lasting value and will never cease to be attractive to a certain group of people.
Therefore, if you are a fan of a traditional, warm look, a golden oak window may still be the perfect choice for you. However, if you prefer more modern solutions, there are many other options that may better suit your needs.
After all, windows are not only a practical part of the home, but also an expression of our personality and style. Whether a golden oak window is a current hit or already history, the most important thing is to choose one that suits your tastes and meets your aesthetic expectations.
If you are selecting windows for your project - consult with our sales advisor. We will customize windows according to your preferences and needs.
Read also:
Full package for our customers!