White timber windows can evoke associations of a summer cottage with a terrace, as well as being associated with extraordinary elegance and class. As a result, white timber windows have been very popular and highly appreciated for many years. How to choose white windows for your home? Where do they fit in? Let's see.
White timber windows - where do they match?
The colour of the windows should match and match the colour of the house facade (guttering, external sills, roof), as well as its interior (floors, skirting boards, doors). This allows for an orderly arrangement and a coherent design. The most common choice is white window frames, which, simply by their shade, blend in perfectly with any façade colour, including dark. Cool white profiles go well with blue, grey and green façade tints. Warm shades harmonise well with beige, cream and sand colours. White illuminates the wall of the house and will always have a significant role in bringing light into the rooms.
Check out our range of timber windows:
A universal solution - a white timber window
A white window is the most conventional choice. However, it doesn't have to be a banal and boring one - especially when the choice is a white timber window. A white window in a room blends in with white or other light wall colours. It has been fashionable for centuries, is timeless and versatile. It allows great freedom when it comes to interior design. White timber windows play their part very well in classic, Scandinavian, rustic, English, Provençal, etc. styles. They seem to be a perfect solution for everyone!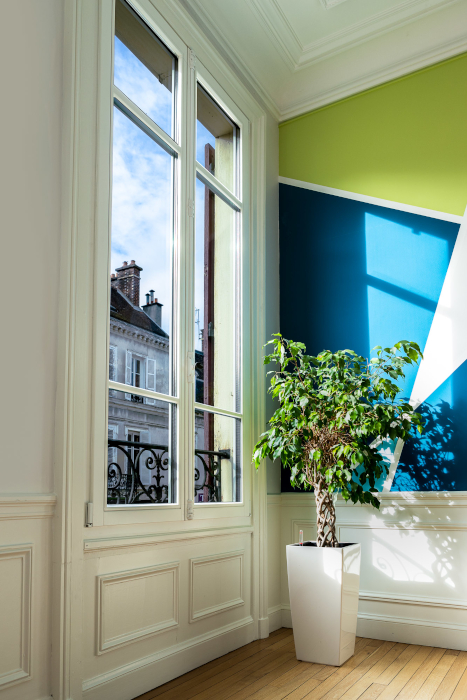 White timber window - an Aikon Distribution implementation project in the south of France
Check out the accessories for timber windows:
Why opt for a white timber window?
There are a few points that we are happy to cite to convince you to buy a white timber window.
Timber windows look very cosy and stylish. The ones in white with phenomenal accessories will give an extraordinary character to your rooms.
Timber windows regulate the humidity level in the house. And it works both ways! When the humidity is too high, timber windows absorb the excess moisture. When it is too dry again, they release the moisture inside.
A timber window is energy-efficient due to its low thermal transmittance.
A timber window does not deform under the influence of temperature.
Any damage to windows can be repaired relatively easily.
A choice of peace of mind for years to come - timber windows can be renovated, you don't have to replace them straight away with new ones as with uPVC windows.

Read our article on renovating timber windows:
In summary, a white timber window is an excellent choice. A range of benefits for home comfort, incredible versatility to fit into room styles and phenomenal aesthetics.
Thinking of choosing white timber windows? Speak to our specialist!
Contact

You may be interested in: