Timber is a raw material that has been used for centuries in the production of windows. A proven, natural material, once popular and underestimated - today it is associated with luxury and prestige. Why is it worth mounting timber joinery in your home? Have a closer look at the advantages of timber windows.
Advantages of timber windows
Very good insulation properties
Timber window frames provide excellent protection against excessive noise. This is because timber windows are airtight and soundproof. In addition, they have a low heat factor. A well-made frame easily achieves a UF coefficient of 1.0 W/m2*K, thanks to which the window can be used in energy-efficient houses. Such an energy-efficient timber window, available from Aikon Distribution, is the ECOTHERM window, which is designed for passive construction.
Read more about the ECOTHERM timber window:
Durable and secure timber windows
Modern timber windows are effectively protected against the adverse effects of weather conditions, as well as all kinds of pests that can damage timber. Experts estimate that properly cared for, maintained and impregnated timber frames can last up to 50 years.
Furthermore, timber has a lower thermal expansion of the material. Timber windows are more resistant to temperature changes and work better in masonry. Timber does not deform under the influence of temperature.
In addition, timber windows can easily be armed with burglar-proof features. How? By equipping the window with special hardware with burglar-proof bolts on the sashes and hinges and installing burglar-proof glazing. Such a pane consists of a minimum of two panes of glass, bonded together using several PVB films or resin, which hold the glass fragments in place in the event of breakage. In this way, the burglar-proof glass crumbles, but remains in place at all times. In addition, it is a good idea to provide the windows with a handle with a key or a special button as an additional barrier against uninvited guests.
The design of a burglar-proof timber window increases the time it takes for it to be forced open or effectively prevents an intruder from opening it.
Elegant and visually attractive
Timber is a material that radiates beauty. Transparent coatings bring out its natural colour and structure. Windows made from this raw material are not only durable and long-lasting, but also impress with their classic appearance. They are mandatory for the revitalisation of historic buildings, but are also perfect for modern architecture.
Timber windows are also synonymous of the luxury. They give a sense of solidity, comfort and are a timeless decoration of the interior and facade. In fact, timber windows suit all interiors regardless of their style - depending on their design, they will decorate minimalist spaces as well as decorate rustic styled interiors. After all, the frames can even be carved, giving you complete freedom to arrange the space.
See our range of timber windows:
Timber windows - ecological and environmentally friendly
Timber windows will be appreciated by all those who appreciate ecological solutions and like to surround themselves with natural products. On the one hand, as we have already mentioned, such windows are perfect for energy-efficient houses. The thermal insulation parameters of timber frames make us use less energy and heat. On the other hand, timber requires the least amount of energy to produce window frames. Thus, timber windows mean lower energy requirements for both households and industrial plants. Furthermore, with well-managed forestry, the negative impact of production on the environment is minimised. A new tree is planted in place of one that has been felled, and the processing of the material itself does not necessarily involve chemical processing. Timber also decomposes naturally over time and its waste is used to produce other materials such as paper, cardboard etc.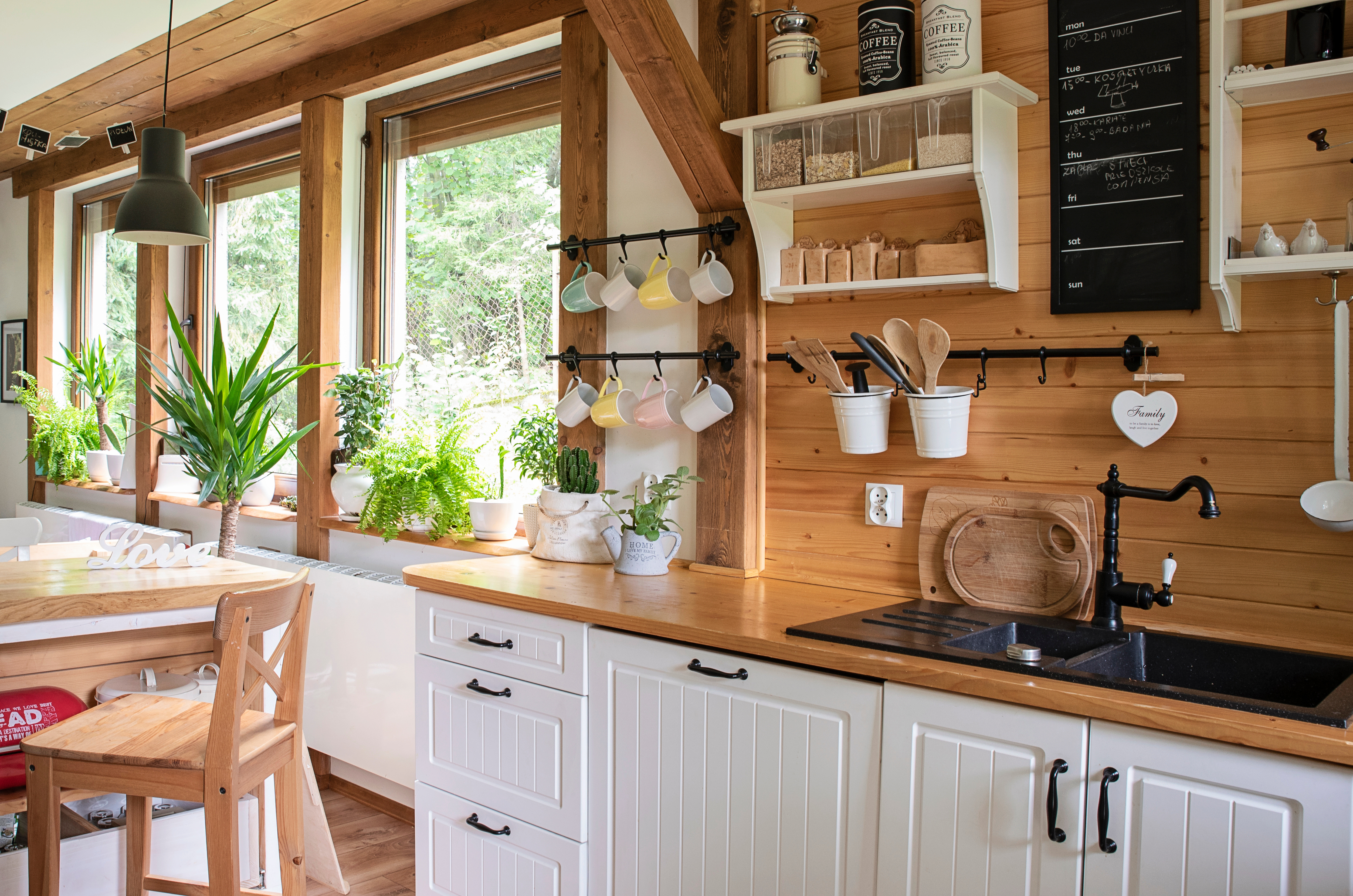 Timber windows blend perfectly with timber interior design
Multiple patterns and colours
Timber windows can be virtually any shape. They can be square, rectangular, round or even triangular. We have many models of timber windows to choose from, we can varnish them or paint them in colours available in the RAL palette. Timber windows can be styled as antique, we can add decorations such as muntins or other decorative elements.
See more timber window accessories available from Aikon Distribution:
ACCESSORIES FOR TIMBER WINDOWS
Other advantages of timber windows:
suitable for large glazing, rigid and stress-free
give the building its individual character,
blends in perfectly with other timber furnishings
in case of damage, they can easily be renewed or repaired
Read more:
As you can see, the advantages of timber windows are numerous. Moreover, timber is a material that is so versatile and timeless that it will stand the test of time and fads. If you want to have them in your home, be sure to choose high-quality products, check the most important parameters and remember about periodic maintenance.
Need help choosing the right timber windows? Get in touch with our advisor.