Exterior window and door coverings, i.e. external roller shutters and external venetian blinds, are constantly exposed to the effects of adverse weather conditions: rain, snow, hail or wind. Dust, dirt, particles of sand and other types of contaminants deposited on their surface also make external window coverings look unsightly. In addition, roller shutters and external venetian blinds that are not regularly cleaned and maintained may cease to function properly and fulfill their primary function. So, what should the maintenance of external window coverings look like before the summer season? Let's find out.
Cleaning external window coverings - how to do it right?
Cleaning of external window coverings should be a regular activity and should take place at least once a year, preferably before the summer season. However, the better and more frequently we take care of the state of external blinds and external venetian blinds, the less likely it is that they will ever stop functioning. All the more so as the cleaning of roller shutters and external venetian blinds is not complicated and you can carry out the basic maintenance yourself. However, certain rules must be observed!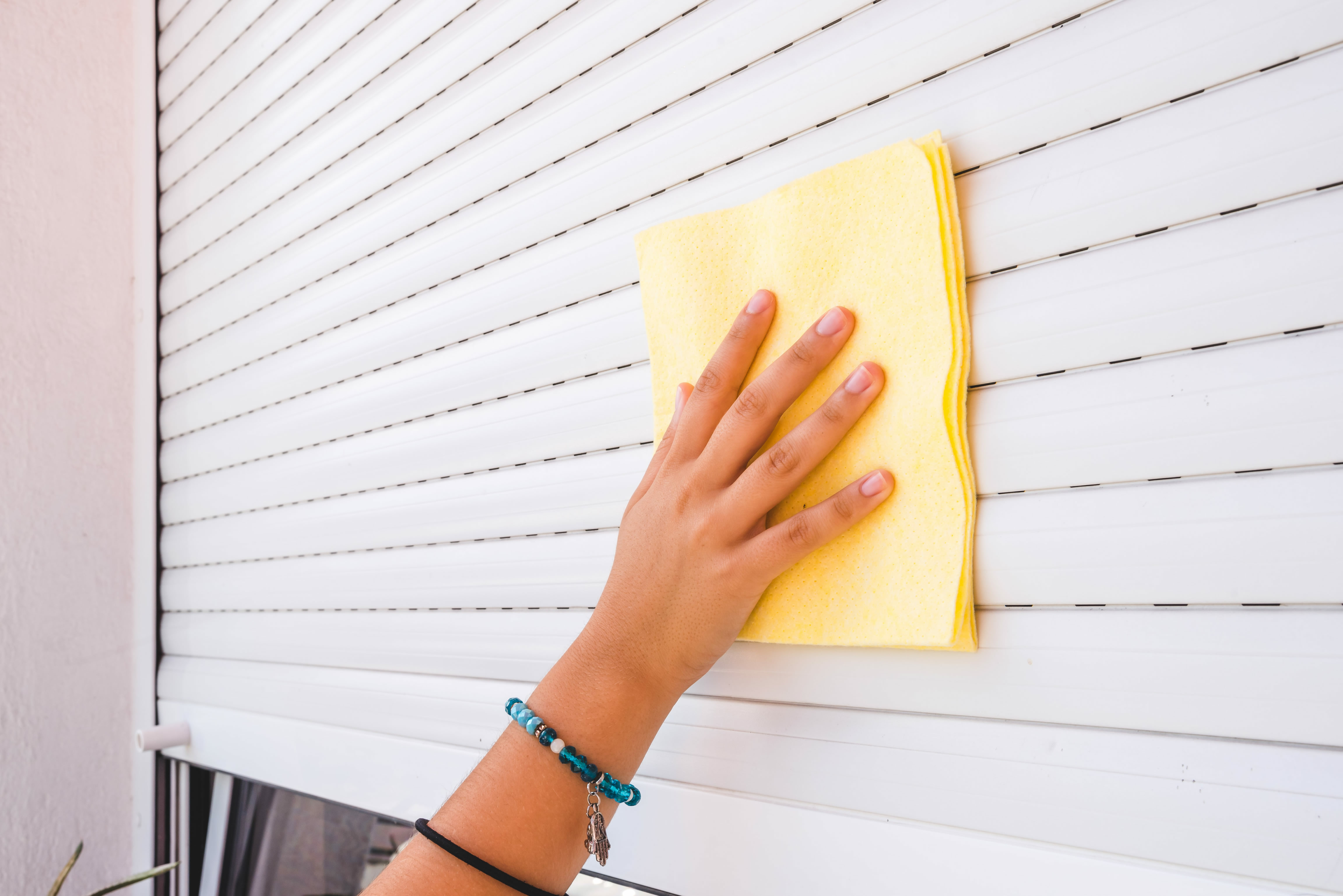 Cleaning of external roller shutters
Cleaning of external roller shutters
If the roller shutters have an electric drive, the first step is to disconnect them from the electricity. The next step is to unroll the curtain totally and check the surface of the roller shutter for any particles that could scratch it.
Use a cloth or soft brush to clean the exterior roller blinds. Aggressive cleaning agents, including scouring agents, should also not be used. Cleaning of the exterior roller blinds can be successfully carried out with water and washing-up liquid. Also, use water with a mild detergent to clean the strips and cords that are used to manually operate the roller shutter.
Greasy stains, oils, soot - how do you remove them?
For cleaning this type of dirt, it is best to get products without aromatic petrol hydrocarbons - that is, petrol-based. Currently, there are many preparations on the market dedicated to the removal of greasy stains that are safe for cleaning surfaces.
See our range of external roller shutters:
Cleaning of external venetian blinds
Cleaning of external venetian blinds should begin by completely lowering the slats and closing them to one side and then, after cleaning, to the other side. Clean the slats with a soft brush, removing dust, dirt and other debris. Thinner and solvent-based preparations must not be used. In the case of textile elements, they should also be dry cleaned. Please note that wet cleaning of external venetian blinds slats could result in unattractive streaks.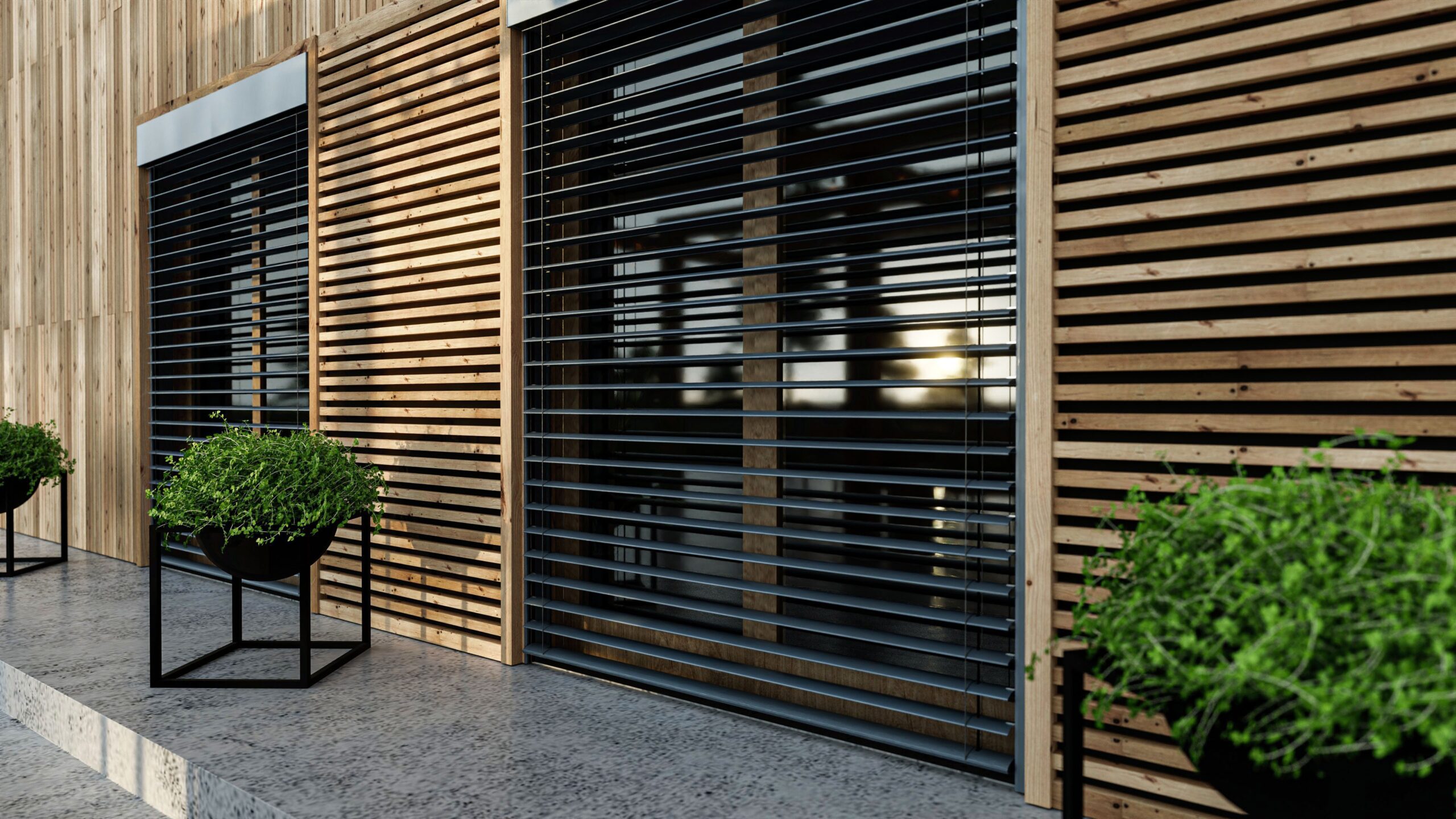 External venetian blinds
View our range of external venetian blinds:
Maintenance of electric drives
External roller shutters and venetian blinds fitted with an electric drive, in addition to the usual cleaning, need to have the condition of the parts and mechanisms checked regularly. It is sufficient to do this once every 2-3 years, unless you start to notice problems with the smooth operation of the external window coverings sooner.
However, such maintenance is best entrusted to professionals, i.e. companies specializing in the cleaning, inspection and maintenance of automatically controlled external window coverings. Attempting to clean the mechanism yourself may result in a malfunction or, in the worst case, the complete destruction of the moving parts.
When to clean the external window coverings?
It is not the specific time, but the temperature that plays the most important role. All cleaning operations should be carried out at temperatures between 10° and 25°. By far the best time to carry out maintenance work on external roller shutters and venetian blinds is therefore SPRING.
Summary
By sticking to these simple rules, the observance of which should not cause too much trouble, we can be sure that exterior window coverings will remain in good working order for many years, giving their owners many reasons to appreciate their rich palette of benefits.
Are you interested in purchasing external sun control screens? Contact our sales advisor who will be happy to help you choose the right product.
Read also: