GENESIS 75 is an aluminium system that is built on solutions provided by the Aliplast brand. Until now, it has only been available from Aikon Distribution in window systems, but from now on it can also be ordered in a door system. What are the parameters of GENESIS 75 doors? What are their characteristics? Let's find out!
GENESIS 75 aluminium doors
GENESIS 75 is a three-chamber system designed for the construction of doors with increased thermal insulation. Doors created using this profile have parameters which meet the recently binding construction requirements for thermal permeability. This is due to the use of modern insulation materials and an additional thermal gasket.

In addition, GENESIS 75 doors are fully compatible with the other options of this system. And last but not least, it is possible to use a descending threshold, a low threshold or a so-called thresholdless solution, i.e. with a gasket.

The basis of the GENESIS 75 system are frame sections with a depth of 75 mm, which enable the design of modern doors distinguished by their high functionality. You may be tempted to say that the GENESIS 75 system is universal, as it is used both in individual construction - single and multi-family buildings, as well as in business premises.
GENESIS 75 - standard and panel doors
The GENESIS 75 system includes both standard and panel doors. Single-leaf and double-leaf doors, opening outwards and inwards. It is also possible to create doors with fanlights.
GENESIS 75 - panel doors
The panel door system GENESIS 75 is distinguished by a very good thermal insulation thanks to the central gasket. Moreover, it is possible to use a single or double-sided panel, aesthetically pleasing concealed and roller hinges, and an anti-burglary system in the RC3 class.
Wide range of infill panels
The GENESIS 75 panel door system is distinguished by a wide range of infill panels, available in many designs and colours. This allows the door to match the individual character of the building.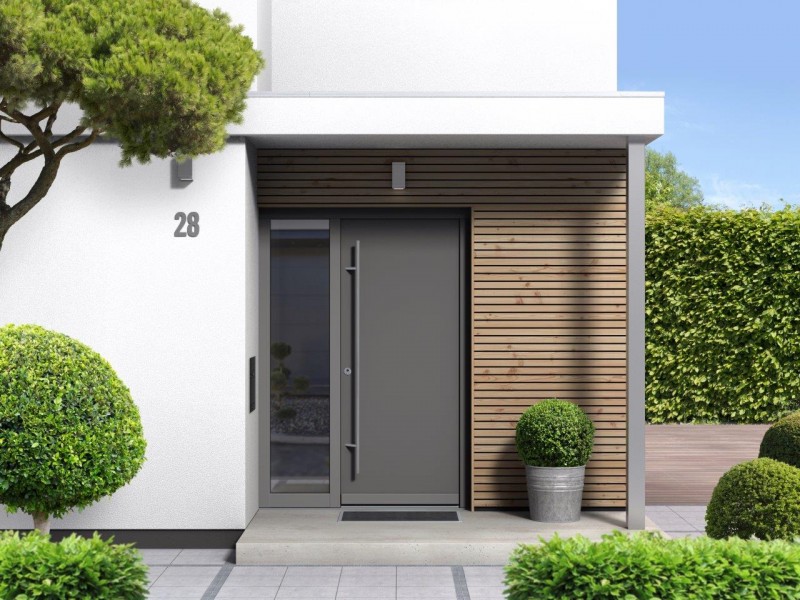 GENESIS 75 panel door
See our range of aluminium door panels:
GENESIS 75 door - colours
The GENESIS 75 door system is also available in many colours. We can choose from a very wide range of RAL colours, as well as woodgrain and structure colours. This will give the door an innovative and very aesthetically pleasing appearance.
Summary
Doors which are constructed on the GENESIS 75 profile are thermally insulated doors using modern insulation materials. As a result, they have high air tightness in terms of air permeability and water tightness. It is a system of many options and solutions, while maintaining the highest ergonomics of use.
If you are interested in purchasing GENESIS 75 aluminium doors, please contact our sales representative.
Read also:
Manufacturing windows in Poland - the best quality and prices