At Aikon Distribution, the beginning of 2021 involves several key changes to our image. Not only did we refresh the company logo, but we have also updated the website to make it more user friendly for our clients. See our refreshed website layout - aikondistribution.com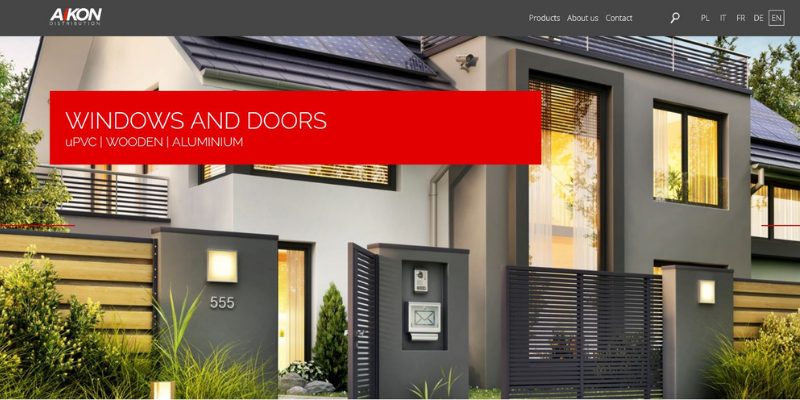 New website for Aikon Distribution
What's new on aikondistribution.pl?
We wanted the new website to be modern, user friendly and easy to use allowing visitors to navigate with ease to choose the right product in an intuitive way. To achieve final result, we have changed the menu layout, introduced a new navigation system, updated the contact form, added new content and additional product downloads, and the site can be easily viewed on mobile devices as well.
New products in our range - property fences
The Aikon Distribution's new website also means new products. Wiśniowski property fencing systems have appeared in our product range. Wiśniowski property fencing systems are modern sliding and swing gates, wickets and fence sections and posts for those clients who value safety, functionality and a beautiful finish of every house.
Wiśniowski property fencing system

Modern property fence
See how we work
We also put emphasis on video content and photos from project work, because we know how important the final effects of the investment are for our clients. We encourage you to subscribe to our YouTube channel and Facebook profile to keep up to date with latest news from us. In the meantime, we are working on more videos, so you can see the work of our team, as well as new product added to our range.
Would you like to see how we work? Check out the latest video
Stay up to date, like our Facebook page and follow our latest news, promotions and offers
At Aikon Distribution we value partnership and good atmosphere during cooperation, which can be confirmed by numerous opinions of satisfied clients that we have also posted on our new website. We encourage you to visit this section on the home page.
We hope the introduced functionalities to the website will help you find all the necessary information about us and our products faster and more precisely.