V- MOTION 82 and V- MOTION 82 MAX Patio doors are a novelty in the offer of VEKA company. They are the effect of introducing advanced solutions by the company, which improve the quality of the product. They are characterised by a unique design, which meets the highest requirements of architects, contractors and investors. Their system is based on modern technologies and allows the construction of large doors using narrow profiles. Introducing a new system of Patio doors, V- MOTION 82 and V- MOTION 82 MAX.
V - MOTION 82 - A PATIO DOOR UNLIKE ANY OTHER
The new V-MOTION 82 system is not a typical Lift&Slide door system even though its construction (panels and thresholds) are similar to the HS system. With V-MOTION 82, the panel is detached from the frame on opening and only then moved.
Terrace doors V-MOTION 82 are based on VEKA brand PVC Class A profiles. They are available in two variants - standard and MAX
(V- MOTION 82 MAX), characterised by a reduced height of the fixed glazing leaf. Regardless of the option you choose, both solutions guarantee more daylight and space in the room.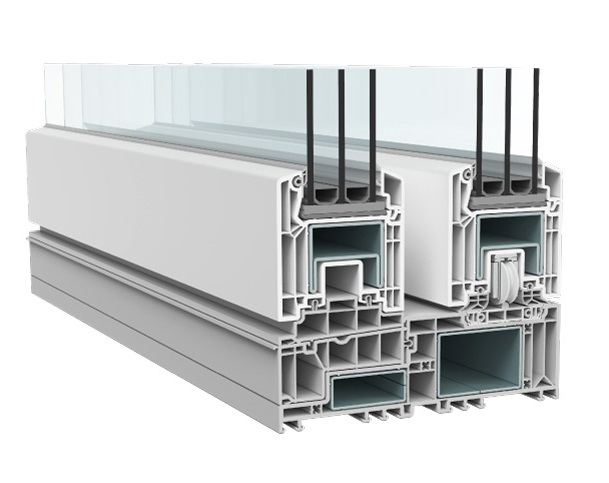 Patio door V- MOTION 82

See our V- MOTION 82 range:
V - MOTION 82 - A NEW GENERATION OF SPACE
Modern construction appreciates large glazing, allowing the construction of sliding glass walls that blend the interior of the house into its surroundings in a striking way. Living room in the garden or the garden in the living room? Thanks to such systems as V- MOTION 82 and V- MOTION 82 MAX the interpenetration of these spaces is absolutely possible. Why? Fittings used in the V- MOTION 82 and V- MOTION 82 MAX systems allow you to combine double, triple and quadruple patio doors with a maximum width of 6.5 m and a height of 2.7 m. The leaves can be fixed or lift-and-slide, so they can be adjusted to specific needs.
The V- MOTION 82 and V- MOTION 82 MAX system is also characterised by optimal energy efficiency as it uses multi-chamber profiles and a threshold with very good thermal insulation properties, made of PVC material that is warmer than aluminum. This new system for creating patio doors also offers the possibility of installing warm triple or quadruple glazing packages up to 54 mm thick. In addition, these new patio doors include a reliable sealing between the threshold and frame and sash. This is thanks to two optimized seals in the sash, which are connected to each other in the corner. As a result, the profiles in the V-MOTION 82 version achieve a Uf of 1.4 W/m²K and the V- MOTION 82 MAX achieves a Uf of 1.3 W/m²K.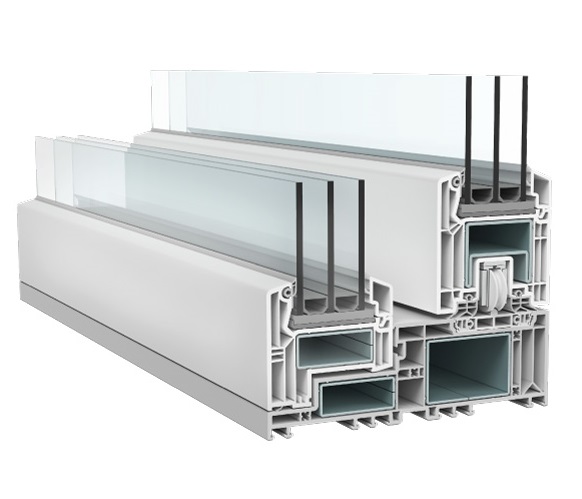 Patio door V- MOTION 82 MAX


The unique design of the V- MOTION 82 and V- MOTION 82 MAX system represents a new dimension of space. These patio doors meet the expectations of even the most demanding customers.