Polish window and doors beat records of popularity, and have been considered a good and reputable brand eagerly chosen by people all over Europe. Poland not only is proud of their windows but has also developed export of other product related areas such as doors, garage doors, roller shutters, external blinds, mosquito screens and property fences.
Poland as one of the biggest windows and doors exporters in Europe
For many years the export dynamics of Polish windows and doors has had an upward trend and even the raging Covid-19 pandemic has not changed it. In 2020, Poland was the only distributor of joinery with registered growth. Polish manufacturers sold more than 12.5 million windows and doors to foreign markets, and the export value of windows and doors amounted to €2.38 billion, almost 4.5 percent higher than in 2019 (Chief Statistical Office figures). Analysts estimate that Polish windows and doors export in 2021 is also expected to increase.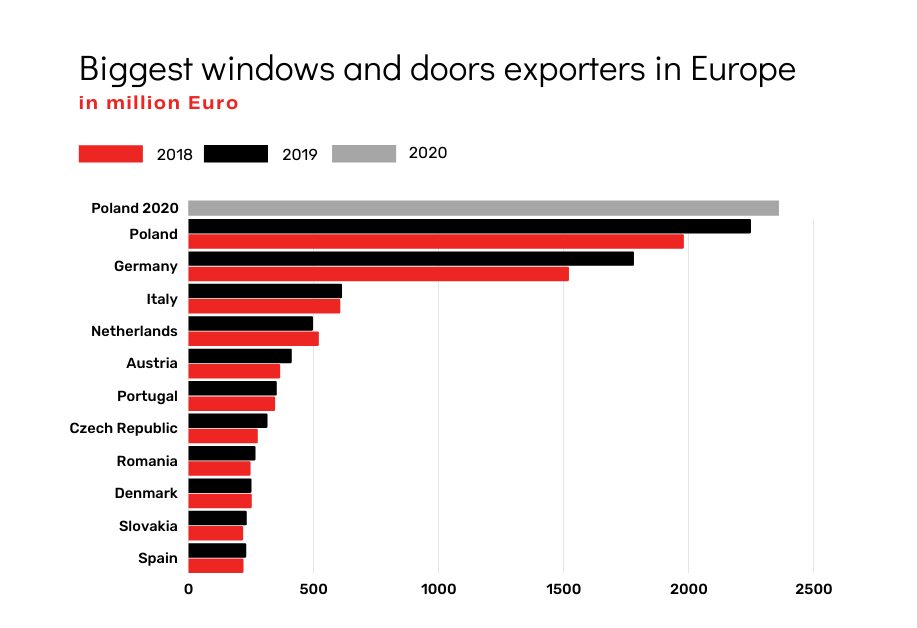 Source: Centrum Analiz Branżowych
Polish windows and doors are mostly sold to Germany, France, Great Britain, Ireland, Italy, Belgium, the Netherlands and the Czech Republic, but it also reaches further beyond the borders of the European Union. Polish windows can be found in North Africa, North America and Middle Eastern countries.
The best windows in Europe
How is it possible that Polish windows are premium class products at a competitive price? To answer this question, there are several factors to consider:
The production of Polish windows is located on the territory of one country, where the raw materials of local producers are used. Only some components for window production are imported from Germany or Great Britain. Deliveries of these components are always on time and do not stretch production times.
Poland has modern machinery and high technological facilities, which has a decisive influence on the quality of products and optimisation of production process.
Polish employees are highly qualified and constantly improve their competences, while labour costs in Poland are still slightly lower than in Western Europe, which increases Poland's competitiveness on the international market.
The offer of Polish manufacturers is adapted to the needs of the European market, hence you can easily order windows with profiles from Aluplast, Veka, Salamander, Schüco, Aliplast or Sash, Casement or Monoblock.

Sash windows
Which windows from Poland?
Polish manufacturers are able to supply any type of window, regardless of the market and destination. We are familiar with English, French, Dutch windows and we feel perfectly comfortable manufacturing Scandinavian windows too. We manufacture PVC, aluminium and timber windows on a large scale. We care about modern solutions, design and adaptation to the preferences of even the most demanding customers.
See windows from Poland:
We manufacture windows for private houses, including buildings under the supervision of the conservator, as well as for companies, office buildings, warehouses and production facilities.
See also:
Aluminium windows for commercial and private projects
Aikon Distribution. Complete windows and doors product range at one place
Aikon Distribution's product range is tailored to the needs of customers from all over Europe and is constantly expanding. Our offer includes windows, doors, garage doors, property fences, roller shutters, external blinds and mosquito screens. We also have the latest solutions for ornamental glass and glass balustrades.

PVC, aluminum and wooden windows
When ordering from Aikon Distribution you will receive:
a project quote in 24 hours,
a competitive price,
comprehensive and professional technical advice,
ongoing contact with dedicated sales representative at every stage of the project in preferred language,
quality control of ordered goods,
fast order processing and safe transport to the indicated address.
We always put customer service first. We are close to our customers and respond to their expectations. We advise private clients, investors, developers, architects and designers. Our greatest recommendation is their satisfaction.
See how we work at Aikon Distribution.
Why is it worth ordering windows from Poland?
For many years Poland has been perceived as a supplier of high quality products at a good price. This is due to less expensive components for production on the local Polish market and optimization of production through the use of modern technology and the latest machinery.
If you are interested in purchasing Polish windows and doors, get in touch with us and we will look after your enquiry from the very first quote to the final stages of your order delivery.