Panoramic windows and doors are a hallmark of modern construction. In recent years, we can observe their growing popularity, and architects have begun to strongly appreciate and exploit their technical and esthetic qualities. They are increasingly being assembled not only in single-family homes, but also in hotels and flats. Why are they so often chosen by investors?
What are panoramic windows and doors?
Panoramic windows and doors are large-format, frameless or thin-framed glazings, often replacing most or even all of the wall in a room. They allow good illumination of all the rooms in which they are installed and enable free solar energy to be used to heat the rooms. Thanks to good lighting, the consumption of artificial light and thus the energy fee is reduced.
Advantages of panorama windows and doors
Why decide on panoramic windows and doors?
First of all, panoramic windows and doors create an extraordinary visual effect. They allow the interior of the house and the surrounding exterior to form a harmonious whole. The result is an ultra-modern building in which glazed surfaces can become the primary, or even the only, element of the external partitioning separating the interior from the outside.
Secondly, there are ample opportunities to tailor the look and features of panoramic windows to individual preferences. This applies to their size, type of construction, as well as the materials from which they will be made of - both timber, aluminium and PVC are available.
Thirdly, panoramic windows make rooms appear larger.
Fourthly, as we mentioned earlier, large windows provide better light to rooms. As a result, not only do the residents of the house have access to plenty of daylight, but there is also less need to switch on the electric light early, which in turn saves on electricity.
It is worth pointing out, however, that in this case what is an advantage in some situations may turn out to be a disadvantage in others. To avoid rooms heating up too quickly, it is a good idea to think about appropriate window screening. For example, roller shutters or external blinds can provide total shading and protection from heat.
See our range of external roller shutters and facade blinds:
Fifthly, large glazings allow comfortable movement between the house and the terrace. Panoramic windows in detached houses are often installed together with sliding patio doors - this not only creates an interesting visual effect, but also increases the comfort of the residents.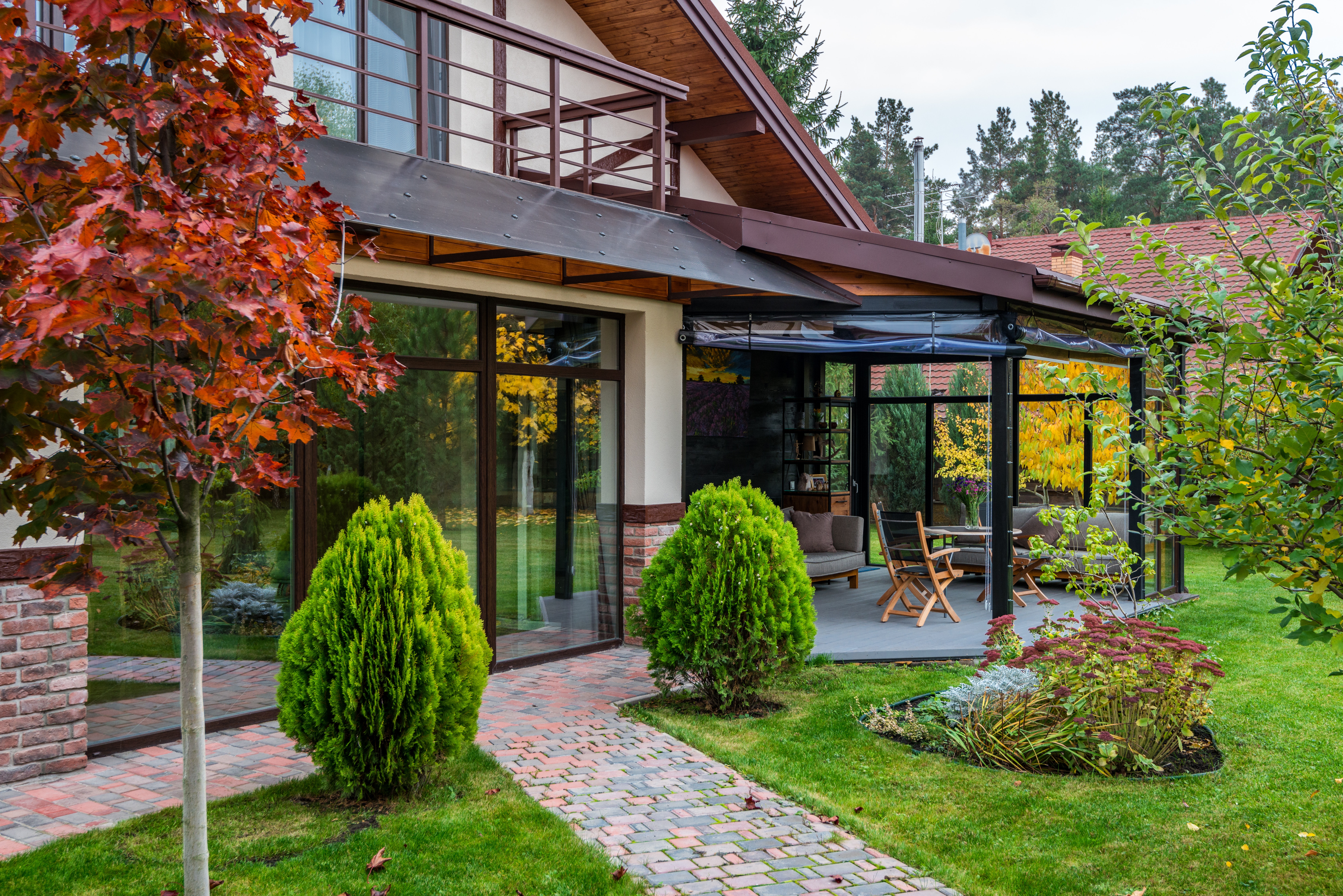 Panoramic windows separating the inside of the house from the patio - view from the outside
Panoramic windows and thermal and acoustic insulation
Every window should provide an effective barrier against the loss of heat from the house and protect against noise. This is a very important issue also in the case of panoramic windows.
Panoramic windows take up a large part of a wall. For this reason, it is important to pay attention to thermal and acoustic insulation parameters when choosing the right model. In the case of the former, it is expressed by the abbreviation Uw (heat transfer coefficient). It is advisable to keep it as low as possible. Care should also be taken to ensure high window tightness and correct installation.
Windows are not able to separate us from external sounds as much as walls, especially when there is a source of noise nuisance (e.g. airport, road, industrial plant) near our house or apartment block. To keep the house quiet and cosy, we recommend choosing windows with a high sound insulation coefficient (Rw).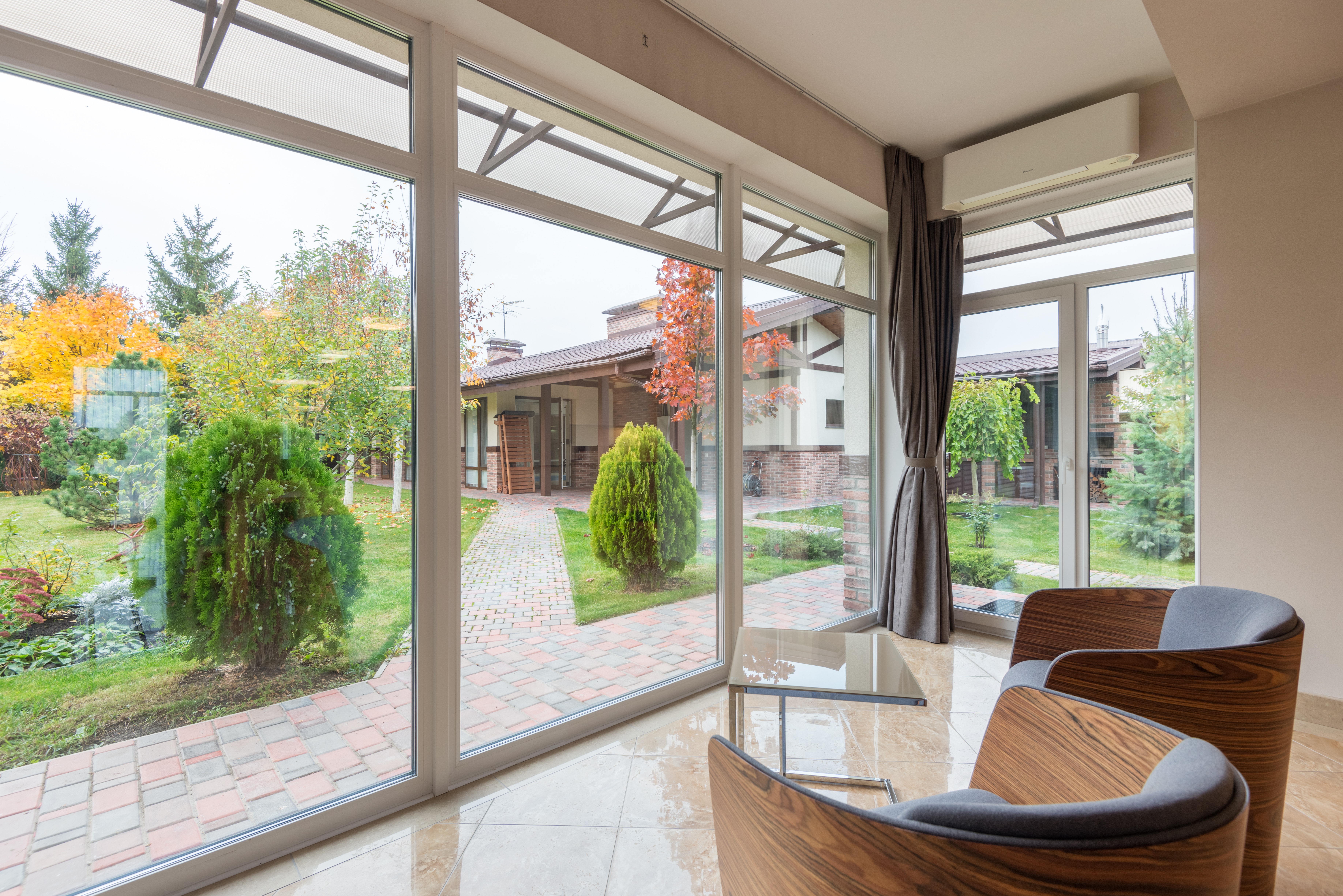 Panoramic windows separating the interior of the house from the patio - view from the inside
Panoramic window – price
Like with any renovation decision, when choosing panoramic windows, price often plays a key role. Fortunately, there are many different options available on the market to meet every customer's requirements.
Prices for panoramic windows vary by size, material of manufacture, number of sashes, window features, hardware used. A panoramic accordion window, made of aluminium, will be considerably more expensive than a simple glazed window in a PVC frame.
At Aikon Distribution, we price all panoramic windows individually. If you would like to enquire about a window price for your project - please email us.
Panoramic windows and doors - manufacturers and systems
Panoramic windows are often very large structures, reaching from several to even a dozen metres in width. They must therefore be designed in a very thoughtful manner, with full use of the performance potential of double or triple-glazed units.
From the perspective of window technology, these are highly complex constructions, requiring extraordinary accuracy, even precision, in the process of design, production, assembly and logistics. Not every window and door manufacturer undertakes such a task.
Frameless windows and aluminium thin-frame constructions cannot be bought from any window and door retailer. These types of structures are created together with the design of the house in which they are to be installed.
On the Polish market, panoramic windows and doors can be easily obtained, among others, from the Schüco company.
See Schüco products in the offer of Aikon Distribution:
Where to install a panoramic window?
Panoramic windows are perfect for places where we can enjoy beautiful views. For this reason, such solutions can usually be found in flats with a view of the city skyline, in houses with a view of a garden, forest or other intriguing landscape.
Panoramic windows are most often found in living rooms and dining rooms, from which it is possible to go directly to the patio or garden. At the same time, these are rooms where a great deal of sunlight is crucial, which is assured by large glazing.
Panoramic windows are also perfect for more private areas such as the bedroom or bathroom, especially if they are located on the first floor. This way, we don't have to worry about the gaze of curious neighbours and at the same time we can enjoy a beautiful view and natural sunlight.
Read also:
Large glazing - windows in modern buildings