In recent years, architects and homeowners have become convinced of the importance of open space in everyday life. We value freedom, lack of restrictions and we are happy to free ourselves from the closed "four walls". This is the reason why more and more often we choose flats with large balconies and build houses with a terrace that leads out onto the garden.
Sliding systems with large glazing are ideally suited to this trend. And if we add to this the currently very fashionable aluminium, we obtain an aluminium sliding door. How to install aluminium sliding door so that it fulfils its most important functions? Here are some suggestions.
How to install aluminium sliding door?
Aluminium sliding doors are not only very elegant and modern, but are also extremely practical. They take up little space and do not obstruct communication between members of the household. They allow you to plan your space more easily and make more practical use of it. Moreover, aluminium sliding doors are also ideal for interior spaces - in narrow hallways and small rooms. Properly designed and installed, they create real architectural wonders.
When planning the installation of a sliding door, it is worth thinking about this already at the stage of designing a room. However, remember that the installation of such structures is not universal. It should always be carried out by specialist companies with knowledge and experience in the field of joinery installation. It should be in accordance with the construction project and recommendations of suppliers of systems for its production and assembly.
Correct installation of joinery should fulfil the following functions:
transferring loads to the building walls due to self-weight, wind force, temperature difference,
ensuring tightness and optimal thermal and acoustic insulation,
proper vapour diffusion,
ensuring adequate insulation against weather conditions.
Factors influencing the installation of aluminium sliding door
The method of installation of an aluminium sliding door is influenced:
a) size, shape and weight of the door,
b) the place of installation (internal or external door),
c) installation floor.
The task is therefore not at all easy and in each case requires individual planning and sometimes even design. There is no such thing as a single model method for the installation of aluminium sliding door. Architects also don't make it easy for contractors. Therefore, if your building projects include aluminium sliding door, you should immediately seek a professional who has the appropriate experience and skills to carry out this type of installation.
Slimline aluminium sliding door
Floor-to-ceiling glazed aluminium door enlarges spaces and provide access to spectacular views. And if the frame and sash are folded together as little as possible, the result is a maximally illuminated room. An additional advantage of aluminium sliding door with slimline construction is their elegant design. The combination of large glass-filled window openings with a slim aluminium profile is a very modern and designer solution.
The slim-frame aluminium sliding door combines a clear appearance with very good thermal insulation values and a low heat transfer coefficient. They are thus suitable for energy-efficient houses.
View our offer of aluminium sliding door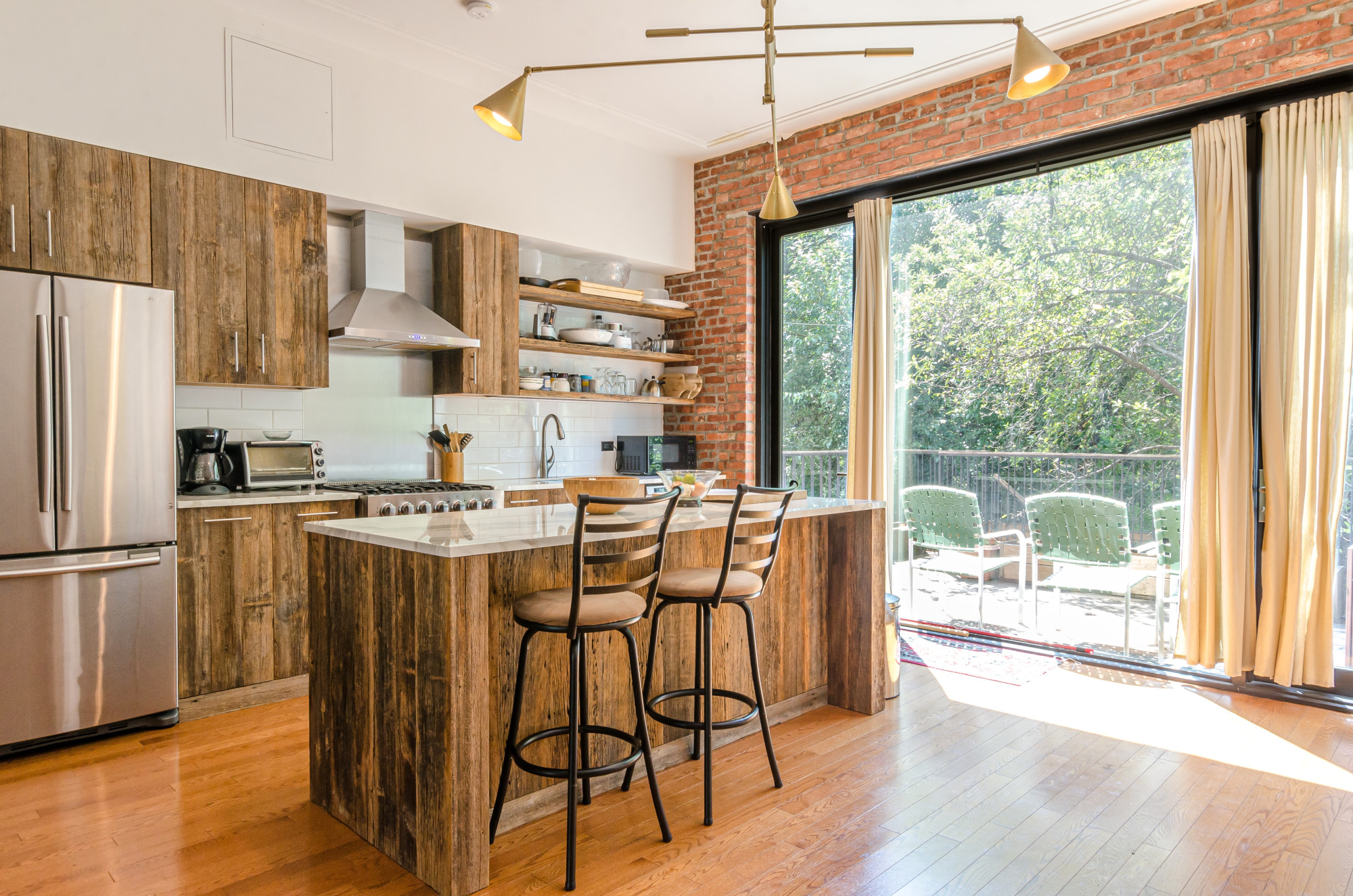 Aluminium sliding door
Advantages of aluminium sliding door
Why is't worth installing aluminium sliding door in your home?
Enormous glazing brings more light into the house and optically enlarges the room - this is undoubtedly the biggest advantage of aluminium sliding door. A room filled with natural light has a positive effect on the well-being of household members. That is why, for people who like open space and a sense of freedom, large patio door is a very attractive addition to the house.
One of the main advantages of aluminium sliding door is the ability to create unusual interior design and attractive surfaces. In addition, we can make much larger constructions out of aluminium than, for example, uPVC or timber. Furthermore, in the case of aluminium sliding door, two sliding systems can be connected at an angle and the number of technical solutions is much greater than in other types of joinery. Another advantage of aluminium sliding door is that they do not require additional space to open - neither in the room nor on the patio.
Thanks to excellent technical parameters and good insulation, sliding systems can also contribute to lower heating bills. This is especially true if the right glazing and warm glazing frames are used.
Other advantages of aluminium sliding door include:
panoramic views,
easy and quick access to the garden,
option of using a low threshold,
elegant, stylish and fashionable appearance,
variety of colours and finishes.
See also:
How much do aluminium sliding doors cost?
Aluminium sliding door systems
Aluminium sliding door are available in three variants: PSK tilt and sliding, sliding and lift-slide Lifft Slide.
Aikon Distribution is mainly based on the Aliplast system, which has a wide range of products, is cost-effective compared to other systems and very popular in European markets.
Tilt and sliding PSK door. They are based on window and door profiles such as Imperial, Superial, Genesis and Star. In addition to the sliding function, they can also be tilted, which allows free ventilation of the room while maintaining a high level of security. When closed, their fixed leaf together with the sliding leaf forms a straight line. This solution makes the window set in this system look aesthetically. However, there is a rail mounted on the PSK window frame, which can be seen. On this rail move the carriages, which are mounted on the inner frame of the movable sash and hidden under specially prepared for this purpose covers. Opening of PSK tilt and sliding door begins with tilting and sliding the movable sash away from the threshold. The sash is then slid along the rail, which is located in the guide at the bottom of the frame. The PSK tilt and sliding system enables smooth and very quiet sliding of even very large and heavy terrace door, thanks to the use of an automat in the fitting, which supports this opening. However, the tilting of PSK windows and door is carried out in the same way as in traditional windows. It is also worth noting that the operation of PSK door is extremely easy, despite their large dimensions and heavy weight.
Sliding door are a modern and functional solution, which in Aikon Distribution is available in the Aliplast system. These doors have a sliding section or sections, which open parallel to the fixed element. This allows them to be used in a smaller space than side-hung doors. The sliding of the door is made possible by an extruded running rail or a separate profile on which the carriages, fixed in the lower parts of the sashes. Opening large and heavy sliding door therefore requires relatively little force. The unquestionable advantage of the sliding door is the possibility of using a low threshold, flush with the floor, which perfectly fits into the trend of barrier-free construction and makes it easier to pass through.
The lift-slide doors is an optional version of the Visoglide + and Ultraglide profiles. Before moving the moving sash, it is lifted which significantly improves the comfort of use and the ease of movement. They are designed with regard to safety and protection against adverse weather conditions. Their sashes leaves are located on independent guides (two or more), so that when opening one leaf hides behind the other. In addition, the lift-slide technology ensures stability and lightness of operation of this system.
Lift-slide doors offer great design flexibility due to the different opening variants. In addition, the use of special lift and slide fittings allows the threshold to be flush with the floor. This ensures freedom of use and an aesthetically pleasing appearance. Aliplast Visoglide Plus and Aliplast Ultraglide are available in two versions in Aikon Distribution.
Read also:
HST or PSK? How to choose balcony door?
Why it's worth choosing aluminium sliding door?
If we decide to buy sliding patio door, we can count on high comfort of use and good thermal insulation. On condition, of course, that they are installed correctly.
So our advice is always to use a professional installation specialist. Competent, confident and experienced in installing aluminium sliding door.
If you are interested in buying an aluminium sliding door, please contact our expert.