Non-opening windows or so-called 'FIX windows' or 'fixed windows' are a type of window that is becoming increasingly popular. They have no handles, no fittings, no opening capabilities. Instead, they have large, panoramic glazing that guarantees a high level of visibility. They are well suited to both modern flat structures and houses with a classic design. They often complement larger window systems. Is it worth installing fixed windows? What are their advantages? Let's find out.
Why install fix windows?
A special feature of fix windows is that they are very airtight. Opening windows will always be less airtight because of their design. Those who opt for FIX windows want to provide a nice, natural and panoramic view in their interior. At the same time, taking care not to lose heat or incur the associated costs. These types of windows, because they do not have fittings or other opening elements, are a cheaper solution than traditional windows (casement or tilt). The price of fixed windows can be as much as 35% lower.
Explore the window range at Aikon Distrubution:
Large fix windows are usually installed in areas that need light. Why? FIX windows have much better possibilities than traditional windows - due to the surface of the glass, which is mounted directly in the window frame. Such a pane is larger, allowing much more light to enter the interior. Quite often this type of window is installed in living rooms or dining rooms.
Another advantage in favour of installing fixed windows is security. Fixed windows are less susceptible to forcing. At the same time, this type of window does not require maintenance of fittings, gaskets or window profiles. Also window adjustment is an unnecessary operation - so FIX windows seem to be almost maintenance-free.
Where to install FIX windows?
FIX windows can be installed in almost any interior. They are a much cheaper solution than casement or sliding windows. They are quite often installed in bedrooms, which are located on the first floor. When combined with spot lighting, they provide a night-time view that allows for relaxation and a perfect atmosphere. Fixed windows are installed in the attic when the installation of other types of windows becomes impossible. Public buildings are also one of the most common places for installing FIX windows - as well as in offices and commercial premises.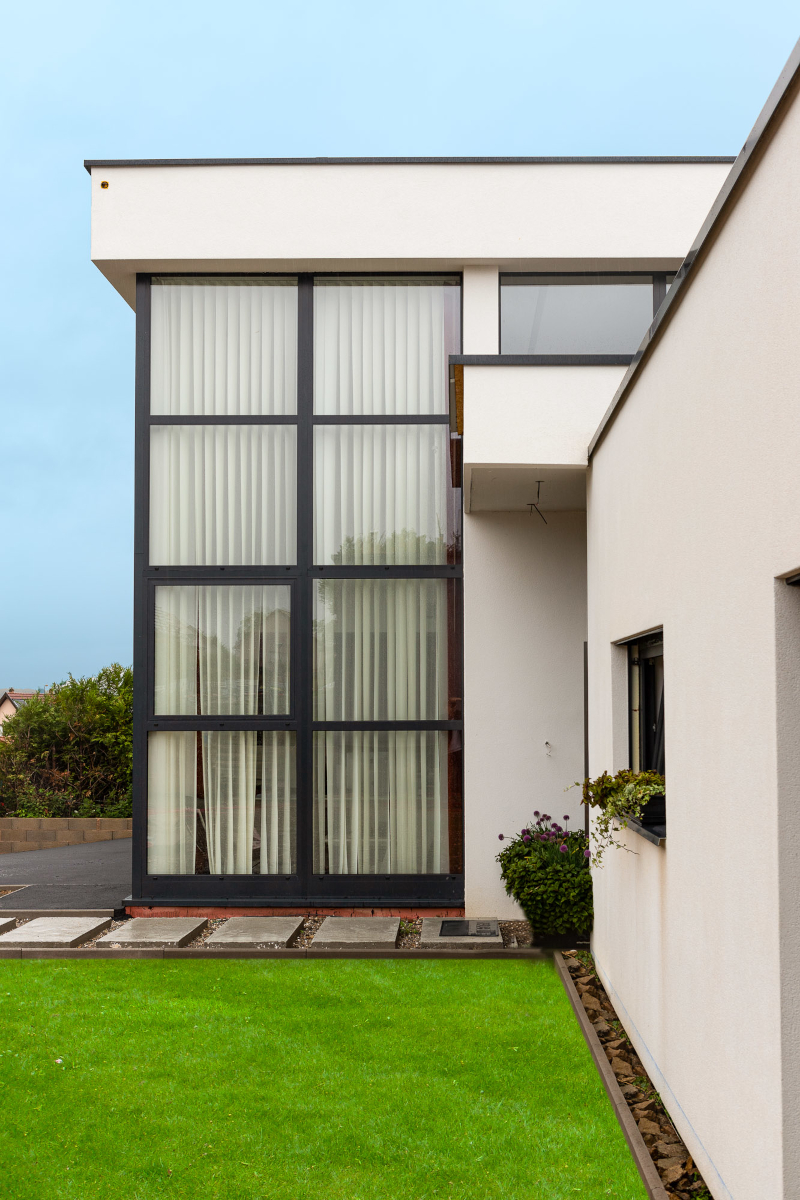 Combination of fixed and opening windows in one of Aikon Distribution's projects in France
Fixed sash and frame windows
Typically, a non-opening window is glazed directly into the frame. It is this type of glazing that is most commonly found in office and shop windows.
Embedding a fixed window in a casement can be one way of solving the problem that arises when installing a fix and an opening window side by side. Fix windows have a different frame width. Therefore, embedding a fixed window in the frame will meet the aesthetic qualities of the interior - there will be no discernible difference between the windows - except for the lack of hardware.
Fixed windows in very many situations are a very functional solution. This type of window not only allows us to make the most of natural light, but also influences our comfort. However, let's not forget to always include at least one opening window in rooms where we stay for longer periods of time.
Looking for window solutions for your home? Decide to buy your windows from Poland. Get in touch with our expert.