Modern cities are developing at an incredible pace, as new enterprises, plants, commercial facilities or housing estates appear every day. Therefore huge metropolitan areas still attract investors, and they, aware of obstacles resulting from the lack of space for new buildings, choose high-rise constructions, hence "multiplying upward" the space which can be used both by corporate and individual users. Such projects require proper materials, which will primarily ensure safety, acoustic comfort, convenience and appropriate thermal conditions. As far as joinery is concerned, the aluminum is chosen most commonly, since it satisfies all of the above requirements (and much more!).
Important! Aluminum is a material which is very resistant to different weather conditions. Wind, snow, and long-term humidity are not a problem for it. Aluminum windows do not fade and their colour does not change due to sunlight.
Aluminum joinery is characterized by lightness, stiffness and stability, therefore it perfectly suits large-size glazing, which is a popular solution applied in both commercial and private buildings. Thin aluminum profiles (frame width as narrow as 33 mm and leafs of 22 mm) allow the assembly of bigger glazings than in traditional systems. If we complete it with the technology of joint bonding instead of mounting it with battens, we will obtain constructions with really sizeable glazing.
Aluminum sliding systems
The aluminum offer includes the popular slide, or lift and slide solutions. Standard doors are built of two leafs, one of which is movable and hides behind the static part. This classic rule of operation is popularly extended to constructions made of 3-, 4-, 5- or even 6 panels. The moving parts of doors are equipped with the runway or a separate profile on which the trolleys move (mounted on lower parts of the leaf). Check: Aliplast Slide Plus system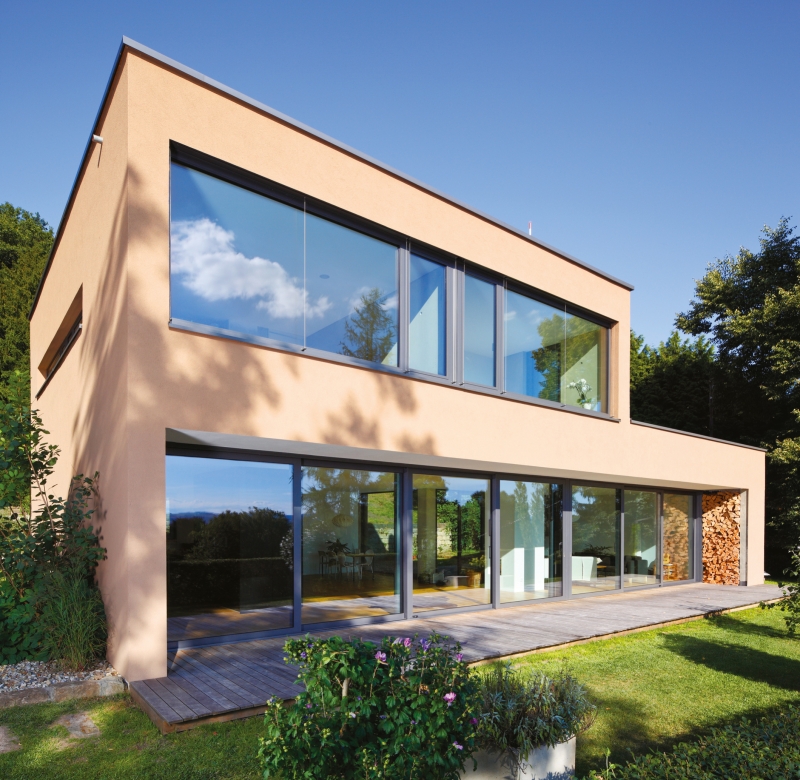 Aliplast Slide Plus System
NOTE! A genuine bestseller among aluminum terrace doors are corner solutions, in which, when we move the door leaves to the sides, we receive an open space and the impression of a "hanging ceiling." We recommend: the Aliplast Ultraglide
Investors in commercials projects like to use the so-called bi-fold doors. These are systems which consist of several narrow leaves (max. dimensions 1000 mm x 2200 mm, weight 80 kg), opening inward or outward.
Moving parts are joined by system fittings, which provides the entire construction with lightness, while steel rollers additionally improve the operation of the system. Thanks to the bi-folds, we receive the full opening and an access to more space; therefore, they are frequently used in restaurants or hotels.
Aluminum windows in passive buildings
The belief that aluminium windows are less warm than timber or PVC profiles is outdated. System providers, in order to satisfy the expectations of investors concerning optimum thermal parameters, designed aluminum profiles with the Uf value close to 1.0 W/m2K. In order to obtain such results, it is crucial to place thermal separators inside the window (most commonly glass fibre-reinforced polyamide), so the warm aluminum profile must be thicker than the standard one. The application of the central gasket (often not made of the traditional EPDM, but also of noryl) ensures perfect sealing, but also insulates the space between the leaf and the frame.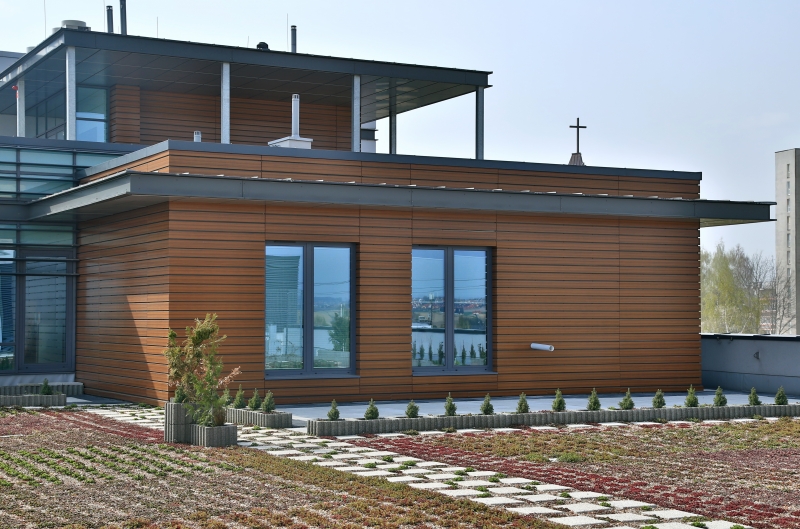 Residential building, Aliplast system
Aluminum joinery in a variety of styles
Another reason why aluminum is popular in both private houses and public utility buildings is the design variety and the huge possibilities of adapting it to various architectural styles. Aluminum profiles are characterized by flexibility, which means they can be formed to create e.g. arched or rounded windows, hence adjusting to the buildings with a more subtle look. On the other hand, the possibility to bend aluminum profiles at a right angle makes them proper for the modern, geometric style, which can be often encountered in huge urban areas and city centres. Aluminum windows can be coated in all RAL colours or covered with a wood-like structure film.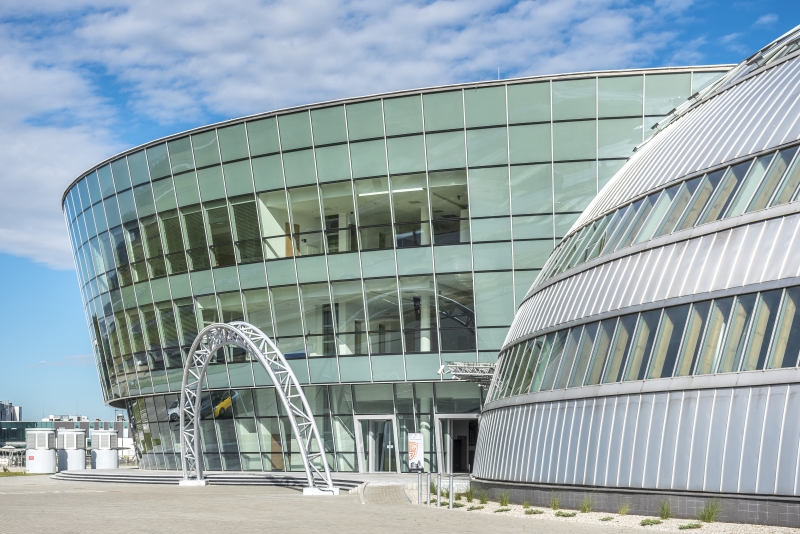 Conference centre, Aliplast system
Aluminum is the perfect response to the demands of commercial, large format construction industry due to its very good static parameters, and it is perfect for facade systems and large-scale glass surfaces. On the other hand, thermal insulation properties achieved by aluminum profiles, an interesting offer of sliding systems and rich design range are reasons why this solution is also often chosen by private investors.