Glass balustrades work perfect in public spaces, decorating shopping centres and office buildings. They are also increasingly used in private homes, whether in new build, industrial interiors or historic buildings, adding a touch of modernity to a stylish facade.
What to consider when choosing a glass balustrade?
When buying a glass balustrade for your home, it is worth paying attention to several basic elements such as its purpose, dimensions, mounting method and safety.
Glass balustrades are most suitable on terraces and balconies as barriers. They enlarge the space around our house, add lightness and modernity to the relaxation area, perfectly match the plants and stone, and are resistant to the changing weather conditions.
They are also used inside the house, in the lobby area - near the stairs and landings. Thanks to their transparency, they perfectly illuminate rooms, do not divide them, and optically enlarge them.
Read more:
Glass balustrades – touch of timeless feel in any interior design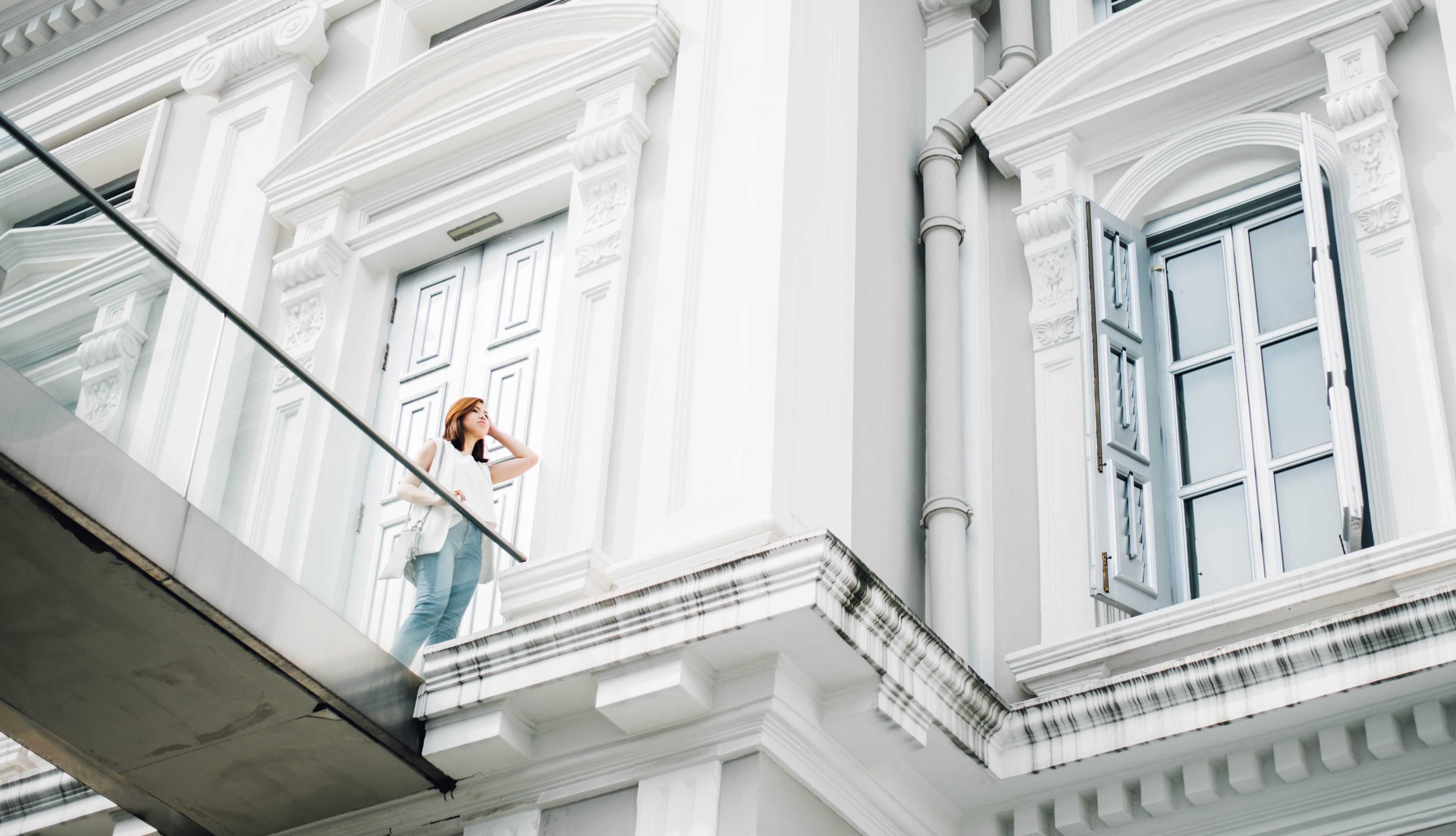 The use of glass balustrades in historic buildings
Dimensions of glass balustrade
The width of the glass panes of a glass balustrade is on average 1200 mm, but there are projects where the width reaches up to 1800 mm. The typical height of a glass balustrade does not exceed 1100 mm and the minimum acceptable height is 900 mm. The nominal thickness of a glass balustrade is 21.5mm.
At Aikon Distribution we give customers the opportunity to order glass panes to any size, depending on the needs of the project.
Mounting glass balustrades
Glass balustrades can be mounted in many ways. The most common are self-supporting balustrades, which are point mounted to the side of the stairs using so-called rotula, i.e. stainless steel handles. The second type are balustrades on a rail or all-glass balustrades, which are embedded into the stairs or a platform structure on a special stainless steel profile. The third, and at the same time the most popular type of mounting of glass balustrades is their installation in a steel frame, the so-called balustrades in a frame. For this type of balustrade embedding there are additional elements, i.e. frame, barriers and handles for glass mounting.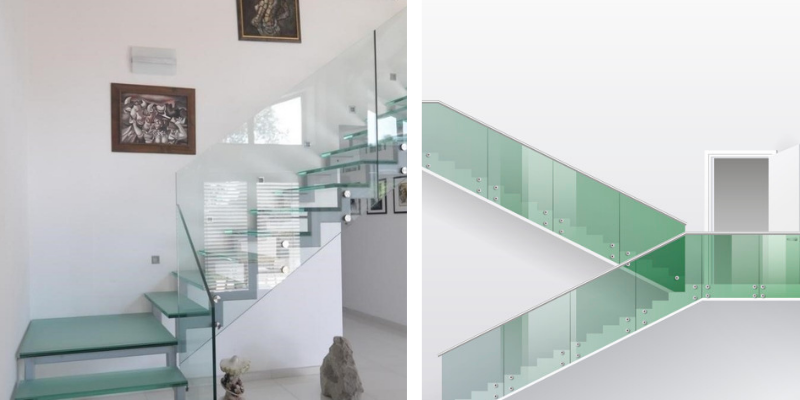 Self-supporting glass balustrade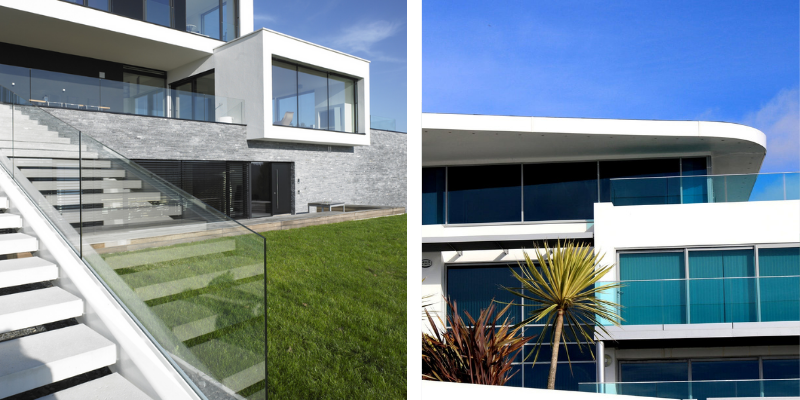 Glass balustrade on rails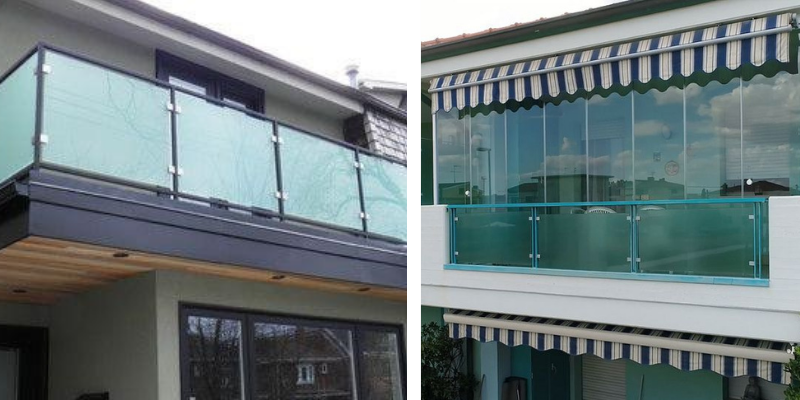 Glass balustrade in frame
Safety of glass balustrades
When designing a glass balustrade, double-safe glass, the so-called VSG-ESG, is used, which is composed of two panes of tempered glass, connected together with laminate. Thanks to this technology, the glass panes have increased strength and are resistant to impact. Properly mounted balustrade is fully safe for the users.
Watch our test of breaking safety glass and tempered glass: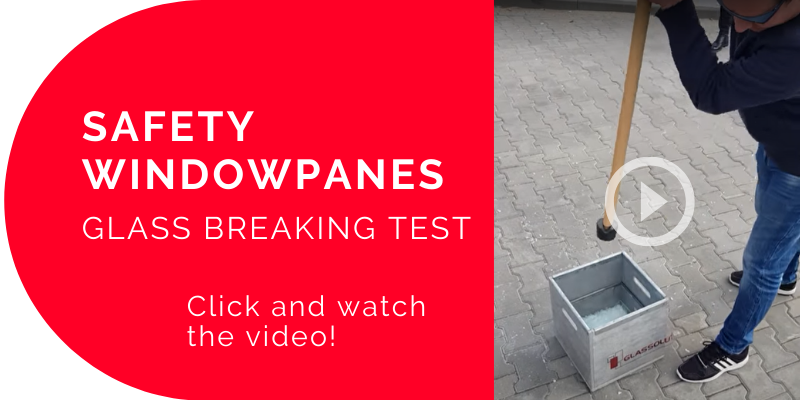 We offer bespoke glass balustrades to our customers. Get in touch with us - call, send an enquiry by email or have a chat with us. We will be happy to advise you on choosing the right balustrade for your project.
NOTE: The Aikon Distribution offer includes only glass panes used for glass balustrades (we do not offer mounting).