It goes without saying that ventilating your home interiors is important. Fresh air flowing into your kitchen improves your mood and well-being, and regular ventilation is essential for maintaining good health. So, how do you securely ventilate rooms with sash windows?
What is a Ventlock in sash windows?
Ventlock is one of the sash window opening restrictors. Thanks to it, you can ventilate rooms without fear of sudden, unwanted intrusion. There are three basic types of ventlocks on the market: Angel Ventlock, Locking Ventlock and Push Ventlock.
Angel Ventlock is a mechanism mounted on the top sash, on both sides of the frame. Its purpose is to block the opening of the lower sash at a standard height of 100-125 mm. It is a manual mechanism. To block the lower sash of the window, simply block the Angel Ventlock latches on both sides of the frame by pressing its upper parts. When this happens, the lower part of the mechanism slides forward preventing the lower sash from moving upwards.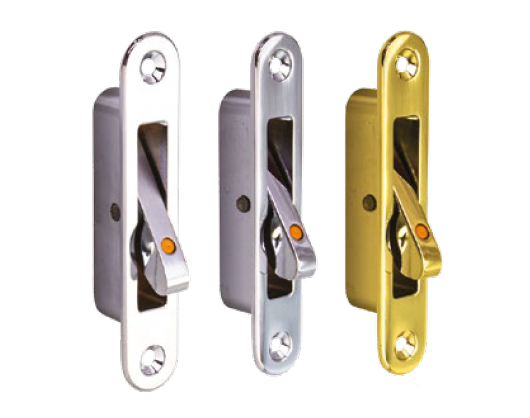 Angel Ventlock
Watch how to block a sash window with Angel Ventlock:
Other travel restrictors on sash windows include the so-called Locking Ventlock and Push Ventlock, which are often used interchangeably with the Angel Ventlock, but also as additional protection in double hung windows. The Locking and Push Ventlock systems take the form of circular bolts attached to the inner frame of the upper leaf, on both sides, at a height of approximately 100-125 mm above the lower frame of the upper leaf. Locking Ventlock requires a dedicated key to function, while Push Ventlock works by pressing a button located on the bolt.

Locking Ventlock and Push Ventlock
Does Ventlock guarantee safety?
It is important to note that no window will provide 100% protection against a thief. All window safety features are a barrier that is meant to be difficult to break through. In sash windows, the discreet Ventlock travel restrictors provide this obstacle and are recommended to be installed in every opening window - not only on the ground floor of the building, but also wherever there is a risk of falling out of the window.
Ventlock in Aikon Distribution's range
Aikon Distribution's range includes the following ventlock types:
Angel ventlock
Push ventlock
Locking ventlock
Angel Ventlock is available in chrome, satin chrome, satin nickel, antique brass, gold and white, while Locking and Push Ventlocks are available in chrome, satin chrome and gold.
Discover other sash window accessories: