An extremely important element in any sash window is well-chosen accessories. This is because they are often inappropriately matched for the weight of the window and its style. Incorrectly selected sash window accessories spoil the aesthetic value of the interior, and can also strain its opening mechanism, making the window function improperly. When choosing sash window accessories, also remember to match them to the color scheme of the windows and walls, as well as the type of flooring and style of furniture.
What is a sash window?
The sliding timber sash window is an ideal solution for listed buildings and those with specific planning requirements, but also for modern buildings. Thanks to its sliding top and bottom opening system, the sash window is ideal for smaller rooms where space is at a premium. A sash window can have one or two sliding sashes. In the case of two sliding sashes, we speak of so-called double hung windows. The contemporary sash window is a combination of traditional window style with additional structural reinforcements, modern opening systems and a wide range of stylish accessories.
Modern sash windows are characterized by:
lightness of opening, thanks to the use of the Sash Springs system,
increased security, thanks to a wide range of locks and movement limiters,
efficient ventilation, thanks to the option of two movable sashes (hot air escaping through the upper opening and cooler air being sucked in through the lower opening of the window),
traditional style in a modern unveiling.
Locks in sash windows
Just like the aesthetics of sash windows, their functionality is also important in guaranteeing our safety. Using appropriate locks with blocking functions and keys, springs as well as travel restrictors or ventlocks, you can be sure that all safety standards of your windows will be fully met and no one will be able to enter your house uninvited.
We've introduced a wide range of top-quality sash window accessories to the Aikon Distribution portfolio that will add functionality, enhance the look of your windows, and keep your home safe. These include:
pulleys and pulley accessories
locks
lifts
travel restrictors
springs
See our full range of sash window accessories and choose the right ones for your rooms.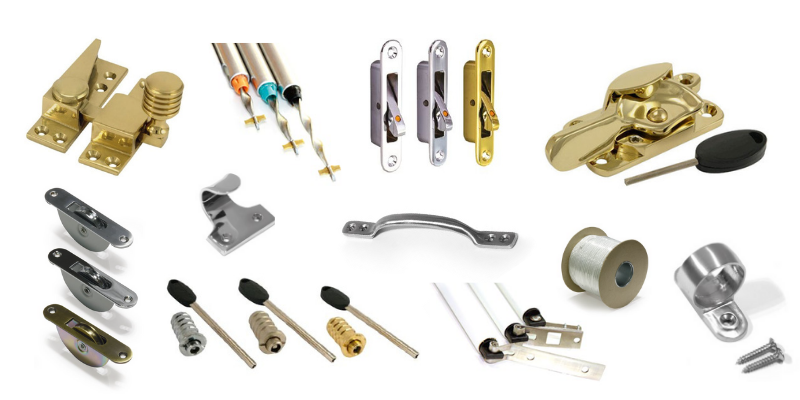 Sash windows accessories
How does the sash window work?
If you're still in doubt about how the sash window works and what each accessory is used for, be sure to check out our video.
How does the sash window work?
Read more about the functioning of sash windows here:
SASH WINDOWS - America in Europe?
At Aikon Distribution, we select the highest quality sash window materials, use systems and technology from reputable English companies, and are able to supply any type of window, regardless of market or destination.
Come and see us!