Functionality, high security standards, aesthetics, comfort and moreover reliable performance in all conditions - these are sliding gates in the offer of Aikon Distribution. Find out why it is worth ordering a sliding gate from us!
Which sliding gate should I choose?
We offer a wide range of modern models of sliding gates, wickets, segments and fence posts. Our gates are self-supporting or railed structures that open along the fence on the inside. In the case of a self-supporting structure, the leaf sits on concrete foundations and moves a few centimetres above the ground. The rail construction, on the other hand, is equipped with a rail bolted to the floor and the leaf moves along the rail with the help of installed track wheels.
Both systems operate smoothly and quietly, and the only inconvenience of rail construction can be the possibility of dirt accumulating inside the rail, such as leaves and stones.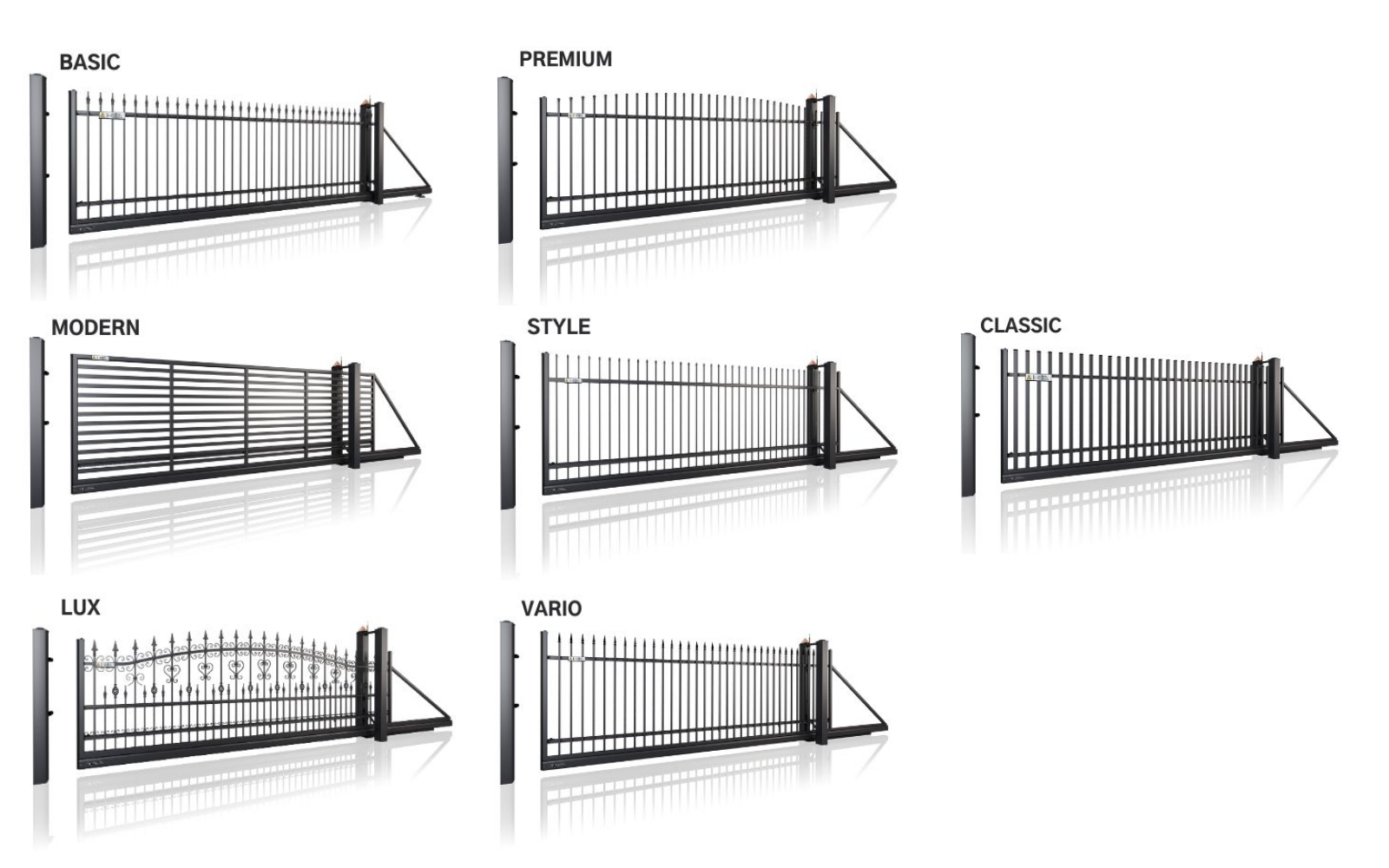 Sliding gates in Aikon Distribution's offer
Electric sliding gate
Sliding gates can be opened manually or by an automatic drive (radio transmitter or wired switch). The gate drive mechanism may be located in a post with an opening cover or on a shelf bolted to the gate post. The gate closes automatically after a pre-programmed time, so if you forget to close the gate, the machine will do it for you. In the event of power failure, the sliding gate can easily be opened and closed manually.
In addition, there are sensors installed in the fence posts of the sliding gate to prevent the gate leaf from moving when there is an obstacle in its path.
Watch how smoothly our sliding gates work:
Aikon Distribution sliding gates are the highest class of gates available on the market. They are durable, galvanised and treated with the best corrosion protection methods, so you won't have to worry about gate maintenance for many years.
The guarantee period for a self-supporting sliding door is 30 000 cycles and for a sliding door on rail 50 000 cycles. If the gate is used several times every day, its proper functioning is therefore guaranteed for a very long time.
Check out our offer and ask us for a quote!
Sliding gate colours
Sliding gates offered by Aikon Distribution are finished on one side with trapezoidal sheet on the street side. The sheet on the outside is powder coated in the following RAL colours: RAL 6005 (green), RAL 7016 (charcoal grey), RAL 7035 (light grey), RAL 8014 (brown), RAL 8017 (dark brown), RAL 9006 (silver), RAL 9016 (white), golden oak and walnut, and on the inside with a grey or cream coloured primer paint.
Wide range of colours and fence finishing patterns offers many possibilities to match them with installed windows and doors as well as finishing elements of the building.
Check out the colours of our sliding gates: