The front door is undoubtedly the hallmark of any home. It is therefore worth making an intelligent choice when buying them. So what type of front door is best for you so that it lasts for many years and delights the eye every time you look at it? In order to make the decision-making process easier, we are presenting a handful of useful information and answering the most frequently asked questions concerning front doors.
Entry door requirements
We require a lot from a front door - it should protect against the cold and not let the heat out, ideally it should be comfortable to use, pretty to match the building and the façade. They should also protect against burglars and should preferably not be expensive.
Fortunately, one, maximum two pairs of front doors are sufficient for a house. So when choosing your entrance door, it is worthwhile to be thorough and specific.
Below you will find the five most frequently asked questions about front doors, together with our answers. We hope that they will bring you closer to buying a door that meets all the above-mentioned expectations.
The 5 most frequently asked questions about entrance doors
Outward or inward opening front door?
When choosing a front door, it is important to consider how it opens, i.e. whether the leaf should open outwards or towards the room.
Outward opening doors
Outward-opening doors have the advantage of saving space in the house and facilitating possible escape in the event of an emergency. This type of door is also considered easier to keep airtight, as it is 'pushed' by the wind against the door frame. Their disadvantage, however, can be the difficulty of opening in the event of a gale - the door may not be able to be opened or, on the contrary, may be jerked open by a strong gust. However, we are talking about really strong weather phenomena here.
Inward opening doors
Inward-opening doors take up a lot of space, and there must be no furniture or fittings standing in their way within the radius of the leaf. They can also slow down a possible evacuation. They do not protect as effectively against the ingress of precipitation into the home. Their advantage, on the other hand, is that they are easy to open in snowy months and there is no access to the hinges from the outside.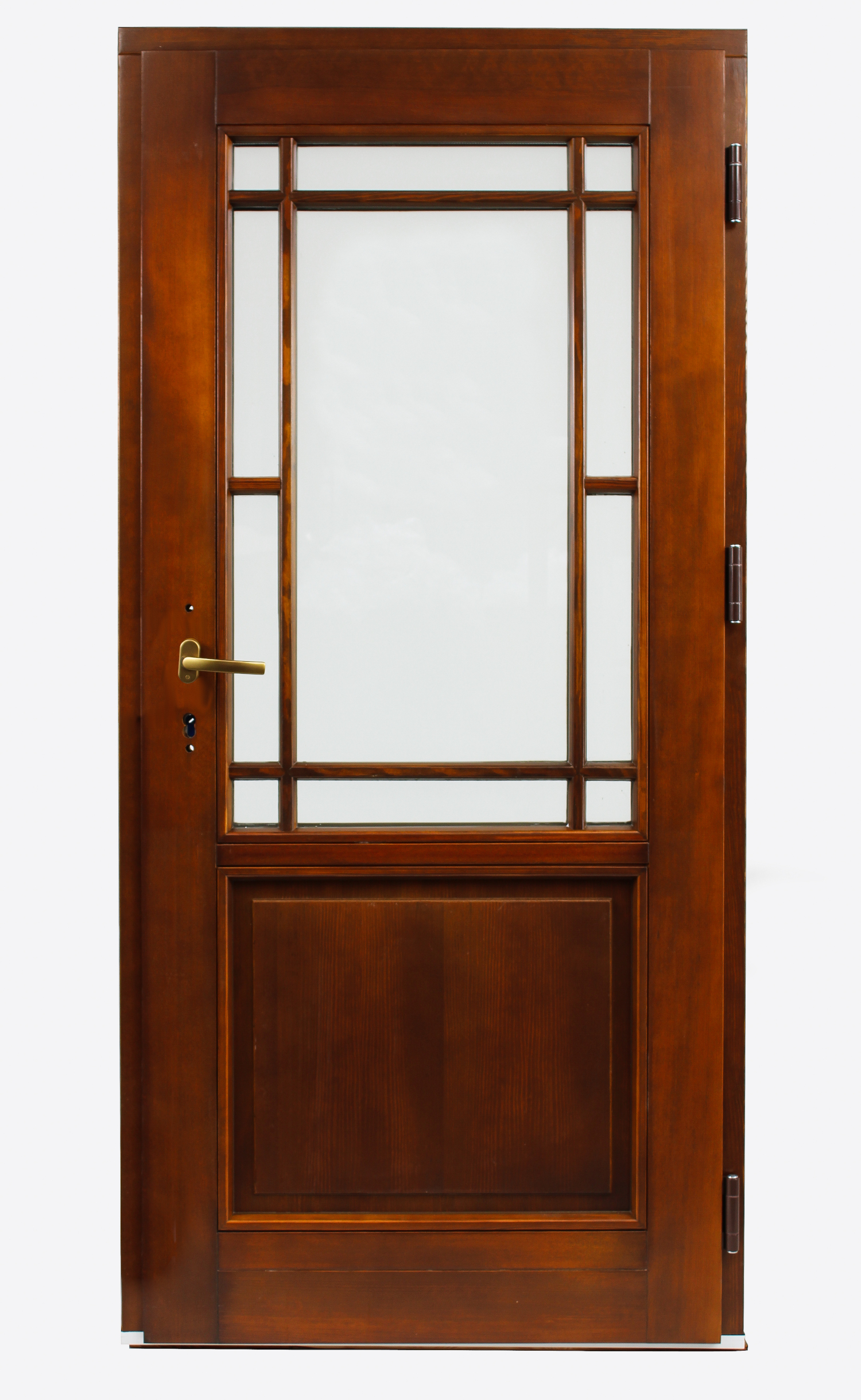 Timber front doors by Aikon Distribution
Left or right-handed front door?
Front doors can have hinges located on either the left or right side. Choosing the right side is important when there are elements in the immediate vicinity of the entrance to the house that will block the door from opening freely. For doors that open outwards, this could be a wall or a staircase handrail, for example. With doors that open inwards, the location of furniture, wall lights, switches or contacts must be taken into account.
For more on this right and left-hand door, see our blog post:
Left or right hand door? Which to choose? How do you distinguish between them?
How to service and adjust front doors?
Regular cleaning improves the service life and thermal insulation performance of your entrance door. It also has an impact on the acoustic properties, ensuring effective reduction of noise coming from outside. It is also recommended that you adjust your entrance door at least once a year due to the intensity of its use.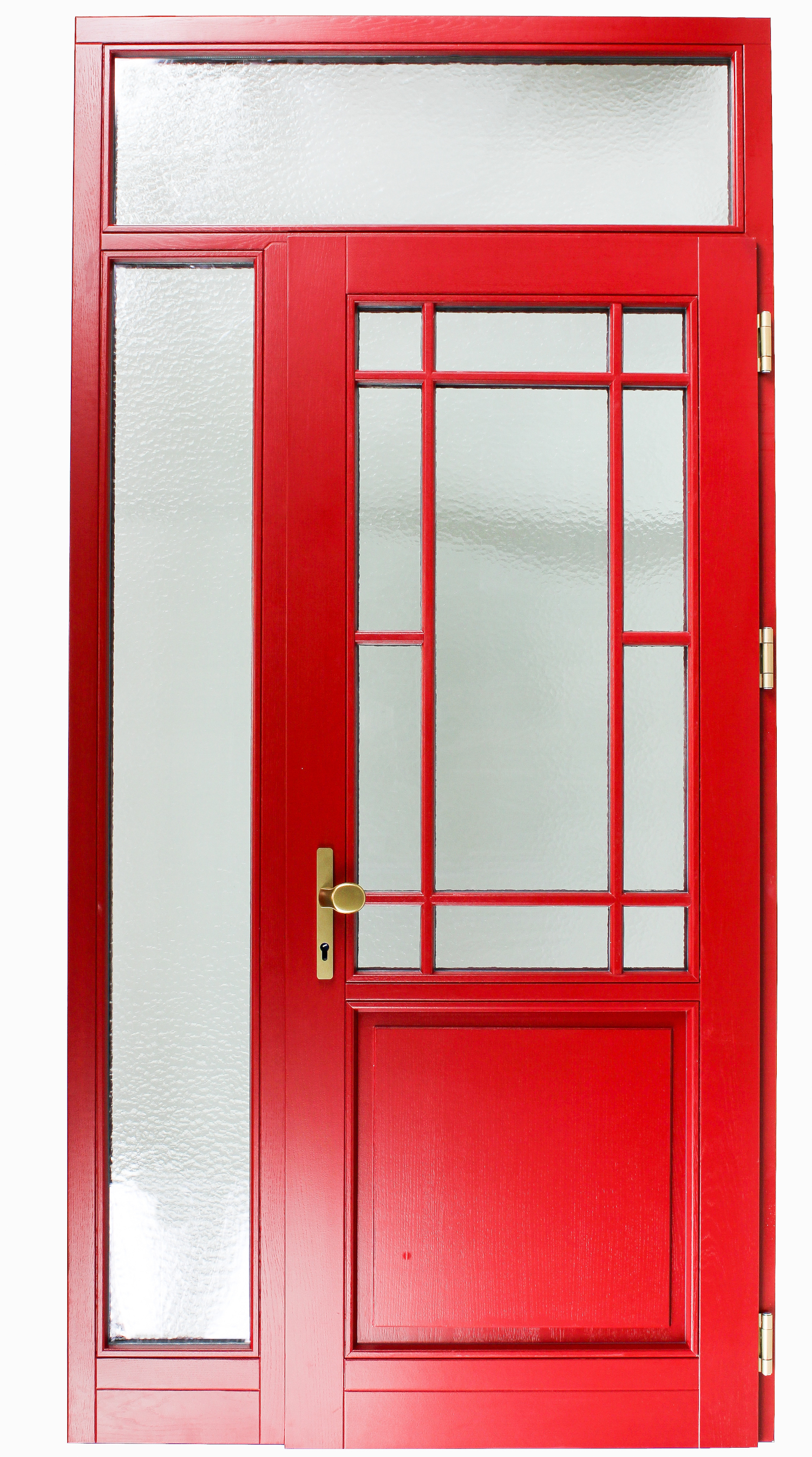 Front door by Aikon Distribution
How do I make my front door watertight?
Front doors have a sealing system to prevent freezing and water from entering the room, so there is no need for additional sealing. When purchasing, however, it is worth paying attention to the U-value. This is a parameter that indicates the amount of heat that passes through the entrance door. A lower coefficient ensures that the need for heat energy is reduced and heat loss is lowered.
See the aluminium entrance doors with improved thermal insulation available from Aikon Distribution:
What is a hingeless front door?
A hingeless door is a more expensive solution, but its installation significantly enhances the aesthetic standard of the door, as well as improving the security of the building. In fact, it is an external door with concealed hinges that are masked between the leaf and the frame when closed.
Read also:
Hidden windows hinges - aesthetics or practice?
Summary
When choosing an external entrance door, we pay attention to the technical parameters, the material of the door, the opening/closing method, as well as the various accessory options. The most important thing in all this, however, is to bet on the highest quality and solutions from a reputable supplier such as Aikon Distribution.
Our product range includes PVC, aluminium and timber entrance doors. The doors can be fitted with aluminium, glass or PVC door panels, fanlights and many aesthetic and useful accessories.
We encourage you to browse our offer on our website and contact our specialist.