Energy-efficient windows eliminate heat loss, generate savings and guarantee comfort on winter days. How do they work, what do they consist of and how do they differ from traditional windows? Why are energy-efficient windows the most popular choice in recent times? Let us find out!
Energy-saving windows - parameters are the basis
Visually, energy-saving windows do not differ from standard windows. What is important are the parameters and elements of the construction which are not very visible, because they are located in the window frames.
What are the characteristics of energy efficient windows?
Well, the construction of energy-saving windows is based on three or four panes of glass. They are usually covered with a special low-emission coating, and the space between them is filled with gas. In the spaces separating the panes of glass there are distance spaces. The window frame is multi-chambered, reinforced with a steel structure and fitted with double or triple gaskets.
U-Value - The most important coefficient
Energy-saving windows should be characterized by the lowest possible heat transfer coefficient (U-value) expressed in W/(m2*K). The value of this coefficient determines how much heat penetrates 1 m2 per hour. This applies to both the glazing and the frame. In general terms, U-value is made up of Ug (the heat transfer coefficient of the glazing) and Uf (the heat transfer coefficient of the frame), which indicate how much heat escapes through the glazing package and the window frame. The Uw value is also influenced by additional factors including the use of a warm spacer in the glazing packages or additional seals in the frame. What is important, however, is the total value, which clearly defines which window is the most energy-efficient.
EU regulations specify precisely which Uw value is indicated for energy-efficient windows. Thus, energy-saving windows have a U-value of a maximum of 0.9 W/m2K.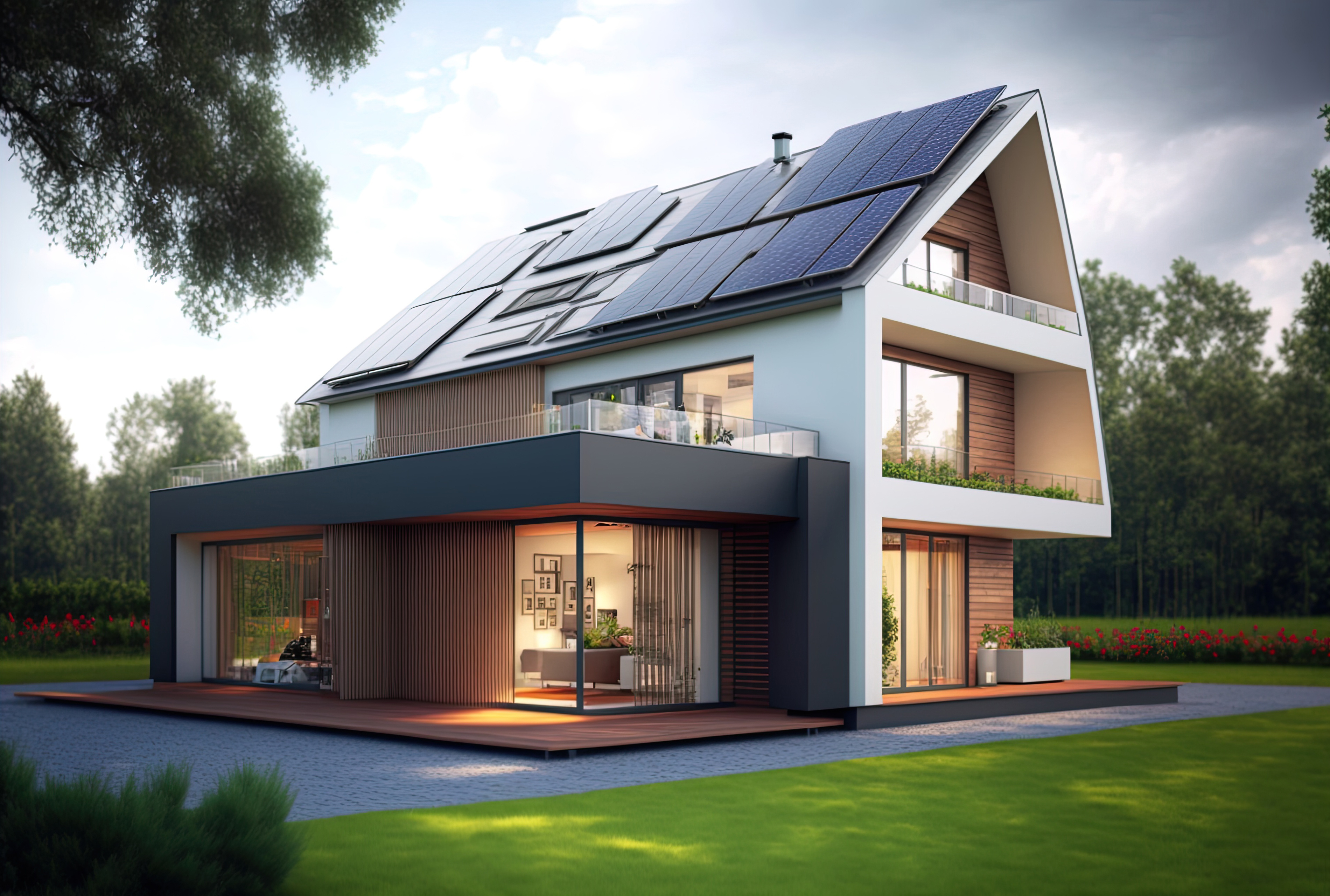 Modern house with low-energy windows
Three or four panes of glass instead of two
Windows with two panes of glass are currently the economical standard. However, energy-saving windows require three- or four-pane packages.
Triple glazing windows
The triple-glazing set in energy-efficient windows consists of three panes of glass connected by spacer bars, two of which are coated with low emissivity coatings. Importantly, the aforementioned alu spacer is the basic element of the unit. The space between the panes is filled, as standard, with 90% argon and 10% air. This allows triple-glazed windows to achieve a Ug = 0.4 W/m²K* coefficient.
*Ug - coefficient of heat transmission through glass
4-glazing windows
4-glazed energy efficient windows have four panes of glass connected by spacers, three of which are coated with low emissivity coatings. The gas in the space between the panes, depending on the choice, consists of 90% argon or krypton and 10% air. It is possible to achieve a heat transfer coefficient of up to Ug = 0.3 W/m²K with four-pane window system.
Warm frame
Thanks to the use of a spacer, also known as a warm frame, the possibility of heat conduction is reduced and the formation of condensation is reduced. What is more, the warm frame is not only a guarantee of lower energy losses, but also extends the life of the window.
Energy-saving window frames
Energy efficient windows are not only glazing, but also a properly installed and solid window frame which prevents the formation of thermal bridges through which heat can escape. This is because the width of the window profiles in the frame translates into energy-efficient insulation, and improperly executed installation results in the loss of a considerable amount of heat.
Energy-efficient windows at Aikon Distribution
Alu window profile Aliplast Genesis 75
Aliplast Genesis 75 is a three-chamber alu window and door system with very high air-tightness in terms of both air permeability and water tightness.
Read more about this window profile:
Timber TILT & TURN 92 profile
The TILT & TURN 92 profile is ideally suited to creating timber energy-saving windows for passive houses.
Read more about the timber window profile we recommend:
Aluplast IDEAL 8000 uPVC windows
uPVC windows based on the Aluplast ID 8000 profile are characterised by excellent thermal and acoustic parameters. They have even been created for passive houses.
Find out more:
Summary
One of the most important elements influencing the energy efficiency of modern buildings and flats is the window joinery. It is through the windows that most heat escapes from a room, so it is worth investing in energy-efficient windows which allow for significant savings in household energy expenses. In order for energy-saving windows to fulfil their purpose, it is necessary that they are installed correctly and professionally. Such installation should be entrusted to qualified professionals, who will perform the service in accordance with the art. The difficulty is that the most appropriate method is the so-called warm frame mounting. This involves the application of three sealing layers, which perform specific functions.
If you are just about to buy energy-saving windows for your house and you don't know which profile to choose - please contact our salesman, who will help you to make the right decision.
Read also: