We should feel as comfortable, warm and, above all, safe in our own home. That is why it is so important to take care of the right security measures. But where to start? First of all, by installing the right window and door joinery. Windows and doors with additional security measures protect both our children and children in care against unfortunate accidents and against the visit of an uninvited guest, i.e. burglary and theft. How to make your home a safe place? Check it out.
Safe windows - what kind of windows?
Window with anti-burglary fittings
Forcing a window is most often done by breaking it open, therefore the fittings which protect against breaking the sash out of the frame play a very important role. The amount and quality of security measures in anti-burglary windows can vary greatly. When buying anti-burglary windows, you should check if they meet European resistance classes RC. When you choose a window of class RC1 you can be sure that it will resist attempts to open it by kicking, hitting or pulling. A window of a higher RC2 class will also resist tools such as a crowbar, screwdriver or pincers.
Window with safety glazing
On the market there are safety glazings with increased resistance to shattering, which can be installed without any fear, even in large windows.
Laminated safety glazing is made of several panes of glass with a PVB foil in between, thanks to which the glass does not break into small sharp pieces when it is broken, as the resilient and tear-resistant foil holds the glass in place. Safety glazing is particularly recommended for large window and door glazing, partitions, terraces and in areas where children could be at risk if ordinary glass were to break.
Window with anti-burglary glazing
These glazings are very resistant to impacts, so they are more difficult to break. They have a special construction, they are thicker, laminated glazing, sometimes tempered. The safety class informs us about the resistance to breaking of the glazing. They are ranked from P1A to P8B. If we want to really increase our safety we should consider glazing in classes P2A to P4A. Such glazing can withstand a steel ball several times and is able to effectively stop a burglar from entering our house..
See the glazing strength test:
Handle with key lock
One of the simplest and most popular methods of protection against unwanted opening of windows is fitting suitable handles. Aikon Distribution offers handles from the Hoppe Secustic range, which can be fitted with an additional lock or button. The biggest advantage of this solution is the possibility to lock the window in two positions: closed and tilted. In the case of the first position, the handle can only be moved if the appropriate key is available. In the case of the tilt position, it is possible to ventilate the flat without the possibility of opening the window, e.g. by children.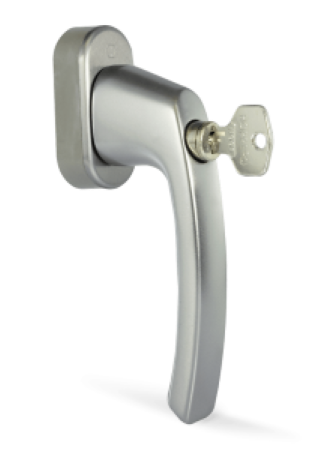 Hoppe Secustic handle with key
Reverse order of window opening
Another solution that also aims to increase security in the home is to reverse the order in which windows are opened. In standard fittings after turning the handle by 90° the windows open to their full width, in the system TiltFirts by ROTO after turning the handle by 90° the window leaf opens in tilt position, and the handle with an additional cylindrical insert does not allow to change the position from tilt to full opening. Only turning the key releases the lock and allows the handle to be set in the vertical position (upwards) and the window to be opened. Returning to the tilted position automatically activates the lock.
Secure doors - which kind of doors?
Anti-burglar doors
When choosing a door for your home, it is essential to pay attention to what security features they have. Anti-burglary doors must be equipped with:
Structural reinforcement with bars,
Interlocking door bolts,
At least 3 hinges,
At least 2 locking devices at a minimum of 3 positions separated by a minimum of 60 cm,
At least 1 insert in class 6.
Such a door will resist a burglar for at least 20 minutes.
Read also:
Anti-burglary door: all that you need to know!
Locks on the front door
Multi-point locks are a solution that ensures security and comfort of use of the front door. There are locks with bolts in the door leaf, it can be a configuration: main central lock, secondary lock and lower lock. The central lock controls a strip which is responsible for extending additional locks from several places on the leaf. Additional bolts not only increase the resistance against burglary, but also strengthen the door structure and make the leaf fit the frame better. Aikon Distribution offers multipoint locks in various types, both classic - mechanical, as well as modern - electromechanical.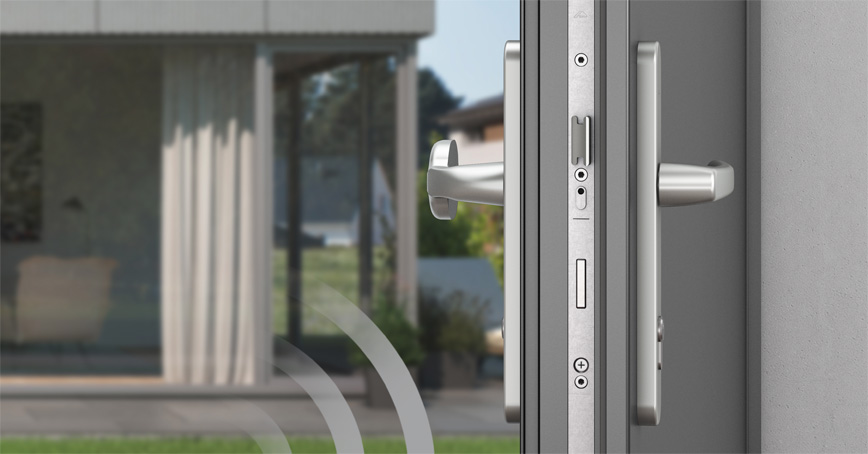 Electromechanical multi-point locks
Smart Home
Smart Home solutions also greatly improve the safety of residents and users in the home. New technology gives many possibilities to control your front doors, garage door or roller shutters with your smartphone, computer or tablet. And that's not everything.
Smart Home - front doors control
With modern smart home systems, the user is able to control the front door, which can be equipped with automatic locking with electric control. Their opening and closing can be managed with a key, digital code, card or fingerprint. And from the inside - with a handle or a special panel.
Smart Home - garage door and entrance gate control
The modern io control system Homecontrol from the company Somfy allows you to control your garage door or entrance gate from almost anywhere. Using your mobile device and an Internet connection, wherever you are, you can control your gate whenever you need to. You don't need any other devices to get full control.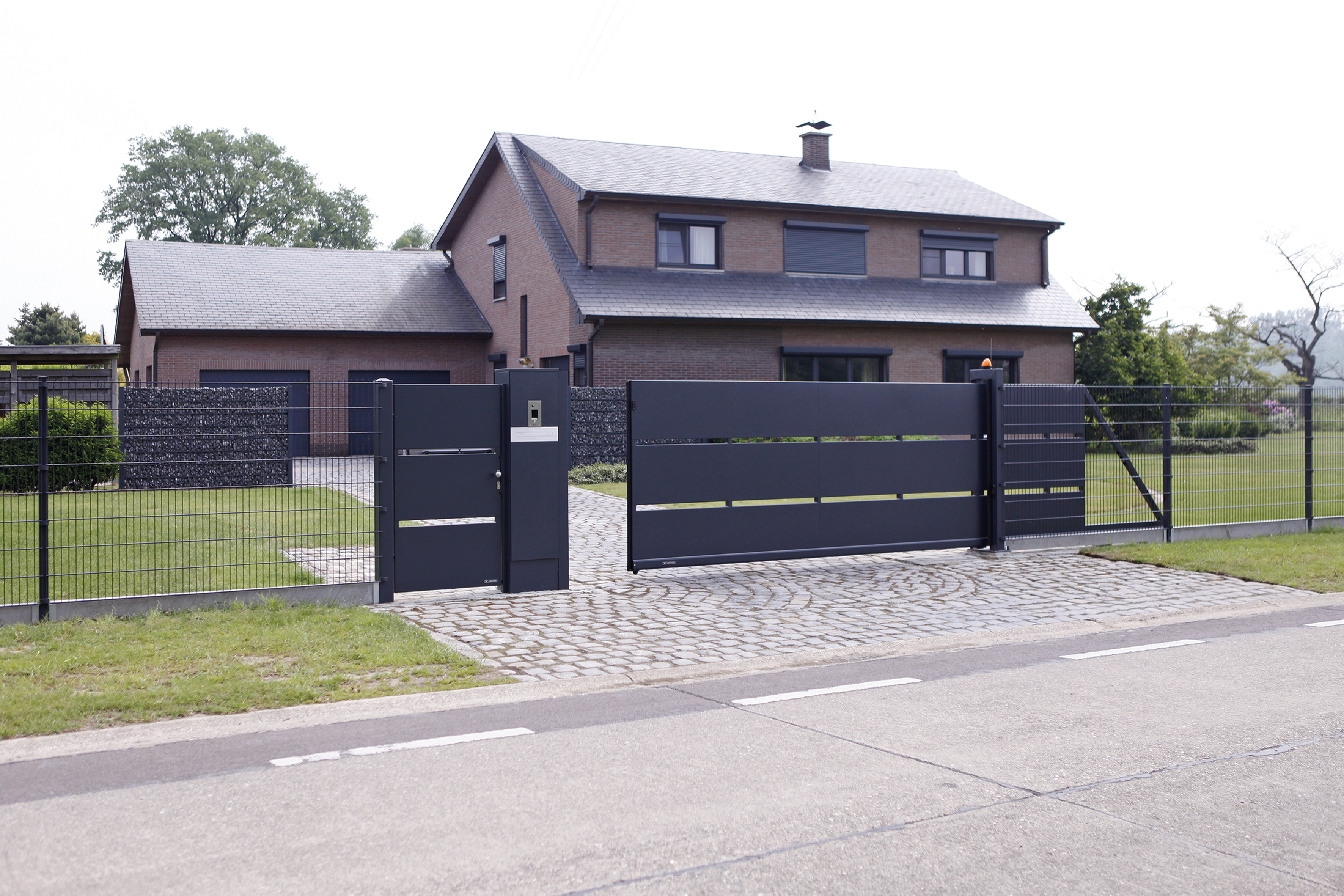 Remote-controlled entrance gate WIŚNIOWSKI
Smart Home - roller shutters and venetian blinds control
Thanks to intelligent solutions, your home can function in harmony with every time of the day and with your lifestyle.
Whether your life has a regular rhythm or you leave the house at different times, automatic control of the blinds or shutters will help you adapt the conditions in the interior to your current needs.
Thanks to the use of sensors or the weather forecast and the time programmer, the blinds and shutters will automatically take care of your and your family's comfort and safety.
Weather automation
Home interiors equipped with Smart Home can also be protected from sudden changes in weather and weather conditions by installing a weather sensor. If the wind or rain level exceeds the limit values, the system will automatically close the tilted windows, protecting the interior of the house from windstorm or flooding.
Thanks to the Smart Home system, access to the house is no longer dependent on a bunch of keys. Parents can let their child into the house without moving from their office or check on their smartphone in seconds whether the gate is locked. What's more, a smart home can think for its residents about performing basic tasks, for example - thanks to the geolocalisation function - it will open the gate a moment before arriving at the property. Security will be completed by combining the above-mentioned systems with modern alarm systems. A house equipped in this way will be fully safe.
Read also:
Smart home - Control system: Tahoma Somfy
In the text above, we have covered a wide range of different security features that you can use in your home. But that is exactly the point. Threats to your home and family come from a variety of sources. It is important to make sure that they are fully protected.
We recommend taking a look at our range of secure joinery. Our advisor will be happy to suggest the best solutions for your home.