Advanced roller shutters not only increase the appearance of a property, but also provide excellent protection against sunlight preventing the interior from accumulating excessive heat. If roller shutters are automated, they can be easily operated with a remote control.
Types of roller shutters
Roller shutter types relate directly to how they are installed. There are at-window-head mounted, surface-mounted and flush-mounted roller shutters.
At-window head mounted and surface-mounted roller shutters are perfect for building renovations as the roller shutter installation does not interfere with the structure of the building. On the other hand, the choice of flush-mounted roller shutters should be made as early as at the first stages of a project design as these shutters are installed under the render, to learn more see our blog: Guide to outdoor shutters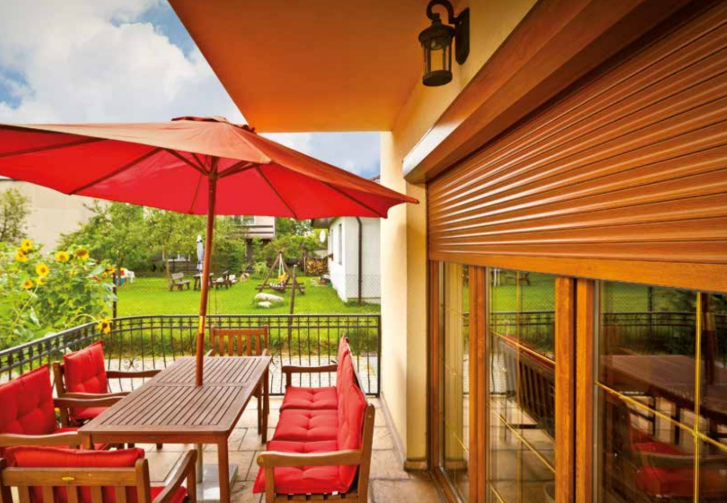 Front-mounted roller shutter
Roller shutters can be also automatic or manually operated.
Automatic roller shutters can be connected to a control panel (along with, i.e. house doors and/or garage doors) and operated via your PC, tablet or mobile phone, to find out more about see: Smart Home
Remote-controlled roller shutters, apart from their evident ease of use, offer modern design – unlike manual shutters, they are free of any additional belts, spring mechanisms, and cranks.
Roller shutters – decorative element of your house elevation
Through variety of available roller shutter colours you can make your new roller shutters to work as perfect decorative element of your house elevation. The colour of your new roller shutters should match well with the colour of the building facade. Roller shutters colour that match colour of the windows and doors are a popular choice giving impression of the house design being complete and consistent. Aikon Distribution range includes external roller shutters in wood-like colours, as well as more than 200 different RAL colours.
Flush-mounted roller shutter is a very popular application where building insulation could be used to cover up roller shutter box to form a very uniform elevation design.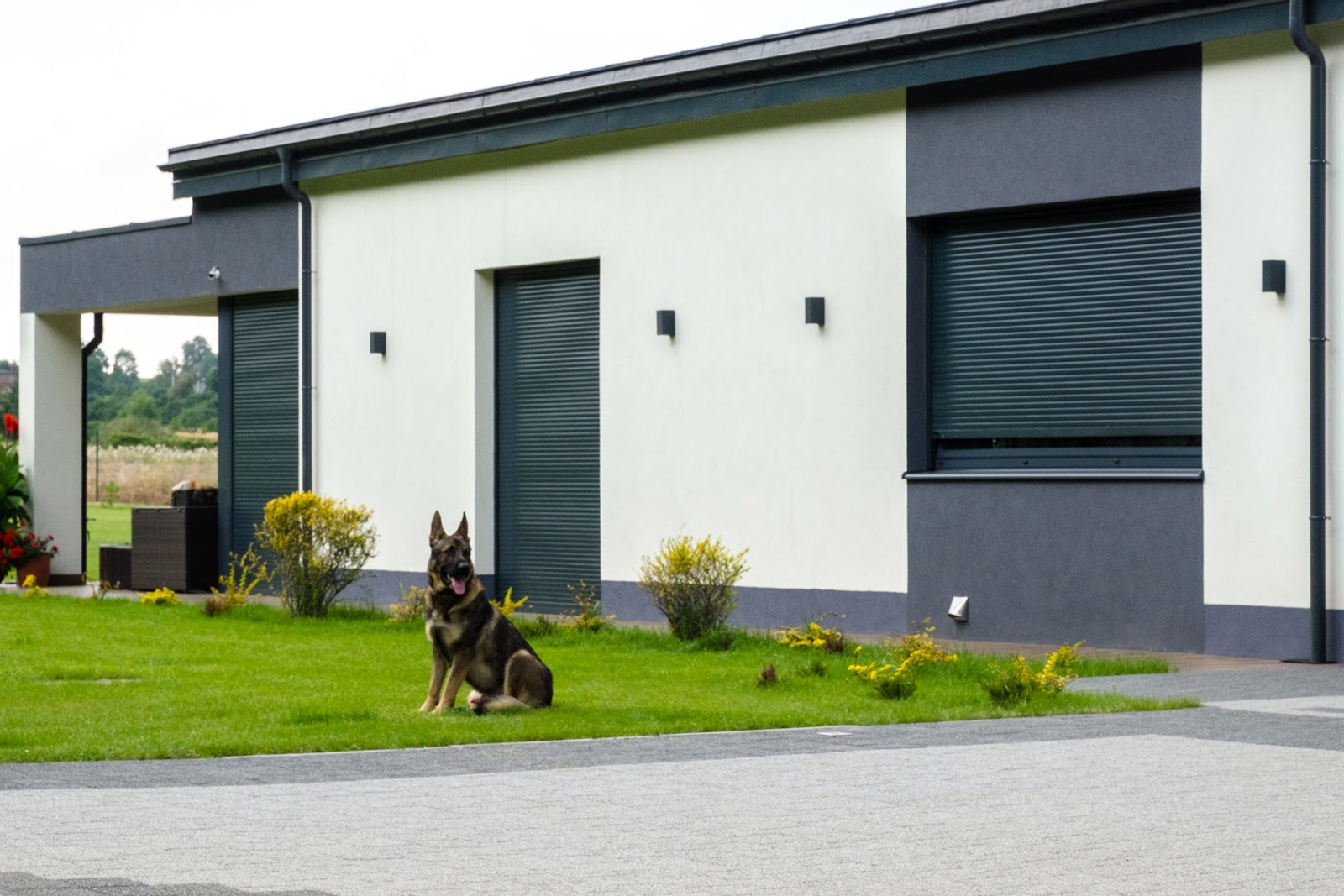 Built-in roller shutter
Protection against loss or heat increase
Energy efficiency is a norm in modern building construction. Ever increasing prices of energy and higher awareness of environmental issues prompt investors to choose solutions that prevent heat loss. Roller shutters can help achieving these objectives. The space between the window and the rolled down shutter creates an air gap that provides additional insulation layer and protects the building from heat loss in winter, reducing energy consumption even up to 30%.
As the solar energy gain factor is high for window glass units, in some cases it can lead to excessive interiors overheating during summer months. Roller shutters can prevent excessive head increase to keep interiors temperature at lower level. Interiors temperature can decrease by as much as 10°C.
Protection against noise
Roller shutters also provide good protection against noise.
They are perfect for buildings near busy streets, rail tracks, railway stations or city centre busy roads.
External shutters reduce noise levels by 7-14 dB offering more comfortable working or living environment giving impression any outside noise is further from the building than it really is.
Protection against burglary
With external roller shutters anyone can feel safer in their own house. Roller shutters protect from passers-by or public wanting to look through the windows. They are also an additional obstacle to potential burglars.
Roller shutter slats can also have increased security mechanism applied that stops slats from being lifted up mechanically from the outside preventing easy braking-in.
External roller shutters – protection and decorative element of house elevation
Roller shutters offer a number of useful benefits: they offer effective protection against wind and weather, improve energy efficiency of the building, and offer protection against potential burglary. In addition, if adequately style-matched, they improve the appearance of both modern and classic building elevations giving them a unique character and timeless design. Therefore, when choosing an external roller shutter, take into account both its aesthetic design as well as protective purpose – both are surely equally important.