Timber windows are a beautiful finish to any interior - both more traditional and maintained in a modern style. They can be seen both in old buildings and in new construction, where they are gradually replacing the cheaper alternative in the form of uPVC windows. Timber windows are more expensive, but in terms of thermal insulation and natural, elegant appearance, they have no equal.
They are also a guarantee of quality and durability for many years. Today we are checking how much a timber window costs.
See our offer of timber windows:
Cost of timber windows
A timber windows price includes the values of all elements used in its production. Both the size of the window and the material it is made from are considered.
The cheapest wood for timber windows is pine wood. It is characterised by high strength and durability, but it is oak wood that wins in these categories. This is reflected in the price, as windows made of oak wood can cost us up to 50% more than others. If you want to slightly reduce the price of the raw material itself, it is worth paying attention to meranti wood (more expensive by about 20% than pine windows), which in terms of hardness is similar to oak wood.
Another factor that affects how much new timber windows cost is their thermal transmittance (Uw index). This value tells us how much heat escapes through the window to the outside. The lower the thermal transmittance, the better. Currently, the standard is Uw lower than 1.1 W/(m2K).
The price of a window is also affected by its acoustic properties (Rw index) expressed in decibels. If you want your timber windows to be soundproof, choose models with a higher Rw, with acoustic properties of 32 dB.
The final timber windows price also depends on their resistance to wind load (symbols from A1 to C6). Class A1 windows at a wind speed of 90 km/h will bend by 1/150 of the frame length, while C6 windows, at a wind speed of 205 km/g will bend a maximum of 1/300 of the frame length. An important piece of information is that timber windows do not have to reach classes higher than B3 or B4. However, do not save on them, especially if the windows are to be installed in a building located in mountain or coastal areas, where strong winds are relatively frequent.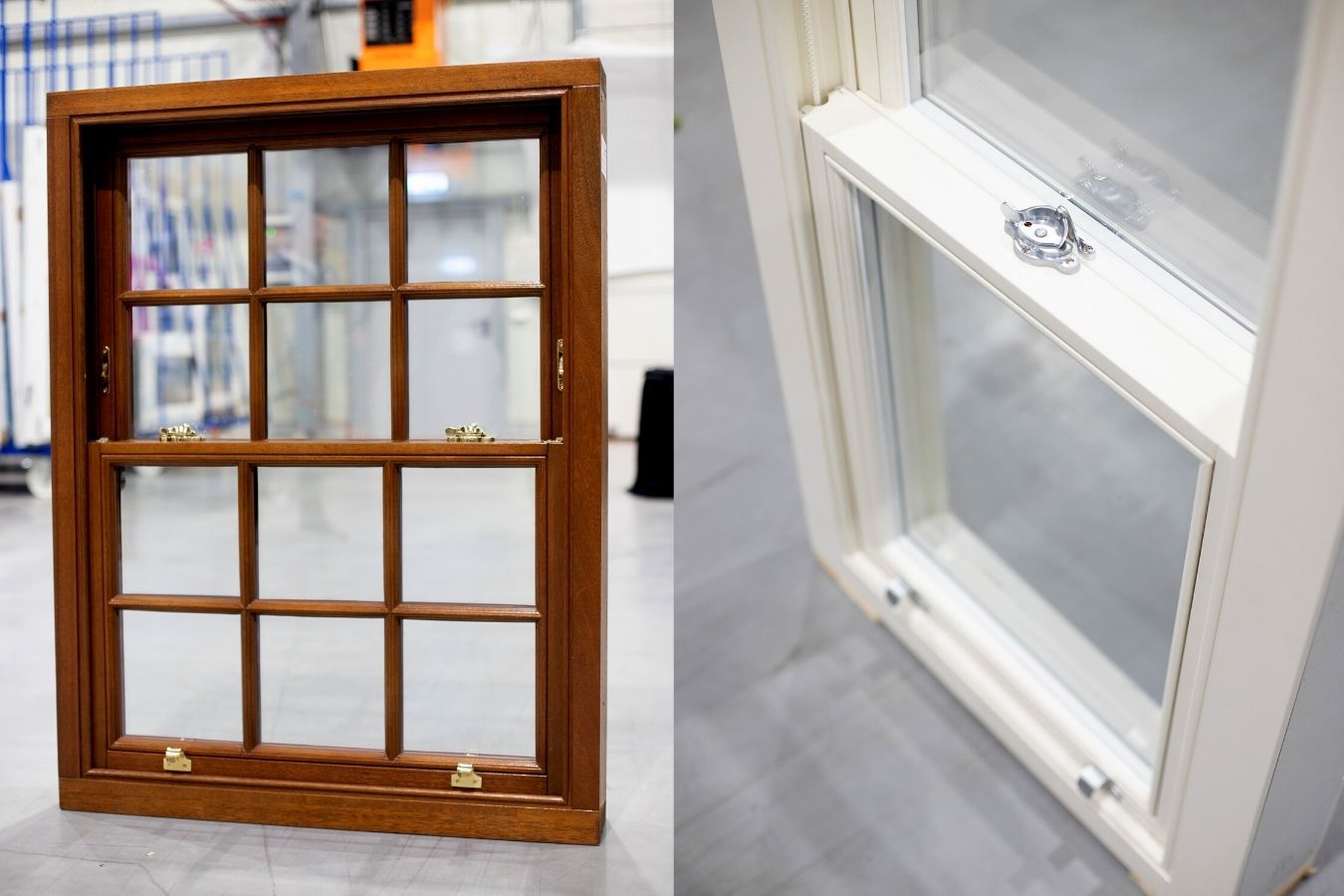 Timber sash windows with accessories
Timber windows prices
It is not only owners of historic houses who install stylized windows in their houses. In every house there is a possibility to install timber windows with additional decorations. Decorative mouldings or muntins are then added to the frames, which, as you can easily guess, increase the cost of timber windows. The same happens when ordering very large windows. Although timber ones, even at significant sizes, don't need additional reinforcements, so there won't be any additional costs, but the bigger the window frame, the bigger the material consumption, and thus the higher the price.
We've already chosen the type of wood, we've decided on the insulation parameters, it's time for the price elements that will be visible with the naked eye. It may not be obvious in the case of timber windows, but, as with uPVC windows, colour variants are extra charges and can increase the price by up to 20%. The colour can be applied on one side (e.g. only on the outside) or on both sides.
How much are timber windows?
How much are timber windows? Quite a lot, but when looking for the right model you will notice that their prices significantly differ. Windows are exactly the case when a lower cost can result into worse parameters. This is the point on the list of building and furnishing a house on which you should not save. The more we spend on them, the longer we will enjoy them. But let's take into account our real needs and the environment in which the building is located. Why buy very quiet windows if your house is in the countryside, away from a noisy road? Full sound insulation, which noticeably increases the price, is not needed by everyone. Nor does it make much sense to invest in any anti-burglary protection in windows if they are to be installed in a flat, in a high block of flats.
Do not forget, however, that timber windows are one of the most important elements affecting the tightness of the building - their thermal insulation capabilities are responsible for keeping energy in the room. Cheaper models, characterised by higher heat transfer coefficients, will not retain as much heat as their more expensive counterparts. This means that the heat, for which we will be paying ever higher bills, will escape to the outside. So no matter how you heat your home, with energy-efficient or passive windows you can save money while maintaining the desired room temperature.
See also:
Buying windows from Poland - step by step
Contact our advisor and choose the parameters of timber windows according to your needs: