Poland is the largest European producer of windows and doors and a leader in terms of export value among EU countries.
Read our report:
Windows from Poland. Why it is worth importing windows and doors from Poland
Our products are sold mainly to France, Italy and Germany, but among our customers are also recipients from Belgium, England, Switzerland, Norway or countries outside Europe (e.g. Algeria or Canada). Polish joinery is known all over the world – this is indisputable; its quality and competitive prices attract customers from different parts of the world. However, what isn't commonly known is how quickly and smoothly you can purchase windows and doors from Poland.
Windows from Poland - how do you make the purchase?
In the era of the COVID-19 pandemic, both the customer and the vendor have experienced constraints in travel and business. Same goes for the construction industry - developers were suddenly put in a position where they couldn't meet their customers or construction material vendors. So what if deadlines are looming? We have a solution for that! Buying all your joinery from one reliable supplier. It's easy! All you need is a computer and phone – our qualified specialists will take care of the rest.
Windows and doors over the web - possible?
Ordering windows and doors online is not a new thing. Aikon Distribution has been serving its customers through this channel for over 11 years, continuously developing its skills, knowledge and communication methods. Our customers can order their windows from anywhere, even their construction site. With modern technology, such as pricing software, we send quotes quickly and reliably. The documents are prepared in the appropriate language and our specialists are in regular contact with their clients. The best thing is that with Aikon Distribution you can order more than the complete joinery, as our product range includes windows and doors, but also garage doors, fences, roller blinds, mosquito nets or balustrades. In one place you can order all the products directly to your construction site - we ship your order to any location in the world.
See exactly how it works in a few simple steps: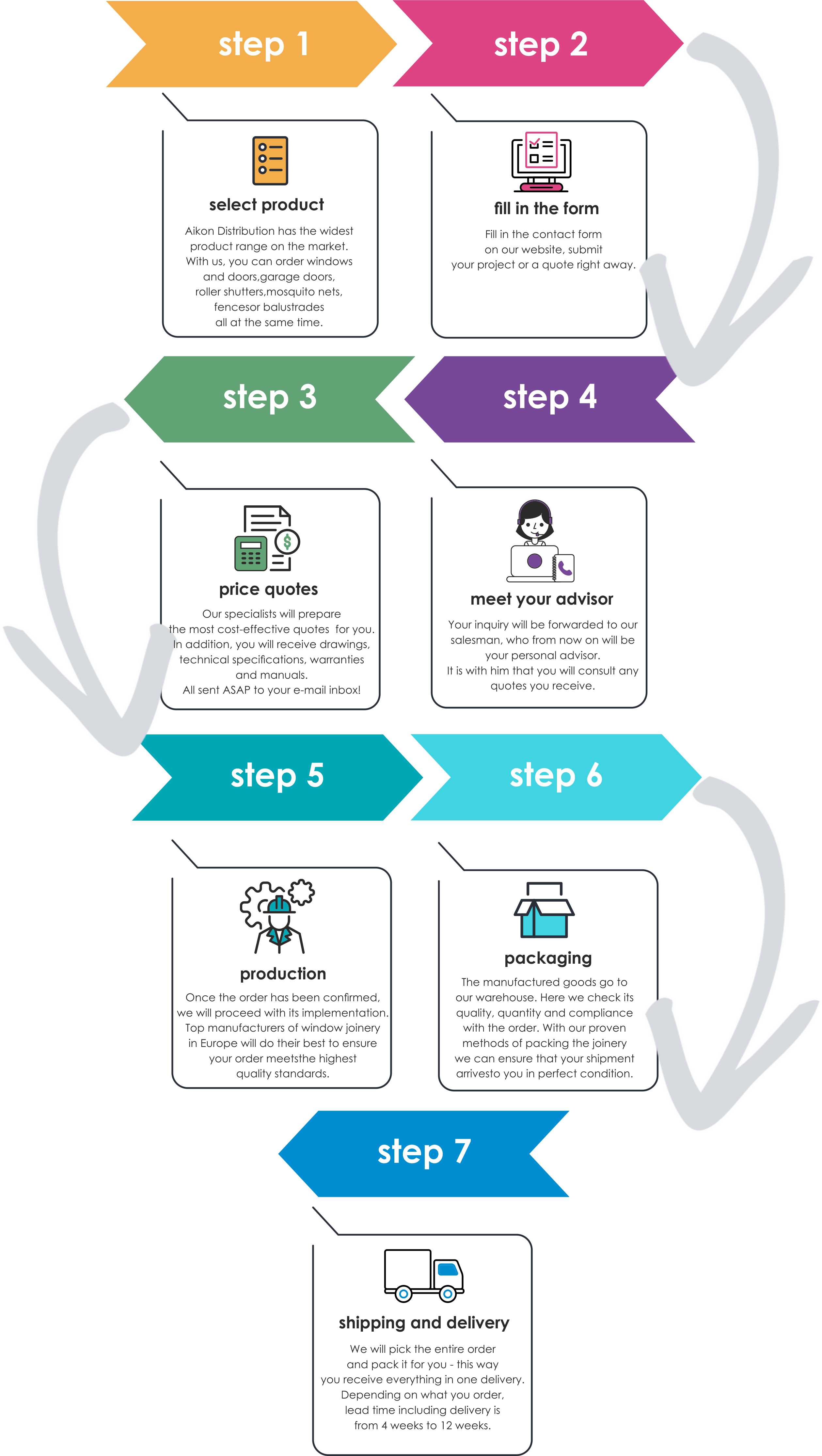 Thanks to advanced systems of information processing combined with highest level customer service, Aikon Distribution provides customers with access to the best joinery of Polish manufacturers, as well as smooth delivery and technical advice almost at any time and any place in the world. Unforeseen difficulties, such as a pandemic, are not an obstacle for us, as we have been selling all our joinery online for many years now. We know how to work with customers "at a distance", we pinpoint key issues when planning projects, measurements or installation work.
Want to see our work up close? See our videos: