Sloping windows, are architectural elements that add unique charm and character to both traditional and modern buildings. By choosing sloping windows made of aluminium, a combination of elegance, durability and functionality can be achieved. In this article, we take a closer look at the advantages of aluminium sloping windows.
Elegance and aesthetics of aluminium sloping windows
Aluminium sloping windows are not only functional, but also aesthetically pleasing. Their unique shape and distinctive design add charm and individuality to any building. These windows are the perfect solution for both those who appreciate a traditional look and those who prefer modern architectural trends. Symmetry is key to the aesthetics of aluminium sloping windows. Their evenly spaced partitions and lines create an impression of balanced harmony, making these windows the perfect choice for lovers of aesthetics based on proportion and symmetry.
See the full range of aluminium windows at Aikon Distribution:
Aluminium sloping windows - durability and resistance
One of the main advantages of aluminium sloping windows is their durability and resistance to weather conditions. Aluminium is an extremely corrosion-resistant material. This means that aluminium sloping windows are not subject to rusting or degradation from weather conditions such as rain, snow or moisture. As a result, they retain their appearance and functionality for many years. Aluminium sloping windows are extremely structurally stable. Aluminium is a material with high resistance to stress and deformation, which means that these windows retain their form even under extreme wind or snow loads. The durability of aluminium pitched windows is linked to their low maintenance. They do not require regular painting or special care. This saves you time and costs associated with keeping your windows in excellent condition.
Excellent thermal insulation
The thermal insulation of sloping aluminium windows is an important aspect that affects thermal comfort inside the building and heating and cooling costs. Aluminium sloping windows, although made of thermally conductive aluminium, can be equipped with advanced thermal solutions that significantly improve their energy efficiency. Here are the factors that affect the thermal insulation performance of sloping aluminium windows:
Thermal Barrier
Today's sloping aluminium windows are fitted with thermal barriers that provide thermal insulation between the interior and exterior. These barriers reduce heat conduction through the aluminium, which improves the thermal insulation performance.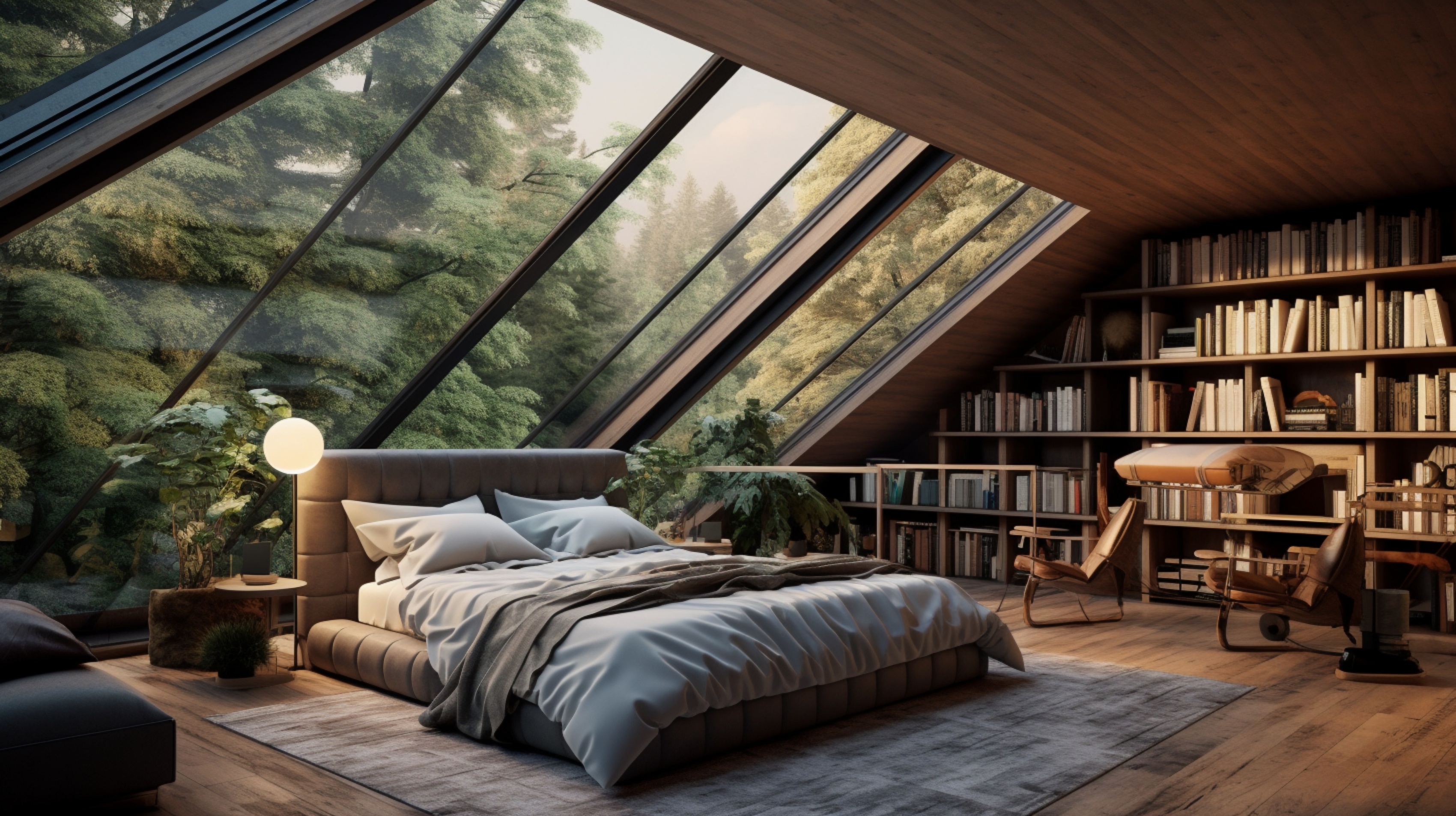 Aluminum sloping windows in the bedroom
Multi-chambered Profiles
Sloping aluminium windows can have multi-chambered profiles. These internal chambers increase thermal insulation because the air in the chambers acts as a thermal insulator.
Special Glazing
Well-designed aluminium sloping windows can be fitted with special glazing, such as heat-insulating glazing or glazing with a low-emissivity (Low-E) glass packet, which prevents heat loss and reduces heat build-up in summer.
Sealing
Effective seals around the window are key to thermal insulation. Good quality seals prevent air leakage and heat loss.
Adjustment and Installation
The proper adjustment and installation of sloping windows is also an important factor. Poorly installed windows can lead to air leakage and heat loss. Find a proven installer - so that you have no doubts about the correct installation of the windows in your building.
That's why, when you're choosing aluminium sloping windows, it's worth paying attention to their thermal performance, such as the U-value, which tells you about the window's ability to insulate heat. By choosing windows with the right thermal properties and taking care to adjust and install them properly, you can ensure thermal comfort in your building, as well as savings on energy costs.
Aluminium sloping windows - the perfect choice for years to come
Aluminium sloping windows are not only an architectural feature, but also an investment in comfort and durability. When you choose products from Aikon Distribution, you are assured of a top quality solution that will meet your expectations and be a beautiful addition to your building. If you're considering purchasing aluminium pitched windows, quality is a key factor. Aikon Distribution is an industry leader, offering the highest quality products.
Contact us today and see how we can make your spaces even more elegant and functional.
You may be interested in: