BLOG
Windows from the world. Part III: Scandinavian windows | BLOG | Aikon Distribution
/ 31.10.2018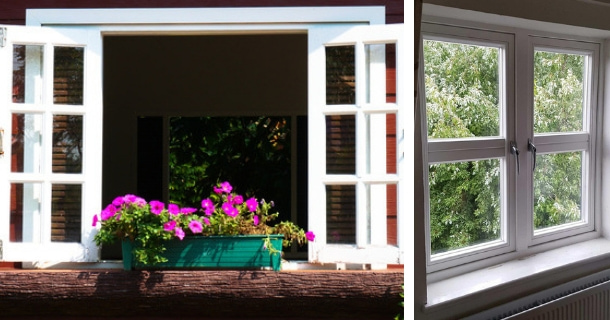 Windows from the world. Part III:

Scandinavian windows

Scandinavian style is one of the most recognisable trends in architecture and interior design. It is characterised by simplicity and emphasis on functionality. Scandinavians value space and comfort, which is implemented mostly on the basis of their preference for minimalism..

In this part of our "Windows from the world" cycle we visit Scandinavia to take a closer look at the practical solutions (also for windows and doors ) of this region.

Outward opening windows

Outward opening windows are one of the most recognisable features of Scandinavian architecture. This extremely practical solution has emerged to a large extent as a necessity due to the weather conditions of the north of Europe. Scandinavian harsh weather is most often chilly and, above all, windy. This is where opening outwards windows come in handy. A strong wind pushing against the window sash presses it to the frame, which naturally improves the tightness of the entire window.

Tip

Outward opening windows are also popular in the UK and the Netherlands, where they are referred to as casement windows.

This is the essence of Scandinavian pragmatism as the most functional application of construction elements. It includes no items that would not perform an important function. With this in mind, Scandinavians introduced the following ways of arranging windows:

• Side Hung

• Top Hung

• Side Swing

• Top Swing

Cassements window

Traditional Scandinavian windows are equipped with fittings other than those used in the rest of Europe. They include straight and rail hinges (tilt and pivot windows), as well as pushers, hooks, and fasteners.
The purpose of all of these is to provide the best match between the architecture and the minimalist requirements of the Scandinavian countries and the available space.

Outward opening windows

These solutions are thus perfect in any place where space is scarce (a leaf that opens outwards saves space inside). Keep in mind the weather as well – windows of this kind will be also perfectly suitable for use in windy areas.

Functionality

Outward opening windows are very functional, enabling unrestricted use of the window board or the installation of an elevated desk. Only English windows can match this functionality.




It would seem that it is very difficult or even impossible to clean a Scandinavian window from the outside. Scandinavians found an excellent solution to this problem as well. Most often window sashes can be rotated by 170°-180°, which makes cleaning easy.

Wooden windows

Another characteristic feature of the Scandinavian style is care for the environment. The inhabitants of the north of Europe value natural solutions very much, hence the growing popularity of wooden window joinery. Joinery made of natural materials (most often pine and meranti) can be protected with additional drip caps, which safeguard the structure against adverse weather. While these items can be made of wood, aluminium cladding is also used (see: Scandinavian profile with alu cladding).

Scandinavian windows

Scandinavian style is considered to be simple, modest, and, above all, comfortable and functional. It does not seek to follow modern trends, but rather to improve its practical and proven solutions. This is evidenced by window joinery from Scandinavia, in particular by the usability and operation of structures that open outwards.