BLOG
Is it worth to install window shutters?
/ 29.03.2017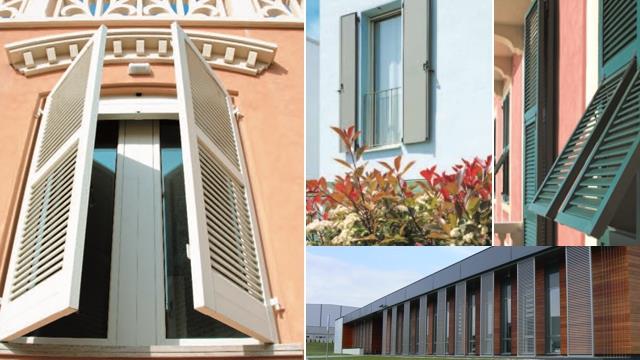 Window shutters: functionality and elegance

Window shutters: once only used in manor houses, rural residences or old tenement houses. Nowadays they are retained only in a small part of southern Europe, whereas other regions prefer roller blinds or external louvres. That is underrating of the value of window shutters, as they are a practical way to cover windows as well as a remarkably elegant and stylish addition for the entire building.

Functionality of window shutters is most of all in providing protection against excess sunlight in summer and reducing cold and wind entering the rooms in a colder period. Variety of technical solutions related to installation, method of opening as well as material of window shutters allows to practically adjust this element to the façade of any building: from modern office buildings to classic single-family houses.

The easiest way is to fix the window shutters to the window frame, then the whole unit is hidden in the window recess when closed, thus the window shutter is less exposed to rain or wind. Window shutters may be fixed to the wall of the building, remembering that the fixing pins should be large enough to penetrate all layers of the wall to the load-bearing elements. The neatest method of installation of window shutters is with an additional strip around the window, used to fix the shutter wings.

The opening of the window shutter affects its nature. If you are planning to invest in classical solutions, two turn wings are most often chosen. When window shutters are considered for large glazing areas, accordion or sliding wings are used, with emphasis on modern design and practicality. The material of the window shutter certainly adds chic and elegance: we recommend wood, which may be painted in any colour. Lighter and cheaper are window shutters made with PVC or aluminium, the materials most often chosen for window shutters in industrial or office buildings.

Innovations and facilitations are continuously put on the market. There are interesting element in the form of moving lamellas, which may be set at the required angle to provide as much light as is needed. Another excellent idea is with the moving part, top or bottom, which may be separately opened to allow some fresh air without opening the whole shutter.

Window shutters must also be considered when planning external shutters. We may be satisfied with their magnificence, as these are the elements that are both functional and decorative.