BLOG
Choosing external door - Aluminium, PVC, or wood?
/ 08.09.2017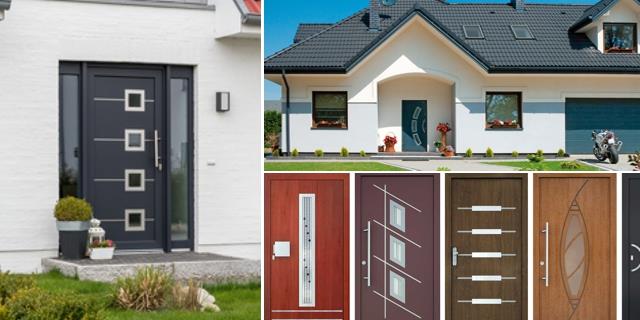 Aluminium, PVC, or wood? Choosing external door

An entrance door is a key element of each house. It adds both to its functionality as well as look. The performance of the entrance door affects the comfort and safety within the house, and may decrease the costs of maintaining the building by contributing to lower consumption of heat. With this in mind, pay attention to choose the door not only by its look. Also consider the material it is made of. Ask yourself this: What external doors should I choose? Aluminium, PVC, or wood ones? Read our guide and find out!

Aluminium doors – excellent choice for a house with modern design

This type of door is preferred by investors who emphasise exceptional design. Aluminium is elegant, has almost unlimited processing potential, and can be used to make doors of custom size.

The greatest advantage of aluminium doors is their high durability. This metal does not corrode, does not deform at high or low temperatures, and is an effective barrier for intruders (provided high-quality locks and fittings are used). Until recently, they had a drawback in terms of their insulation properties.


This is no longer an issue. Leading manufacturers of aluminium doors now offer solutions that meet the requirements of energy-efficient or even passive houses. There are doors available on the market with heat transfer coefficient as low as Uf = 1.0 W/(m2*K) (see: STAR door) or even lower. This requires an insulation layer of adequate thickness both on the door leaf and the frame. Doors with glass units take advantage of the so-called warm sets identical to those used in regular windows.

PVC doors – the practical choice

First of all, PVC doors are practical – they are easy to clean, easy to install, do not deform with changing temperature, and are really affordable. Their low weight is also an important factor, particularly appreciated by those who chose to build a light-frame house.

PVC doors panels

There are many more advantages to this type of door, e.g. non-flammability and outstanding sound absorption. If you are building or renovating a house in a noisy neighbourhood or, e.g. close to a busy street, consider choosing a PVC door.

Their design is identical to that used in windows, and it includes profiles, which in the case of a door need to be much stronger – class A profiles with minimum wall thickness of 2.8 mm are used in in quality doors.

The number and size of chambers also matter. This parameter affects the insulation coefficient of the door – the larger the chambers, the "warmer" the leaf. The profiles are filled with insulating material, most often with polyurethane foam, in some cases with polystyrene foam, mineral wool or polyamide foam. The structure is reinforced with steel sections, and premium class doors are also equipped with MDF, plywood or HPL stiffening boards.
What are the drawbacks? It is of course the look, which is just not appealing to everyone. Keep also in mind that if damaged, a PVC door cannot be repaired – the only option is to replace it. In terms of insulation properties, a quality PVC door easily reaches Uf = 1.3 (m2*K) (see: SALAMANDER door).

PVC/ALU panels

Wooden doors – timeless elegance

These doors are so popular that all investors are likely to be familiar with their advantages and drawbacks. Let us recollect some of those below. Wooden doors are extremely versatile, and as such they are a good match for buildings of almost any design. For some they are appealing for the same reasons as wooden windows – their natural material, attractive look, elegance, and feeling of prestige.

Wooden doors are characterised by very high acoustic insulation and outstandingly cut off noises to the hall or vestibule. On top of that, they also have decent heat insulation properties. Renowned manufacturers now offer various doors with Uf = 1.0 W(m2*K). This parameter mostly depends on the thickness of the leaf.

Despite all the advantages, wooden door are not perfect. Their drawbacks include primarily susceptibility to moisture, making it necessary to frequently adjust the leaf, if the door fails to close completely, or becomes misaligned in relation to the frame. Wooden doors also require periodic maintenance. If the door is not exposed to direct sunlight and rain, it should be refreshed after 7-10 years.

Which kind of door is the best then? Before making a final decision consider the following:

• the nature of the building,
• the vicinity of the house,
• expectations of the persons living in the house in terms of maintenance effort and frequency,
• budget.

Each door type has its advantages and drawbacks. The key is to invest in a high-quality solution by a renowned manufacturer and not to get cheap when it comes to installation. If you follow all of the above, your door will last for years without any issues.