BLOG
3 reasons to choose a sectional garage door.
/ 03.09.2019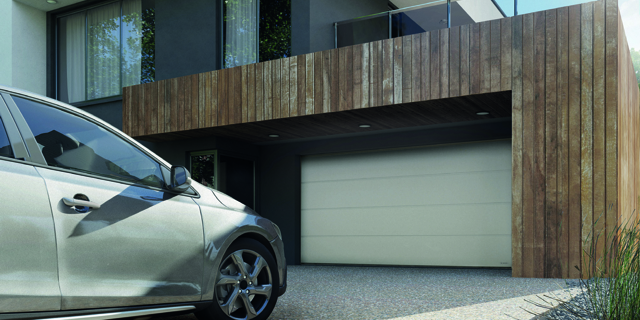 3 reasons to choose a sectional garage door.

No matter whether the garage is an integral part the building body, joint with it or detached — it should be maximally functional, safe and easy accessible. Prior to purchase of a garage door, attention should be paid among others to its parameters, how it will be used or specific features of the garage where doors will be installed. A sectional door is undoubtedly the most popular choice among home owners. In this article, we will outline 3 reasons why to choose sectional garage door.

1.Functionality of a sectional garage door

During opening and closing, a sectional garage door does not protrude over the garage face. Economical space arrangement is one of main reasons why investors buy sectional garage doors. Sectional garage door panels open to the inside, hide below the ceiling or at the garage side wall. The use is more comfortable as no spacious driveway is needed unlike in case of a side hinged garage door with leaves opening to the outside. Sectional garage doors will be more practical for garages situated close to a street or in line with the fencing.

A sectional garage door – ideal for non-spacious driveways

Sectional garage doors are installed behind opening recess. Therefore some side room and head room (head room of ca. 20-30 cm) is required as well as ceiling the guides will be fixed to. These are however the only limitations, shape of the lintel is not crucial, it may be even arch-shaped (see photo below). More information about installation and use of a sectional garage door can be found in our article: "What type of garage door to choose? An overview of garage doors."

A sectional garage door with an arch shaped head

2. Thermal insulation

Unfortunately, garage doors as integral part of the property (moreover with area up to 12 m2) contribute to heat losses of the building. Sectional garage doors ensure the reduction of heating expenses and an appropriate thermal comfort are most effective compared to other type of available garage doors. Heat transfer coefficient U may reach even 0.79 W/m2K. Such a value for sectional doors is achieved due to, among others, modern panels filled with PU-foam, sealing system and additional inter-panel covers.

Sealing system in a Wiśniowski UniTerm garage door

3. Safety

One of the very important aspects of using a sectional garage door is its safety. Sectional garage doors are fitted with cable break protection - a brake preventing garage door panels to drop in case of power or mechanical failure as well as the spring break protection (see drawings below).

Safety brake

Spring break security

Profiled panel shape

Sectional garage door panels are shape-protect manufactured, so that a hand can be freely moved on each section without a fear of folding parts causing an injury.

Sectional garage door can protect against burglary more efficiently and namely by applying stronger bolting than in case of up and over garage doors. It is possible to fit a sectional garage door with a special protection against levering – when closing, such a door is automatically bolted into the base of the garage.

IMPORTANT! A sectional garage door is fitted with overload protection – if an obstacle is hit, the door is stopped and then retracted upwards.

Overload protection

The statistics says that almost 80% of users operating a garage door at their houses choose a sectional garage door. It is becoming more and more popular although some cheaper alternatives were offered. A great advantage of sectional garage doors is a huge number of designs. They may be selected for houses of both modern and classic architecture. To match a sectional garage entrance with doors, windows or an entrance gate is a pure pleasure.